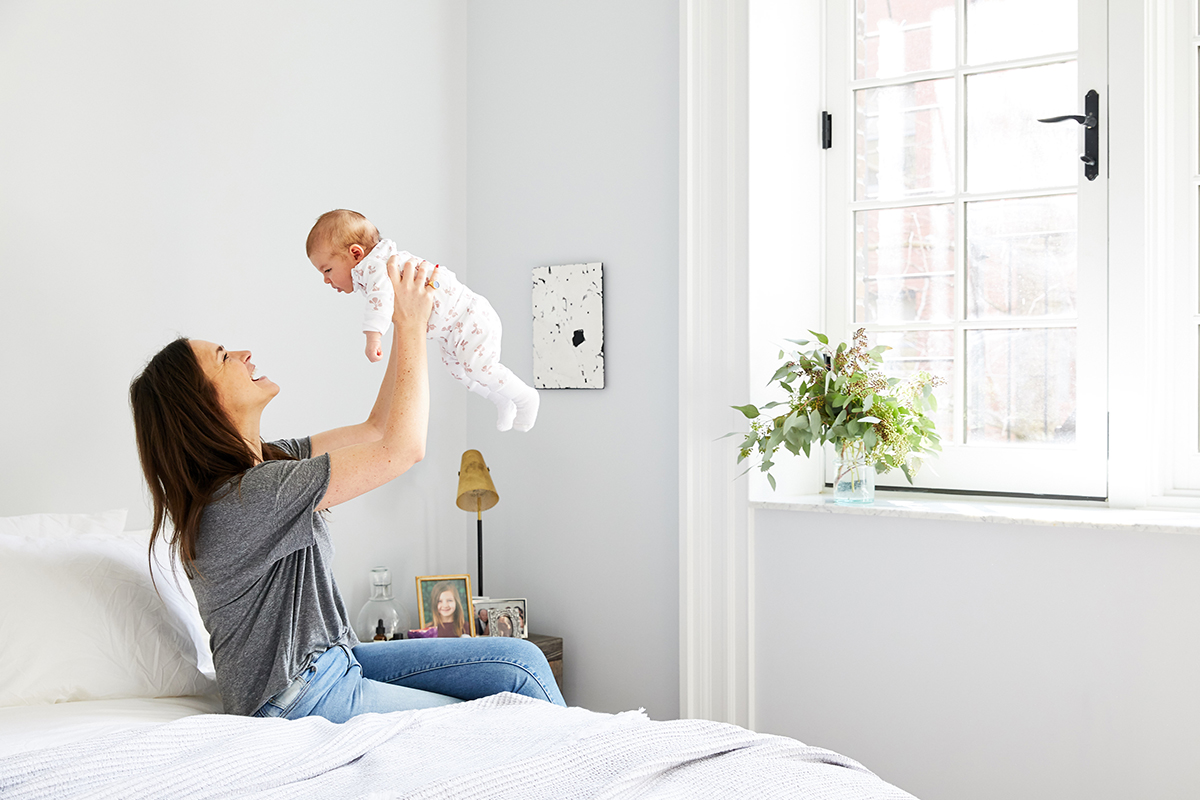 Nadine Abramcyk greeted us with the most adorable pink bundle of goodness on one of the windiest days of the year. Just three months old, Nadine was cradling her third child who was almost fast asleep as the wind was howling behind us. Nestled on a quiet street in the West Village, Nadine and her husband Matt, with their growing family, are both incredible entrepreneurs and hands-on parents.
Rewind 10 years ago, Nadine and her business partner, Adair Ilyinsky, were in pursuit of a non-toxic and green wellness nail salon experience without the heavy costs. Tenoverten was then born. From one small salon to a now ever-expanding chain of locations nationwide and a myriad of color collections, tenoverten has blossomed into an overall wellness experience that starts from the moment you enter a salon. With their latest partnership with Target, tenoverten is spreading into mass markets allowing a broader range of consumers to be educated on a toxic free nail care regimen at all price points.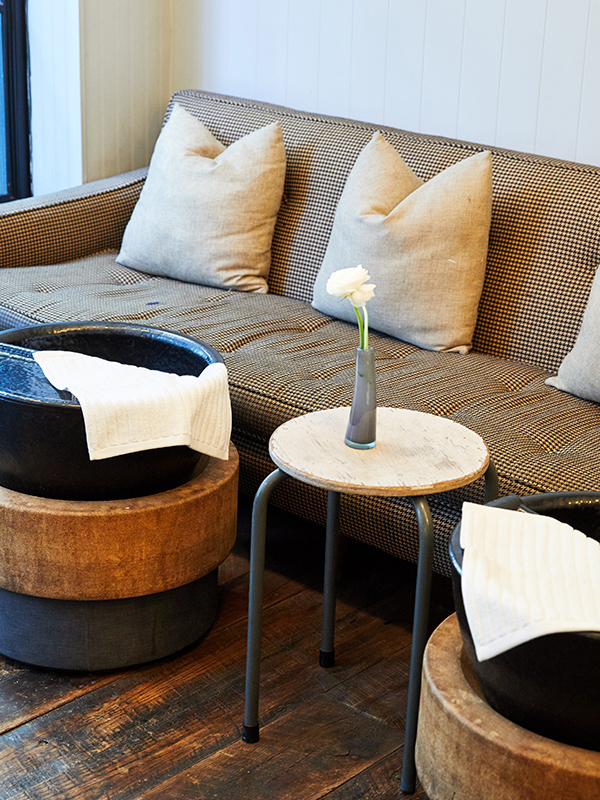 From pampering steamy pedicures and manicures using the finest clay pots, and Kassatex towels to wrap your hands and feet in, to massages, waxing, eyebrow shaping, and eyelash treatments, tenoverten is relentless to find the ultimate experience for weekly beauty upkeep while enjoying the simple and much needed pauses in life. Nadine should know. As a mom of three, getting ready in the morning can be hectic, but as a mother who is conscious of leading a green lifestyle for her family, we wanted to know more about how she balances her schedule. With a cabinet full of curated beauty items, Nadine let us in on her morning rituals and what gets her through the AM shift.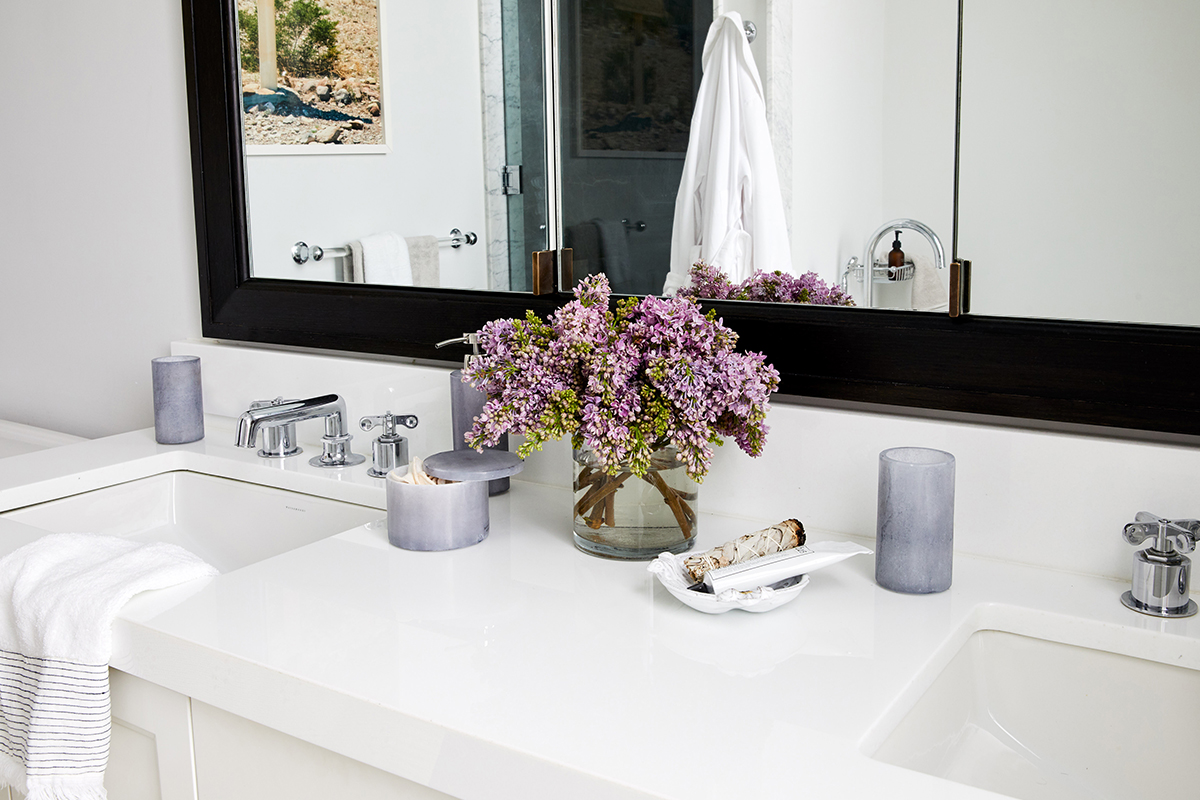 K: What made you open Tenoverten?
NA: The desire for a more thoughtful salon experience that bridged the gap between a full service fussy salon experience to a corner nail salon. We wanted to create the ultimate neighborhood salon that feels like you are walking into someone's home, is super vigilant about cleanliness, offers a less toxic environment, and even keeps your credit card on file so you don't mess up your nails at the end.
K: What's more fun, designing the color, or creating the name for your polishes?
NA: The names are all named after NYC streets unless they are for a special limited edition color, so we simply pull out a map of New York and play around with names. It's fun, but the colors are the really inspiring part. We get so much feedback from our manicurists and clients on what colors they personally want to see in the line and then our own influences drawn from trends and fashion all combine to hopefully create a unique and wearable shade. We never want to create a color that only looks pretty in the bottle so our colors undergo a lot of wear testing on loads of skin tones to get them just right.
K: Favorite moment since opening tenoverten?
NA: When Melissa McCarthy came in to do a sketch for Saturday Night Live in our Midtown location. She filmed it with a room full of clients getting services and she is absolutely hilarious. The ending was her screaming, "Nailed It!" to a tech after getting a manicure and throwing her hands in the air. It was such a quintessential NY moment and our hometown so super special.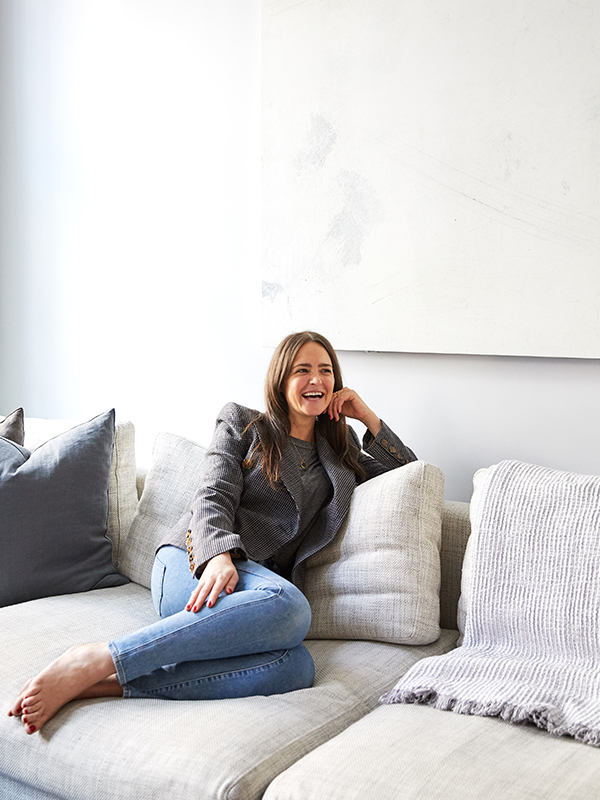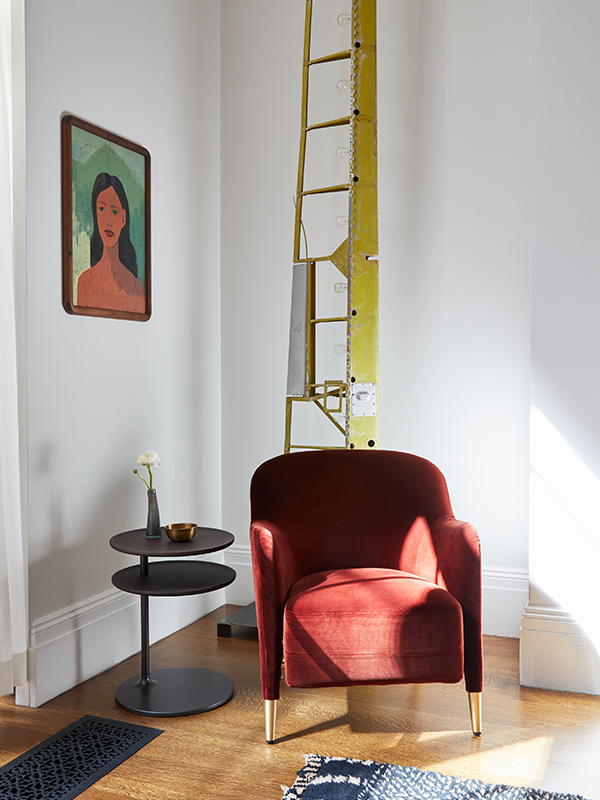 K: What makes tentoverten different than other non-toxic beauty brands?
NA: Nails are tricky when it comes to chemicals since there is no such thing as natural nail polish. So I think what sets us apart is that we are the first nail brand to care about creating the safest possible products for anyone's hands and feet from start to finish. So while we love color, we are hyper-focused on creating safer nail care such as Non Acetone Remover with no noxious fumes, 100% natural Rose Cuticle Oil and Non-Toxic Nail Dryer drops. There's no point just having safer color if everything else you are using has nasty chemicals in the formulas. We are unique in that we have over 200 professional manicurists working with us daily who we can get professional feedback from daily and we never create a product that can't withstand a salon environment which is a true test of function.
K: Best color to wear right now:
NA: The perfect muddy pink such as our Watts color.
K: Thoughts on matching manis and pedis:
NA: I've got a matching mani/pedi right now, wearing our Daphne Oz Big Red color. But I haven't had matching nails in years. I don't think there's a hard and fast rule though. The nice thing about nails is that anything kind of goes and it's a nice way of self expression so if you're feeling like matching every so often, go for it!
K: If you designed a nail color and name after husband (or kids!), what would it be?
NA: I'd create a color for my kids, Zoe Lee, Solomon and Lou, that acted like a mood ring and changed colors based on your body temp and energy. Wouldn't that be cool!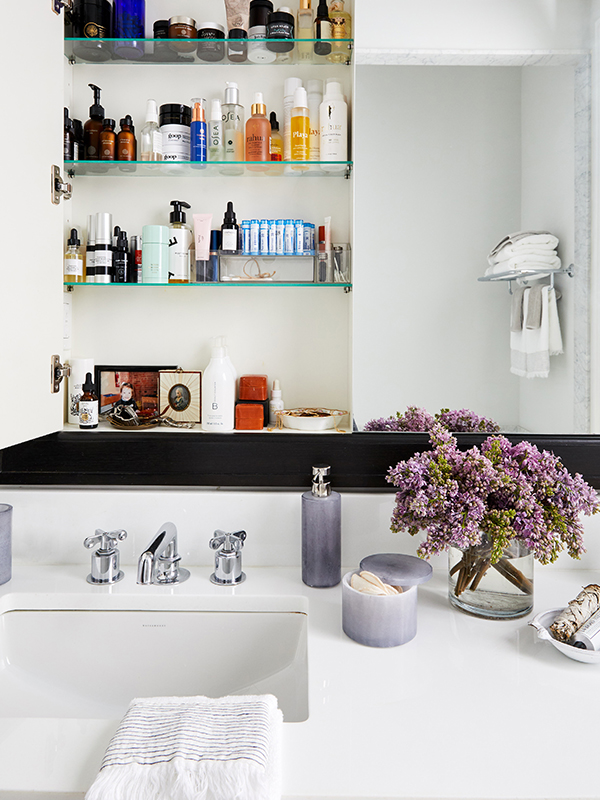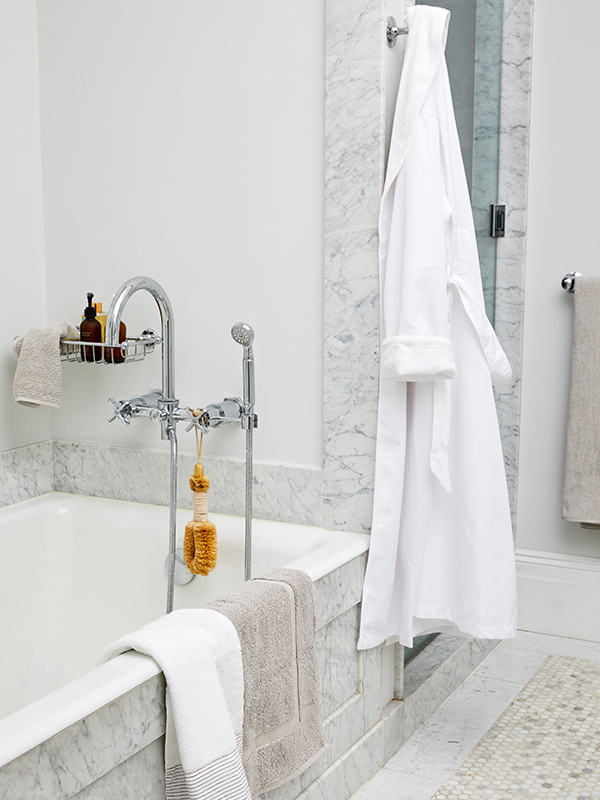 K: First thing you do when you wake up?
NA: Drink a warm glass of water with lemon, tumeric and cayenne to set my digestive system up for a good day.
K: Breakfast always includes?
NA: A homemade green juice.
K: How do you teach wellness to your kids?
NA: I share small rituals with them that hopefully show them that self-care is a wonderful thing to incorporate into your daily routine and it can be in small moments so it's not overwhelming. My kids are used to taking their probiotics and talk about their gut health, will sneak my jade roller and love a good relaxing warm bath with dim lights – so it's obvious to me i'm rubbing off on them, ha! I think they are starting to understand that if they take good care of themselves, they are better equipped to help support those they love and their community.
K: Uniform or Avant Garde: What's your preferred outfit for work days?
NA: Uniform. High waisted jeans and a blazer.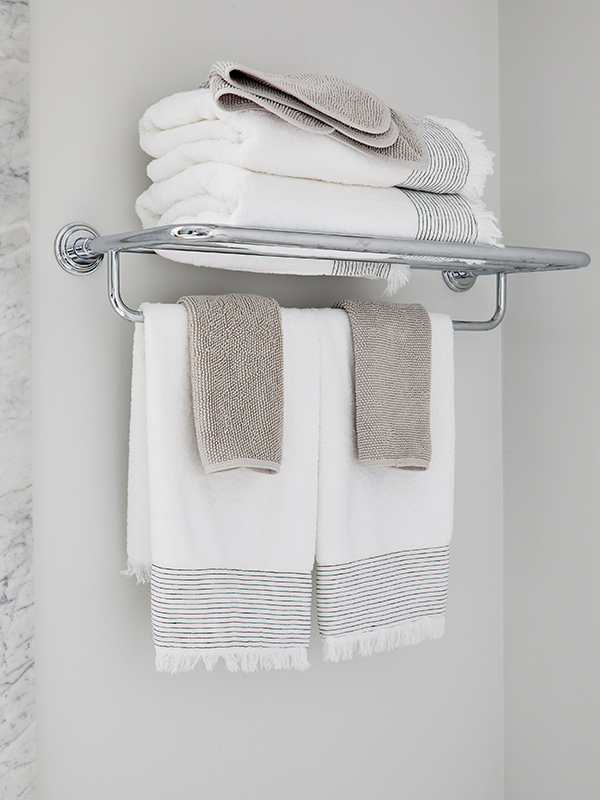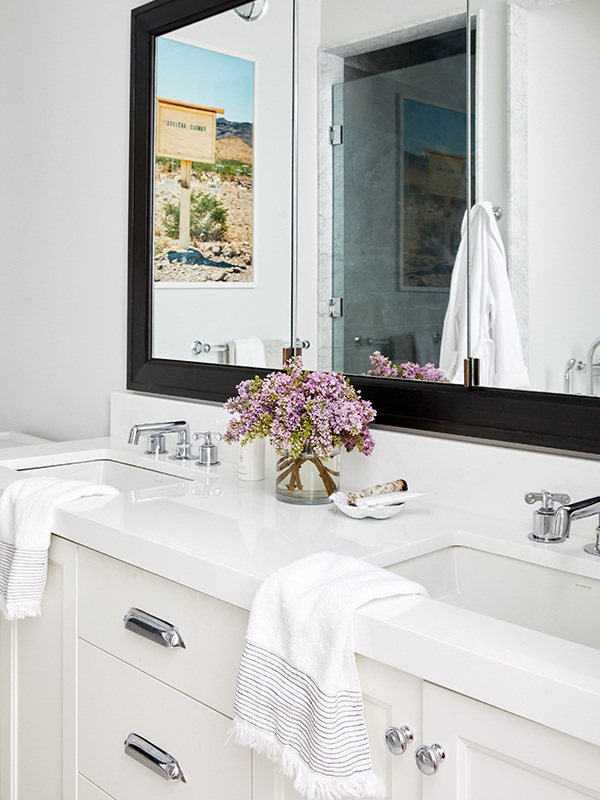 K: Vanity Vision: How many steps in your daily face washing regimen?
NA: I use a pre-cleanse oil, then wash, followed by a serum with a sprinkle of vitamin C powder and topped off with a rich moisturizer. That's PM and in the morning I don't wash so there are fewer steps but I am crazy about using SPF. I also LOVE a good mask and put one on at least twice a week.
K: Music in the AM: What gets the family going in the morning?
NA: We like to put on Classic Oldies channel while eating breakfast.
K: Bathroom Privacy: Is there such a thing or privacy is bliss?
NA: No privacy whatsoever. I dream of going to the bathroom at home without someone barging in on me.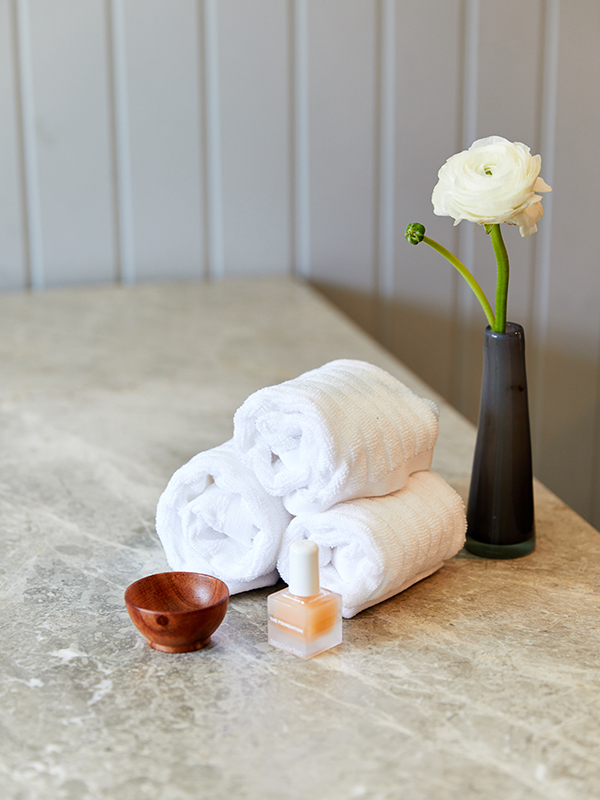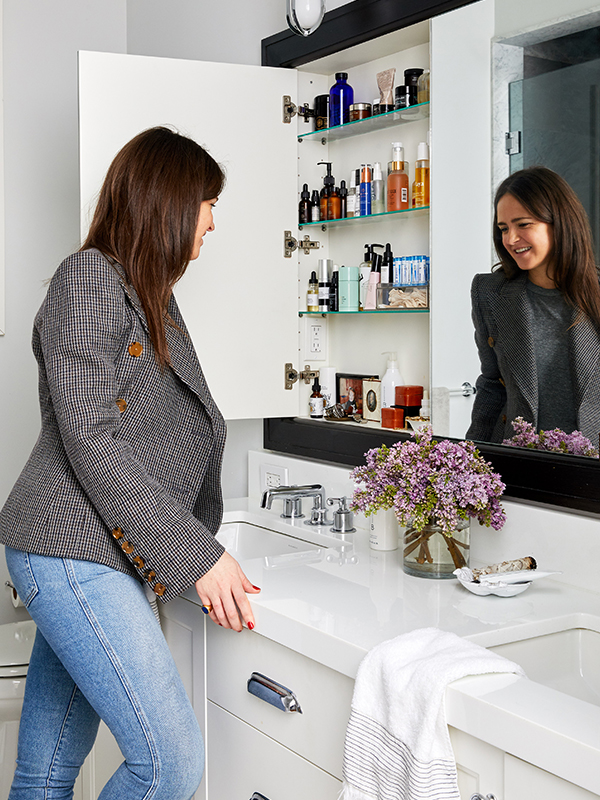 K: Bath soak or steamy shower:
NA: Always a bath soak. I take a bath every day.
K: Beauty Musts: Top three items you always use.
K: Winter Skin: Best way to tackle dryness especially for the hands?
NA: Hydrate from the inside out so always drink loads of water. Also keep a cuticle oil such as our Rose Oil on hand at all times to protect your nails from getting dry and peeling. Plus moisturize your hands often especially after washing your hands with a rich lotion such as Weleda's Skin Food.
K: Finish this sentence: wellness starts…….
NA: ……with a desire to feel good allowing you to live your fullest life.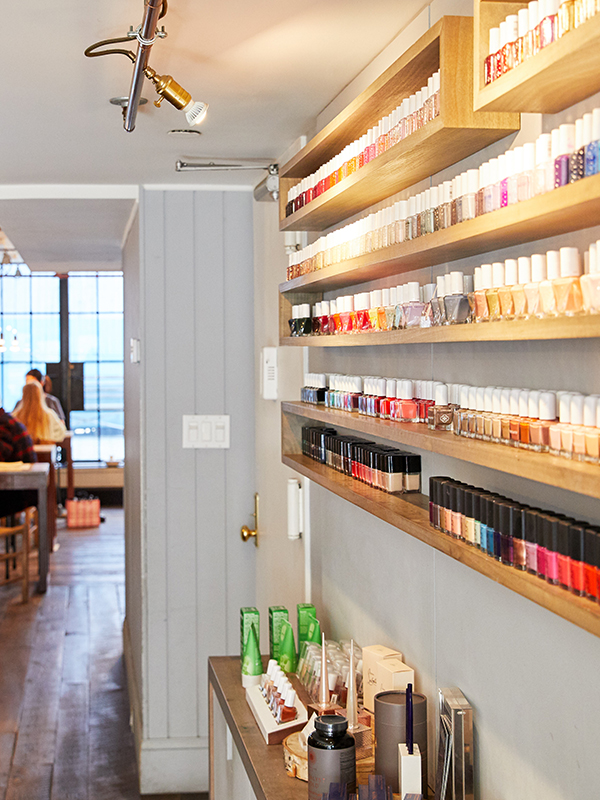 Written and Produced by: Kelly Florio Kasouf