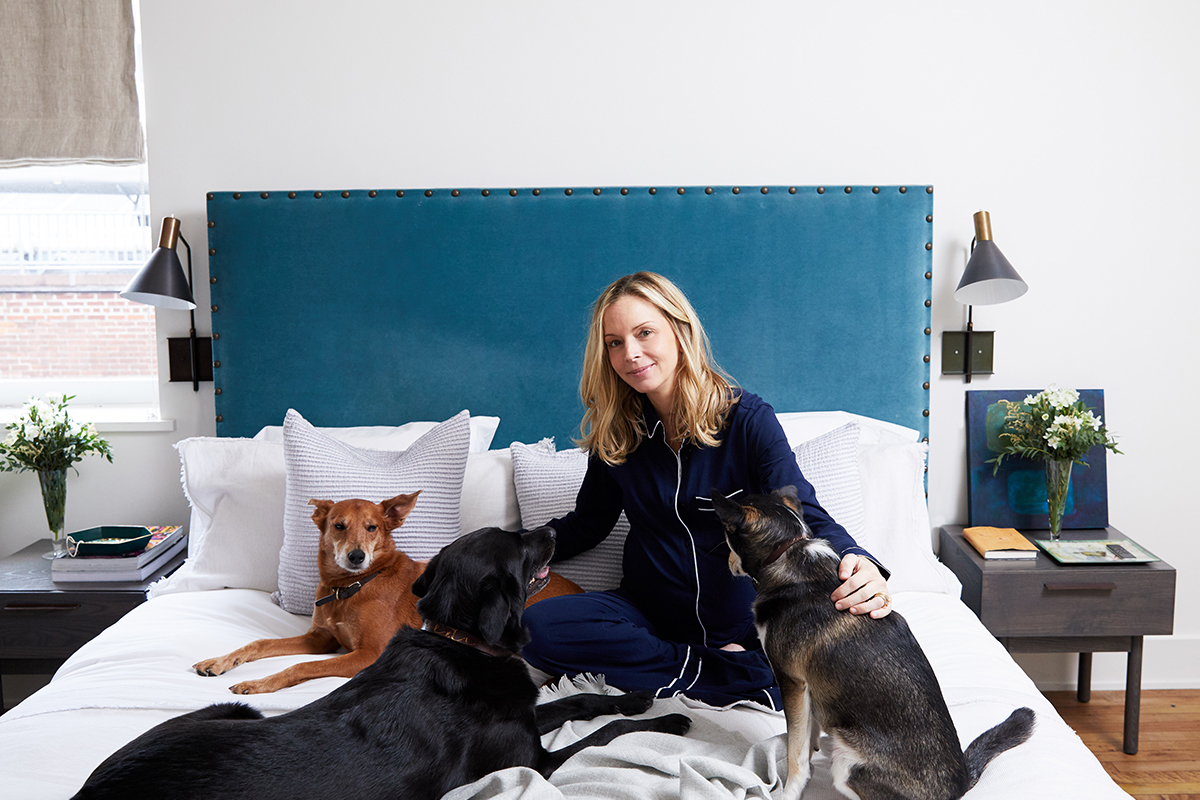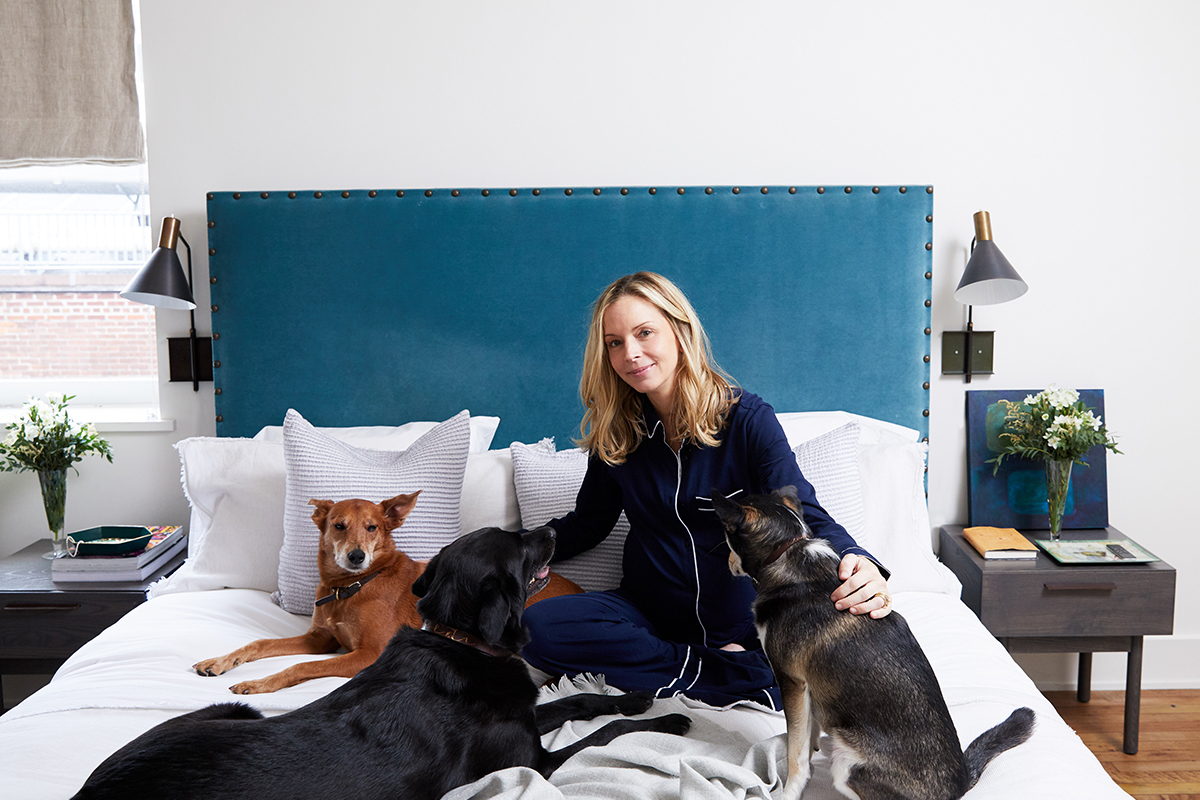 Even in PJs, she is still effortlessly chic. Her style is unintended, casual, warm, and harks back from the age of Carolyn Bessette Kennedy, who defined casual glamour. Meredith Melling, co-founder of La Ligne, is re-organizing a few racks after a trunk show that benefited Animal Haven at her elevated bohemian-style loft in SoHo. Wearing her pregnancy like a boss, Meredith invited us in to her home, designed by Ashe & Leandro, where each furniture vignette and room oozed with unexpected appeal and rich muted finishes.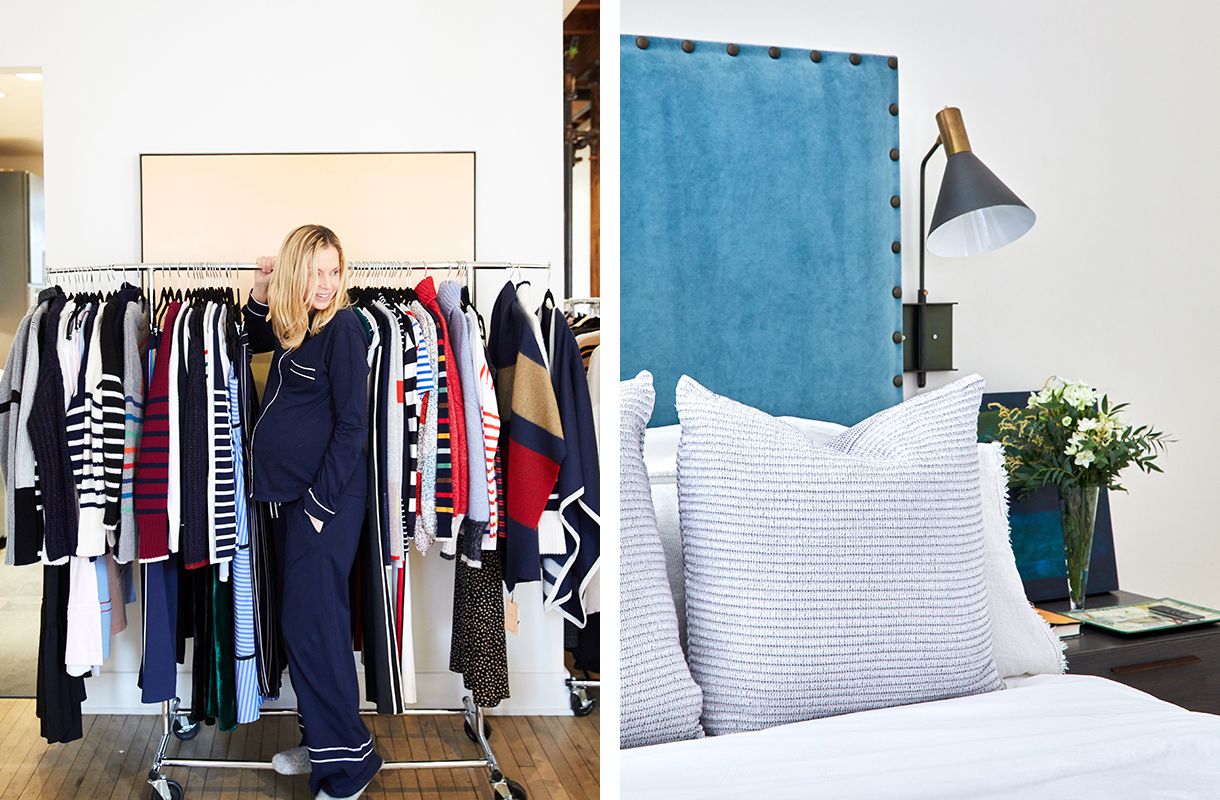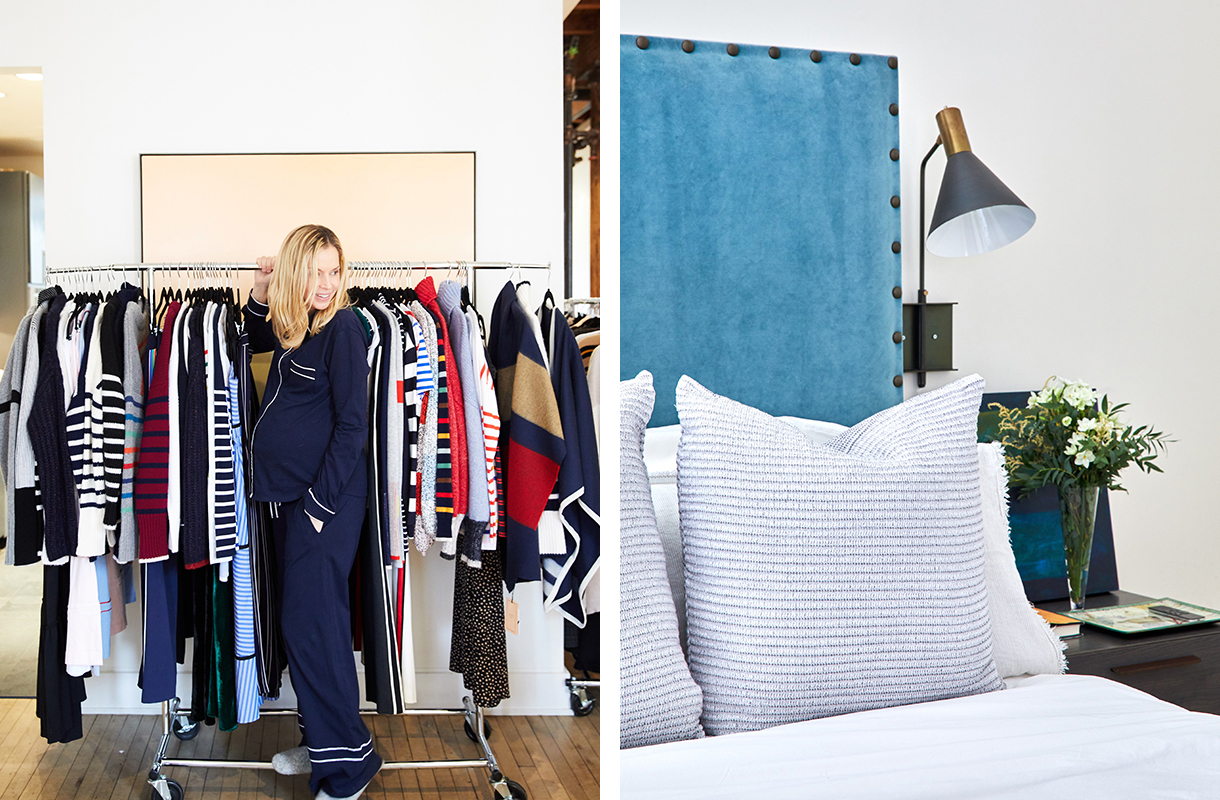 A deep blue velvet couch as the focal point of the living room was almost as captivating as the expansive windows that swept up throughout the second floor, creating an atrium-style effect in the center of their welcoming home. Her teal plush bed and calming neutral walls were the perfect backdrop for the Cartagena Bedding Collection's fine ticking embroidery, that enhanced the subtle blue tones found in the bedroom. Meredith and her husband, Zach Iscol, have created a haven of their own, with their growing family of 3 kids plus one on the way, and 3 rescue pups.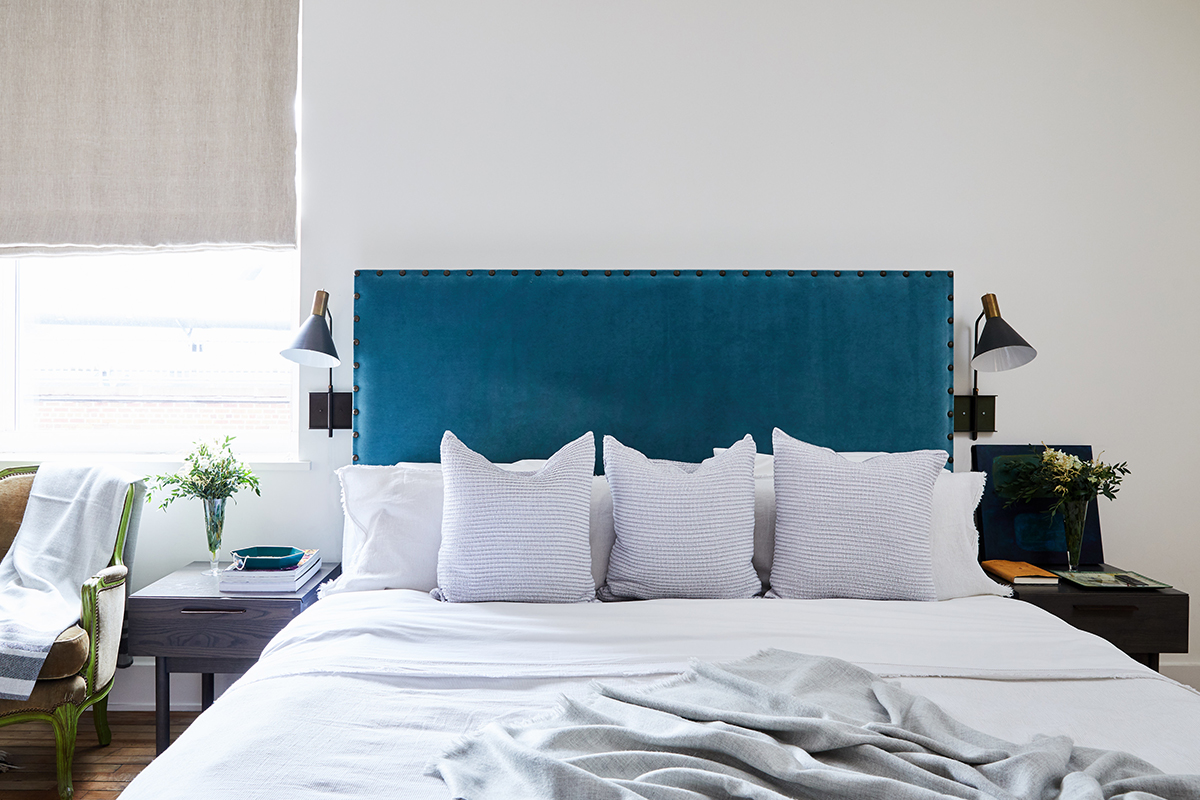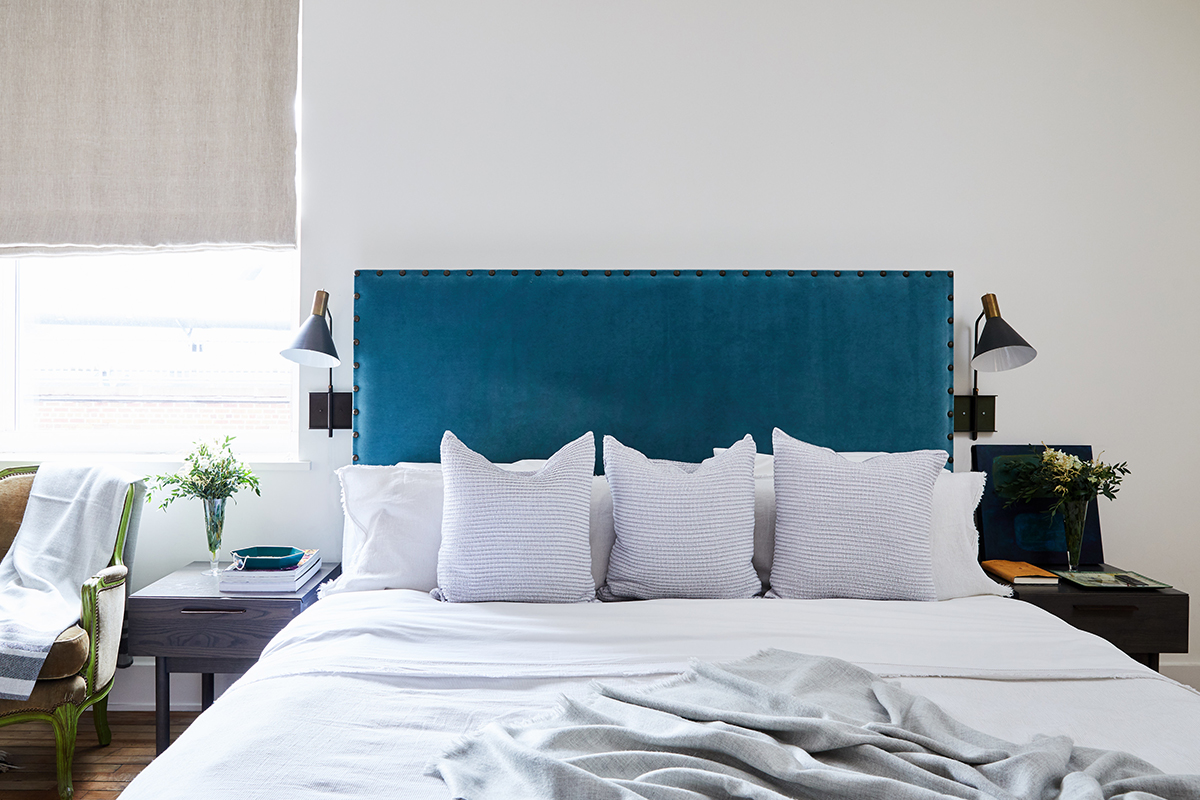 Juggling projects however, comes natural to Meredith, who worked at Vogue for 16 years before starting her stripe-loving brand, La Ligne. Founders Valerie Macaulay, whom also was a Vogue editor, Meredith, and former director of business development at rag and bone, Molly Howard, started the brand looking to infuse the market with effortless style inspired by the stripe. Meredith managed the Vogue Index: the back of book editorial section curating the top items to purchase in both high and low price points based on current trends for ten years, produced and managed the CFDA Fashion Fund starting at its inception, as well as worked closely on American View, the program launched in the wake of 9/11 that inspired the Fashion Fund.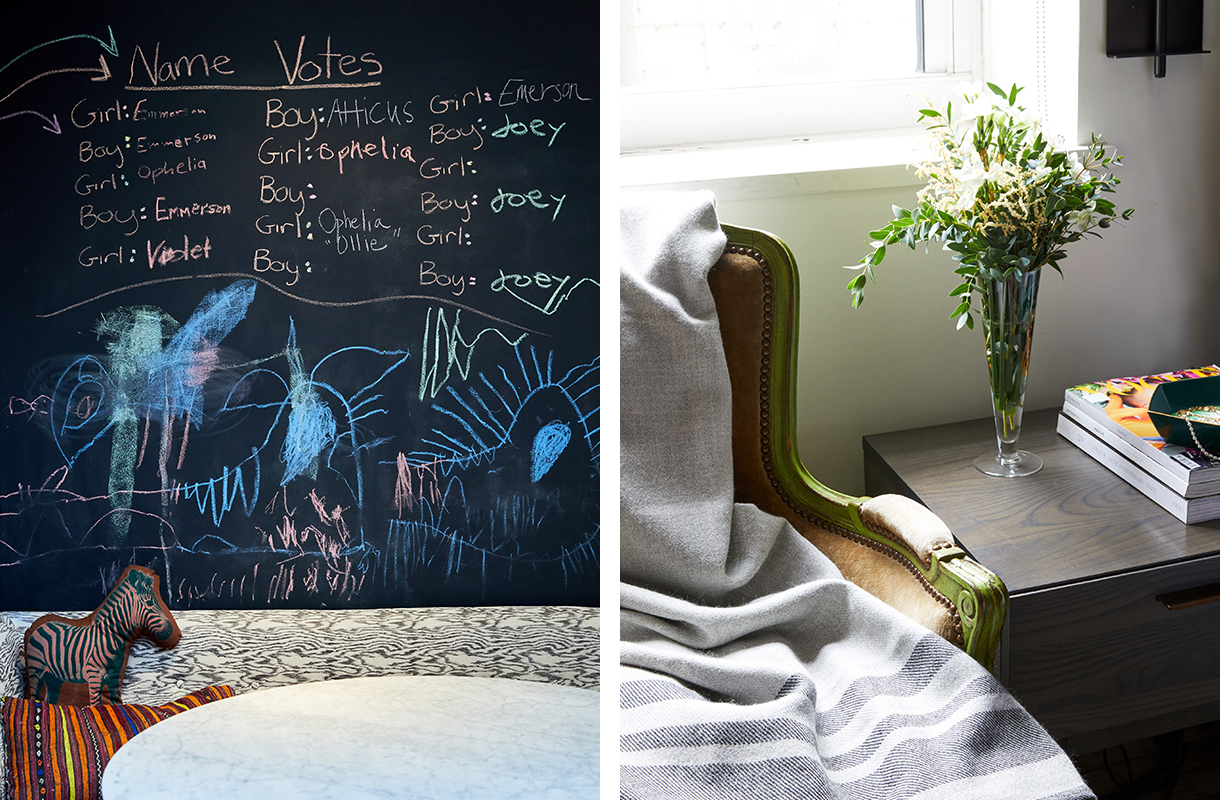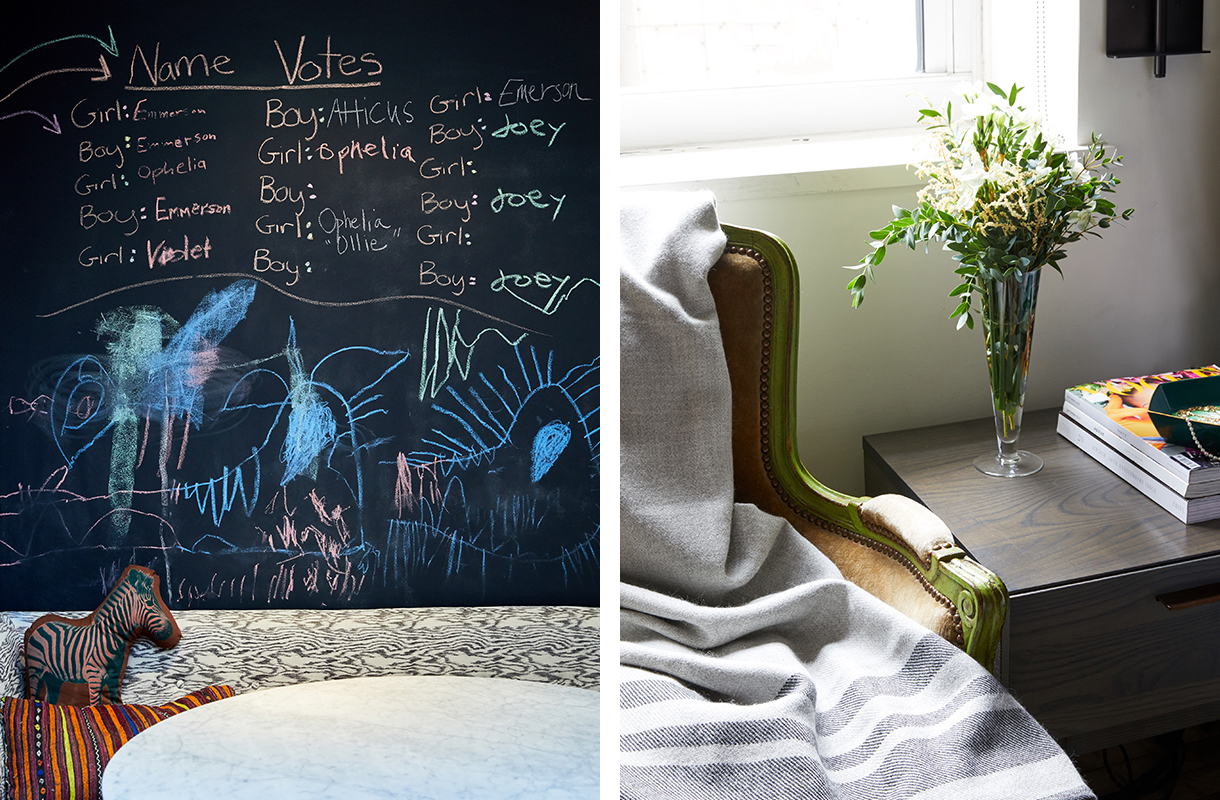 Referring to herself as the "camp counselor and unbiased advisor" to the designers, Meredith had been well versed in knowing what is missing in a women's closet, and what items are absolute necessities for the well-dressed set. But today, Meredith is paired down in her La Ligne PJs, blaring some old school Whitney Houston, and is ready to chat about her new life, living with a menagerie of dogs and kids, and her ever-growing brand.
K: First apartment style regret?
MM: When I thought having a mattress and box spring on the floor was somehow cooler/more bohemian than a proper bed.
K: First job interview: horror story or went swimmingly?
MM: Went swimmingly despite my horrific outfit!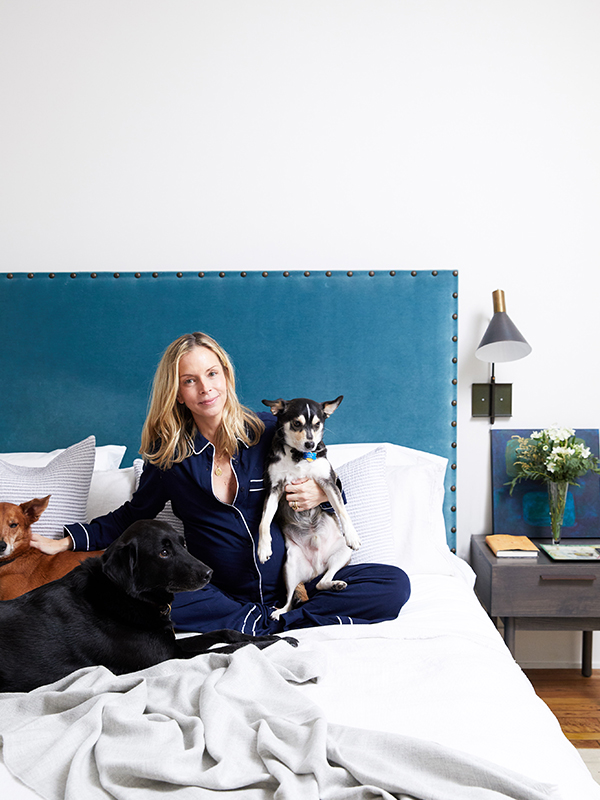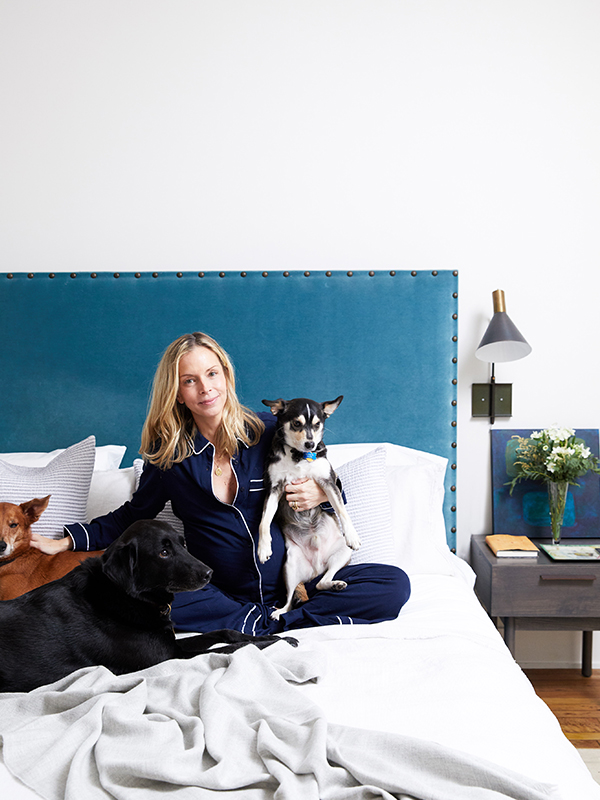 K: Describe your personal style:
MM: New England Bohemian
K: Describe your home decor aesthetic in three words:
MM: Eclectic. Textural. Comfort.
K: Kids are hungry: eat in or dine out?
MM: Dine out – or order in (but don't ask me to cook.)
K: Favorite neighborhood restaurant your family frequents?
MM: B Bar and Grill
K: Your bed: a sleep sanctuary or family headquarters?
MM: Family HQ and after-hours office.
K: Greatest career achievement?
MM: Not sure it's happened yet? Still striving for greatness!
K: Was designing your home a collaborative effort with your husband?
MM: Ha! No, with Ashe & Leandro.
K: Most memorable moment at Vogue.
MM: That's like picking a favorite child. I have so many amazing memories from my time there.
K: How was La Ligne born?
MM: The creative concept was born in my co-founder Valerie Macaulay's office at Vogue out of a desire for something more classic but still cool to wear rather than always chasing trends – fruit salad this season, Renaissance romantic the next.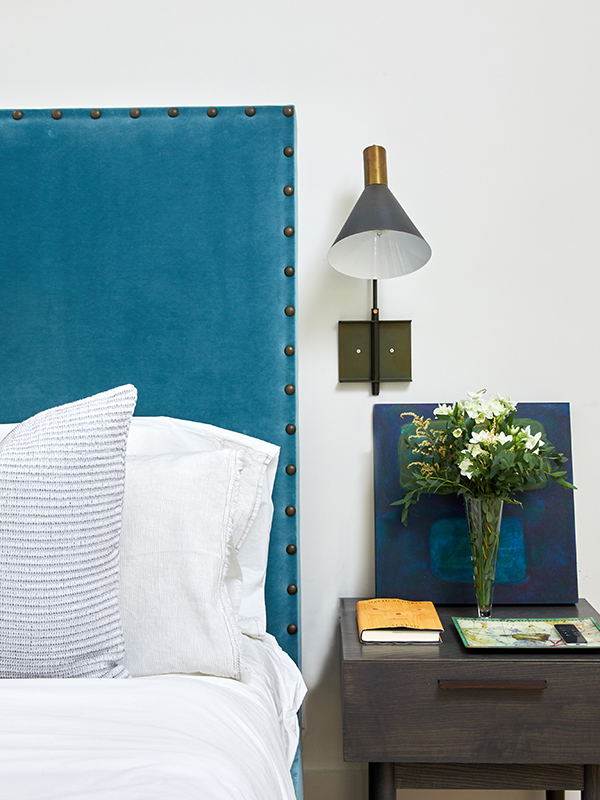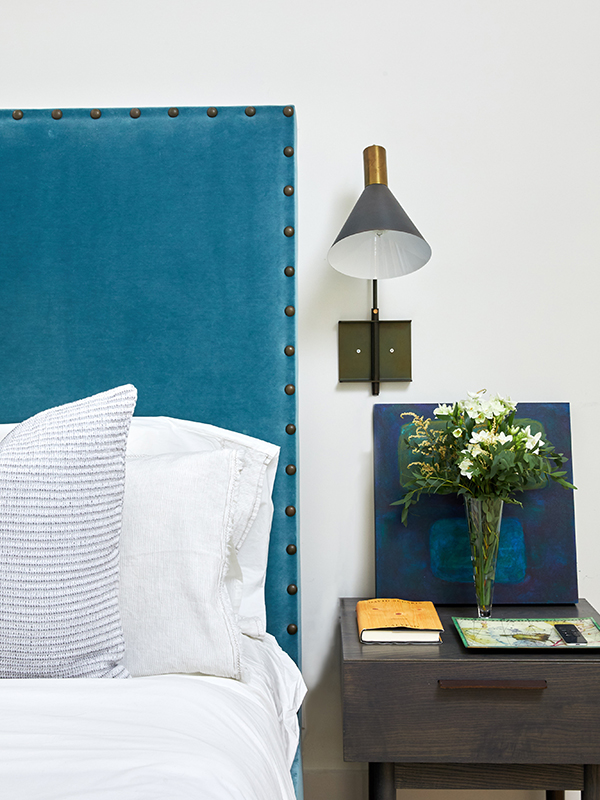 K: Dogs: Is there such a thing as too many?
MM: No! Our household motto is "more is more." More love, more madness, more Democrats!
K: Adopt a dog or go to the breeder:
MM: Adopt don't shop. Period.
K: Must have beauty item?
K: Currently reading?
MM: Calypso by David Sedaris
K: Carry on or check the bag?
MM: I strive for carry on only, but I am a maximalist packer. I like to have options, you know?
K: Currently listening to?
MM: Spotify radio stations like Leon Bridges and Beyoncé.
K: Favorite podcast?
MM: Goop.
K: Best fashion advice ever given to you:
MM: You wear the clothes; don't let the clothes wear you.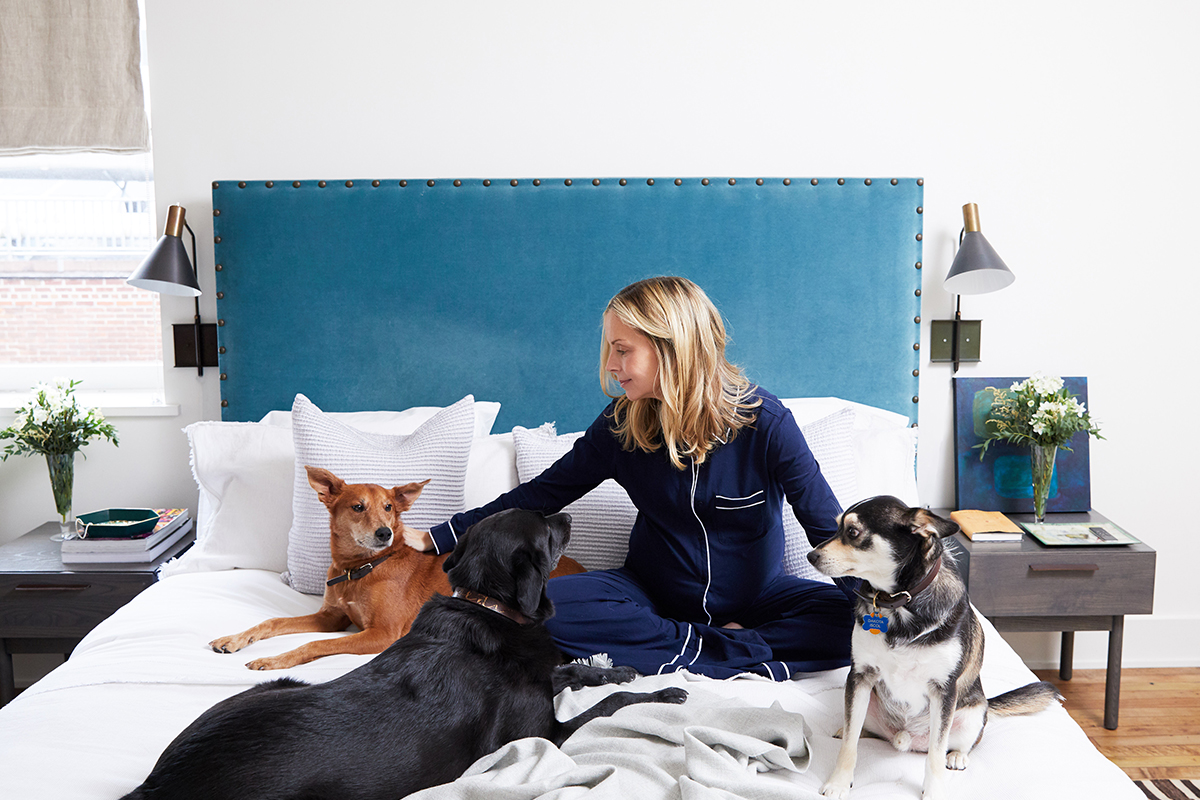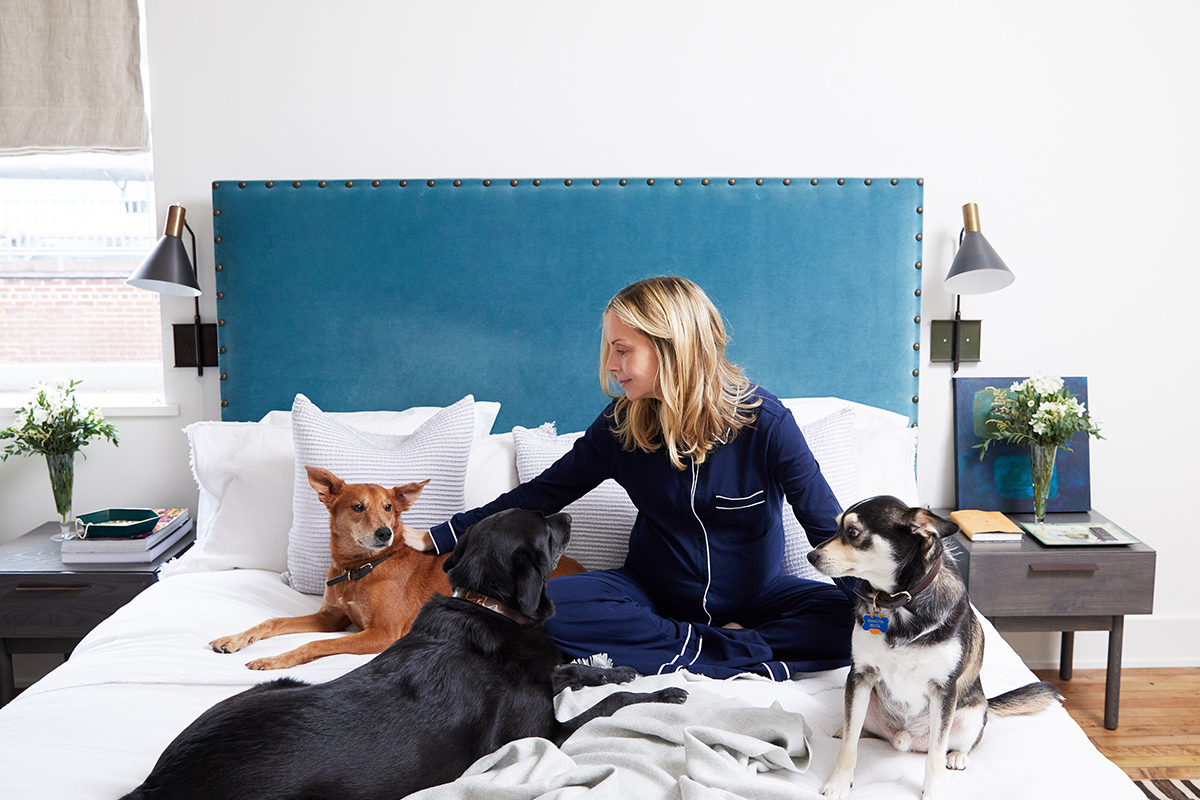 Written and Produced By: Kelly Florio Kasouf