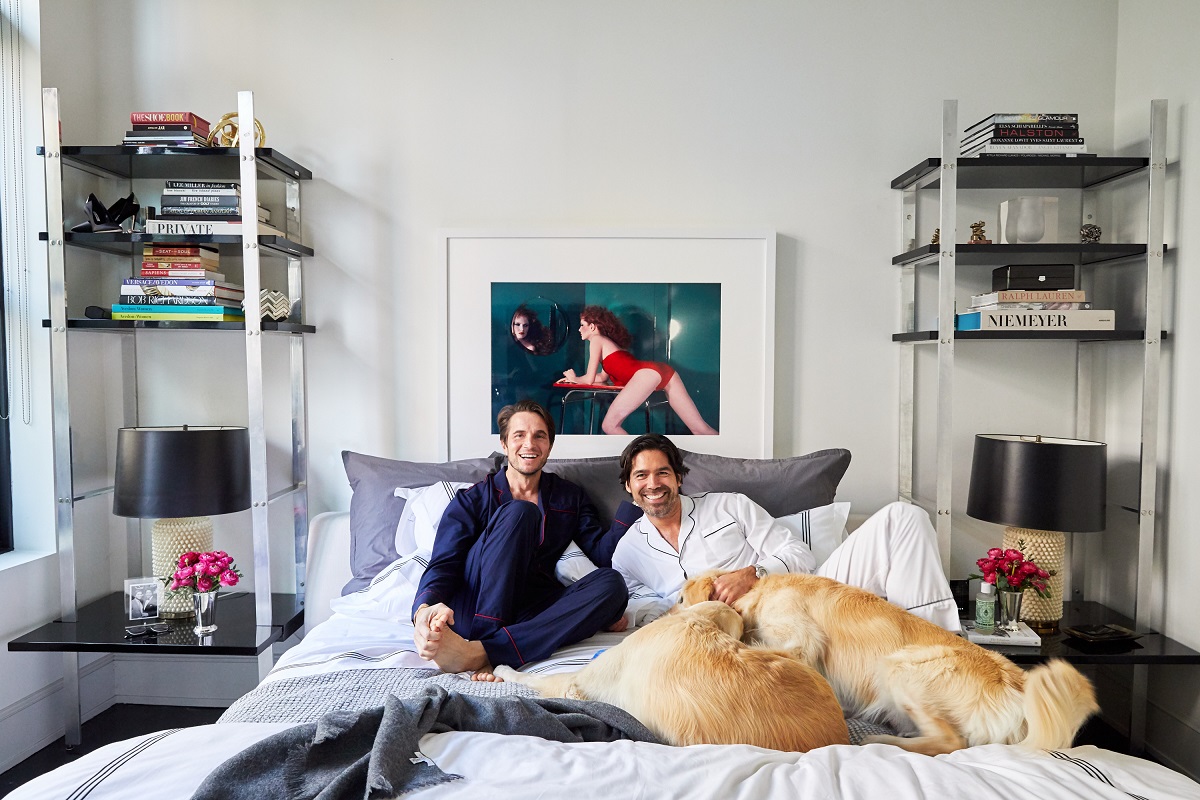 Dr. Jake Deutsch and coveted shoe designer Brian Atwood are trailblazers in both their professions, albeit on widely different spectrums. Both exemplify what it truly means to be a hustler.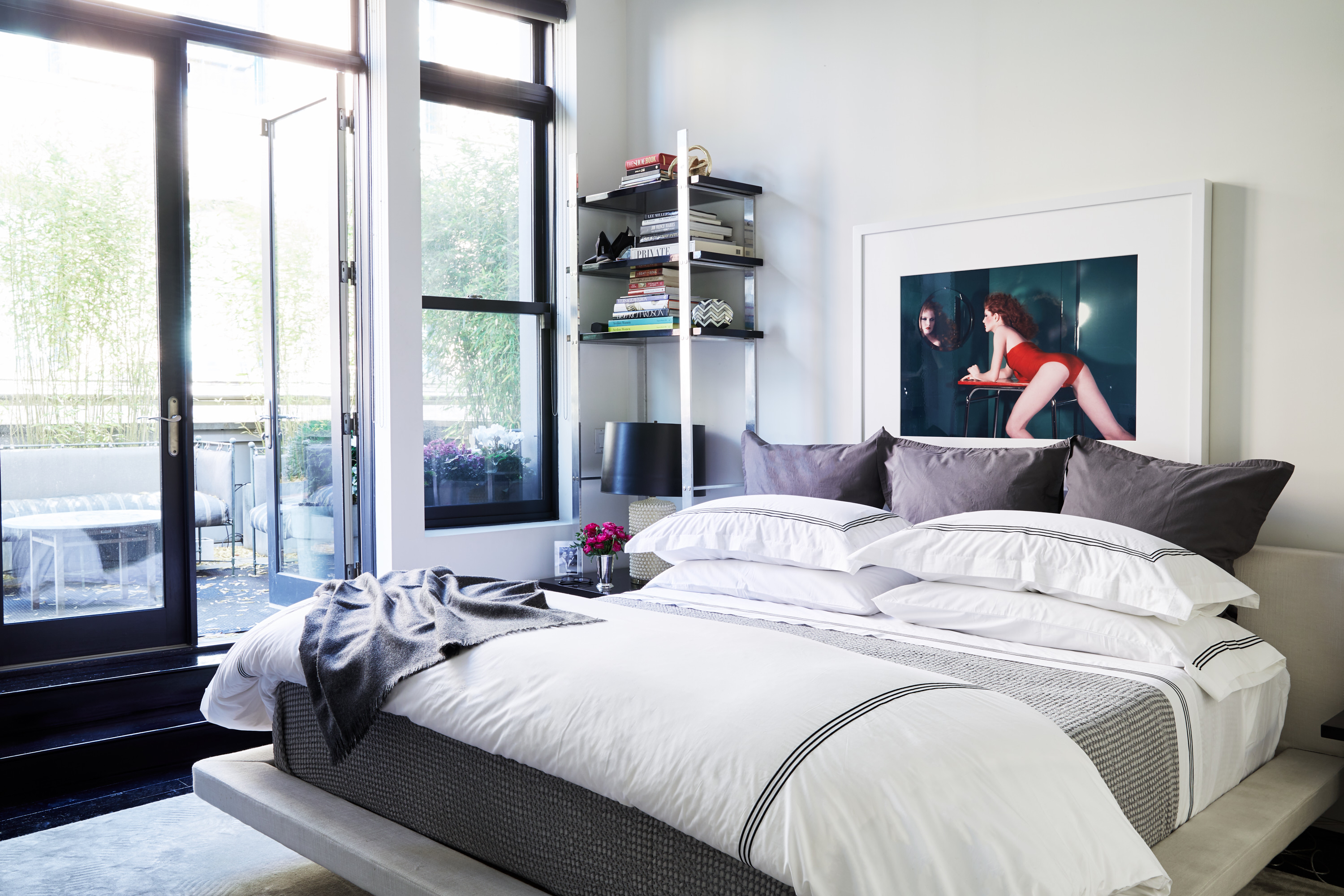 One, a talented physician who specializes in emergency care, is changing lives and making healthcare accessible on the daily with his launch of Cure Urgent Care facilities, as well as being a health correspondent for NBC and FOX. The other, a world re-known shoe designer who started his career under Gianni Versace and now has cultivated a sensational following for his beloved shoe designs. Brian elevates a women's confidence, both figuratively and physically, with the most seductive shoes that are aspirational and inspiring to wear. Coming off the sky-high heels of designing the latest Victoria's Secret fashion show's shoe collection for the 4th year in a row, and opening additional Cure Urgent Care facilities, Brian and Jake have been juggling a hectic life, but have always made time for their one true love, their dog, Zeffirelli.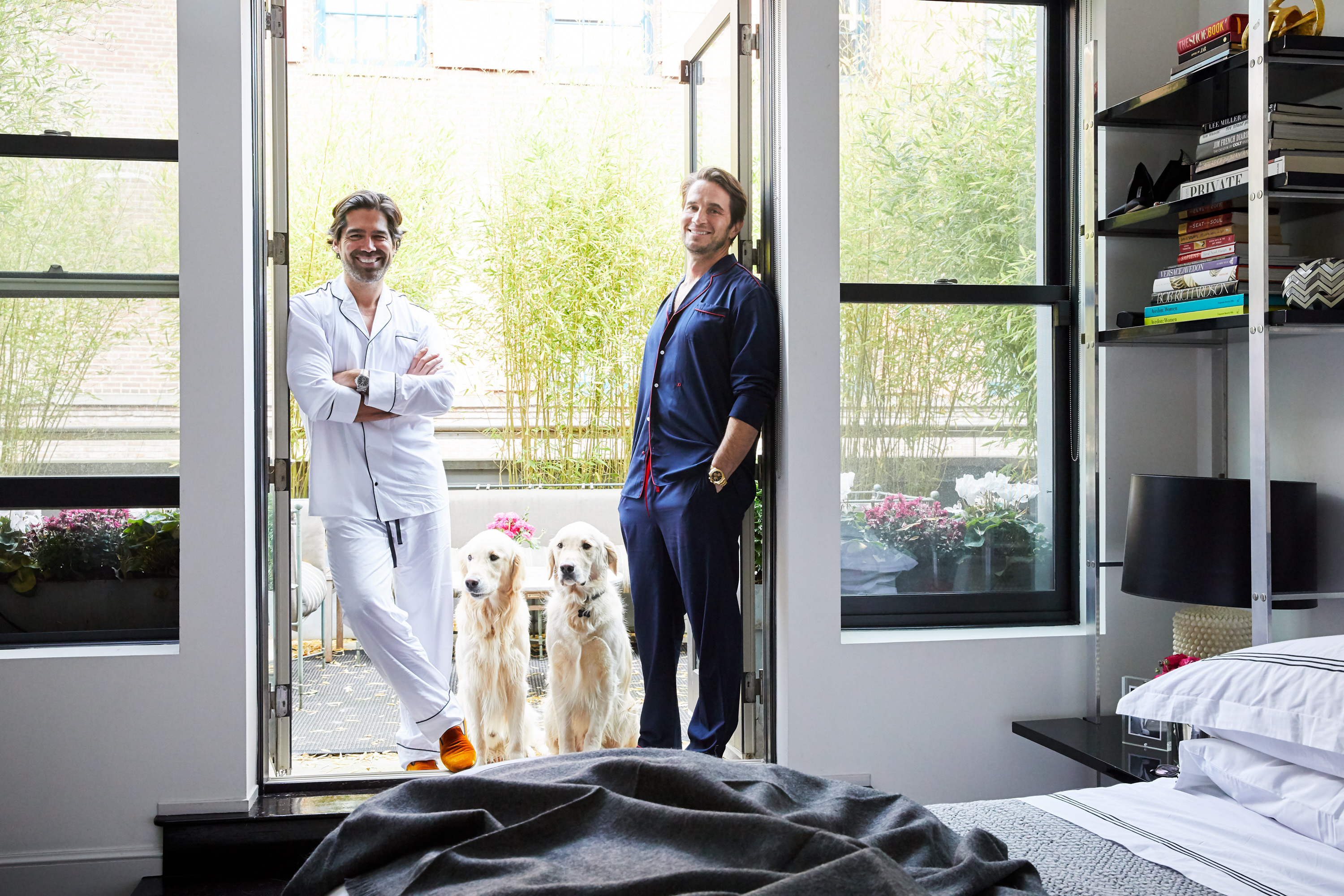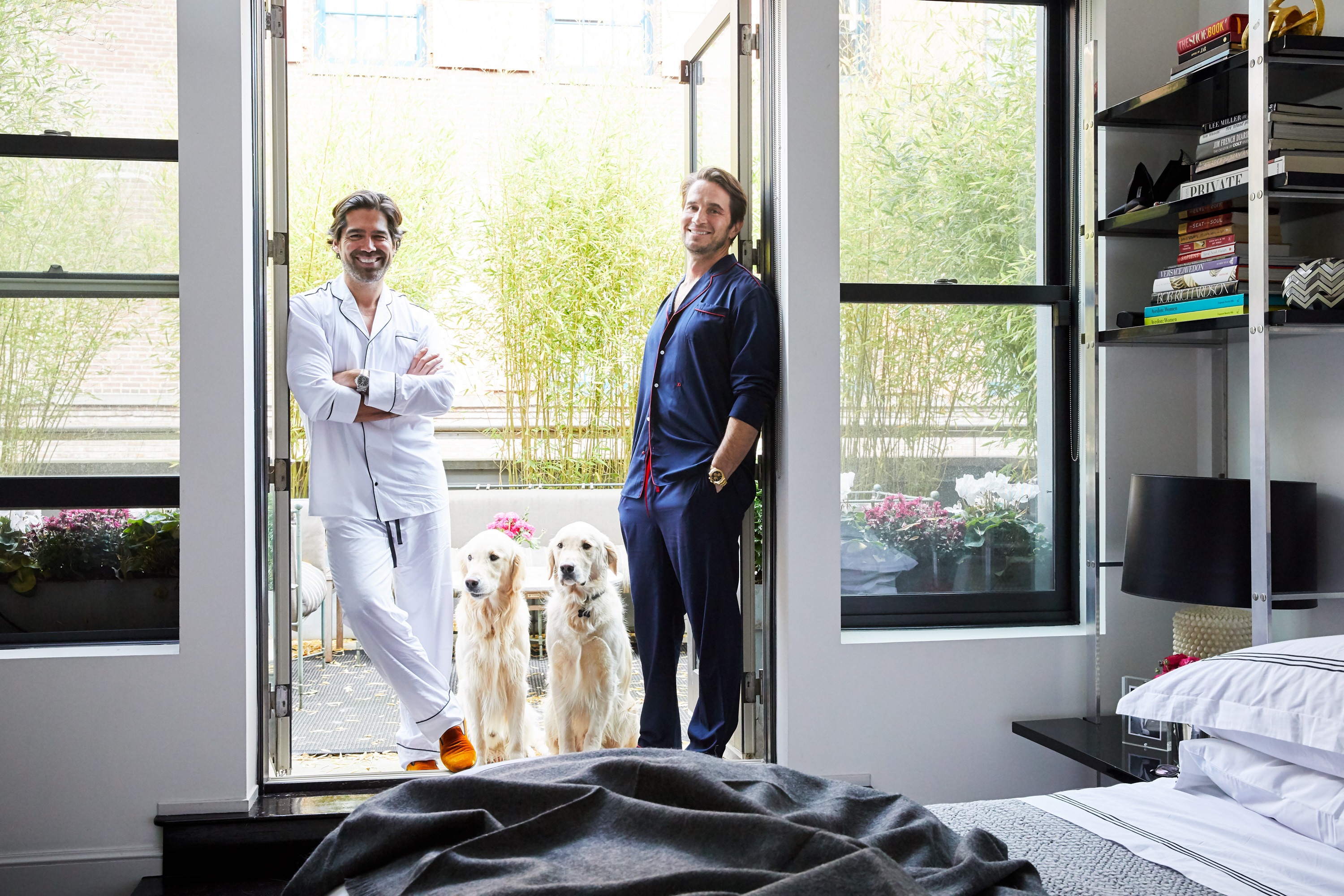 With french doors that open to their wrap-around patio ushering in autumnal breezes, we styled out the couple's peaceful bedroom with the Strada Embroidered Percale Bedding Collection, a Messina Coverlet in aluminium, three Lorimer Euro Shams for the foundation of the bed story, and finished the look with the Mancora Baby Alpaca Throw in taupe. It didn't take long for the dogs to get just as cozy in this heavenly bed.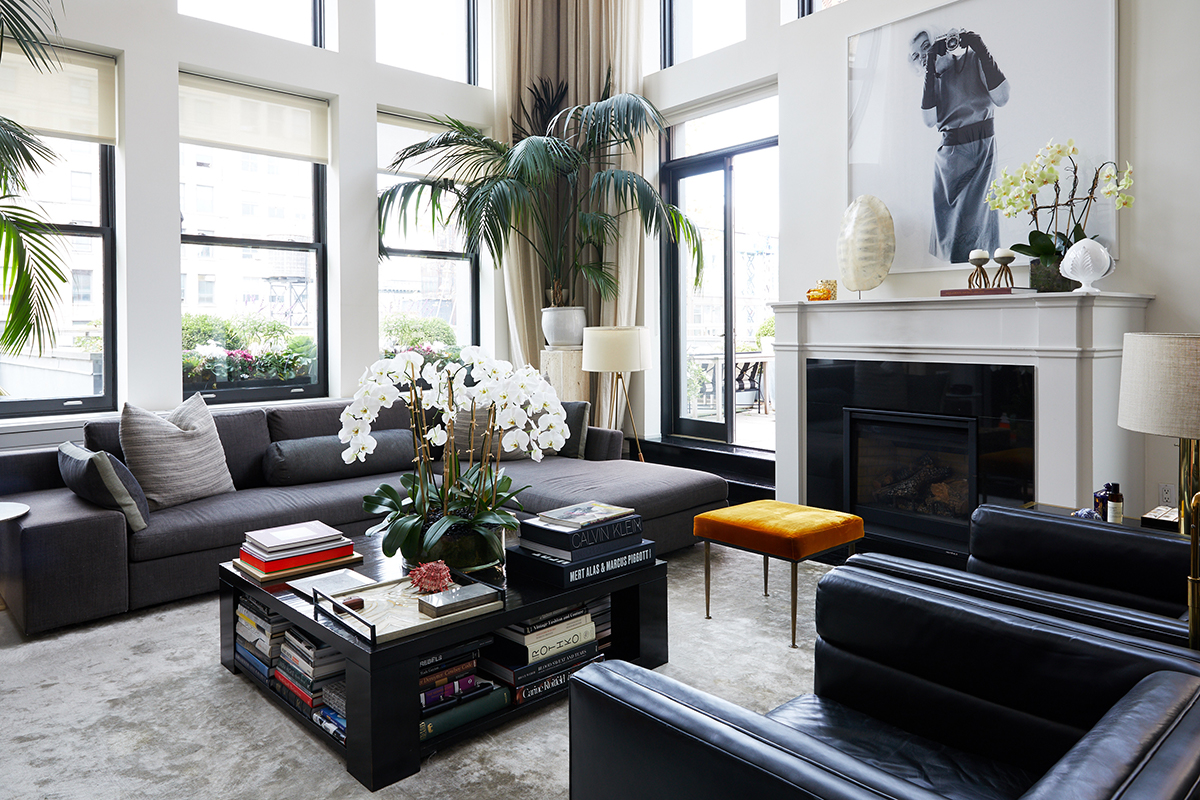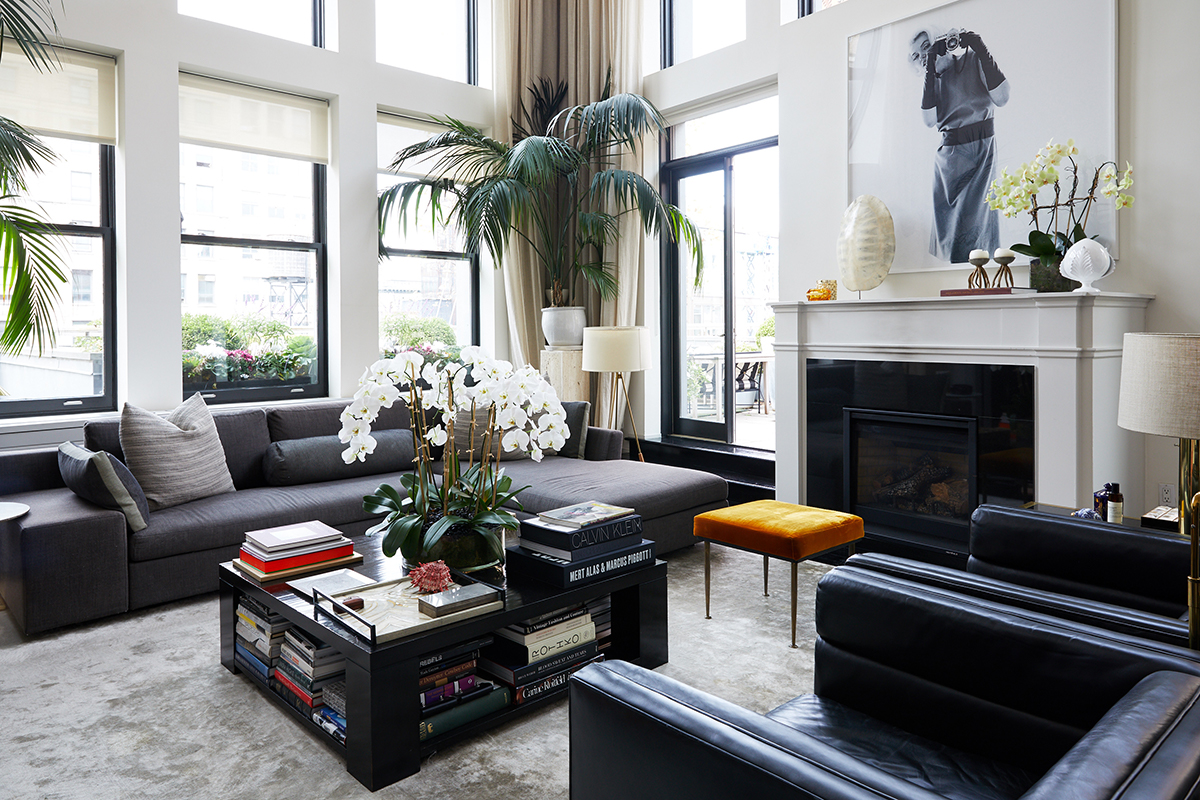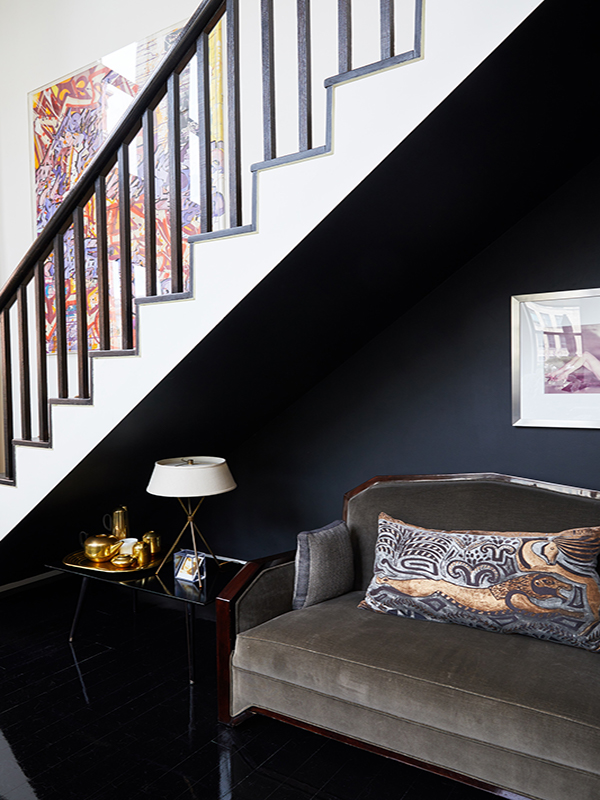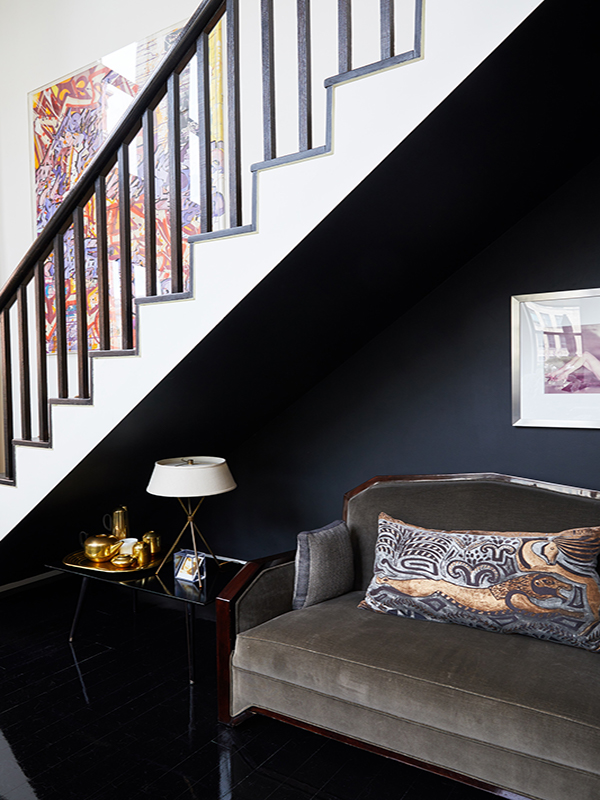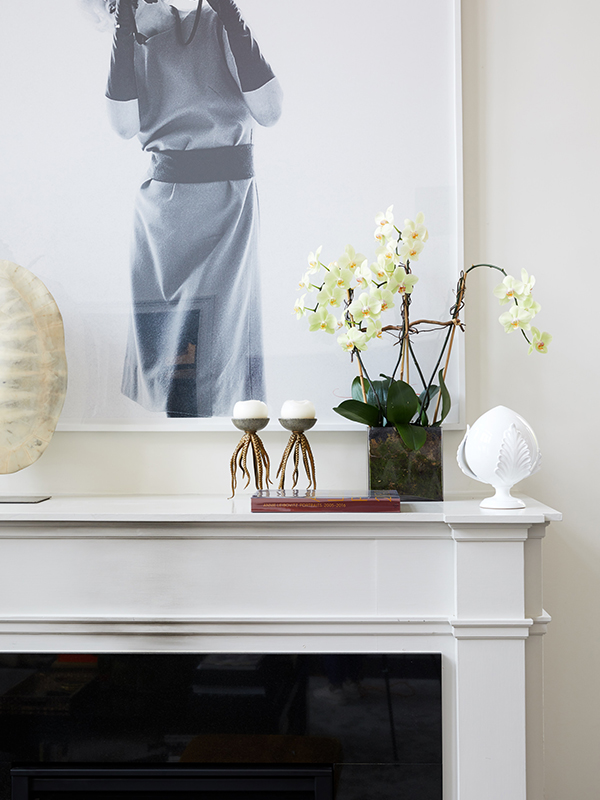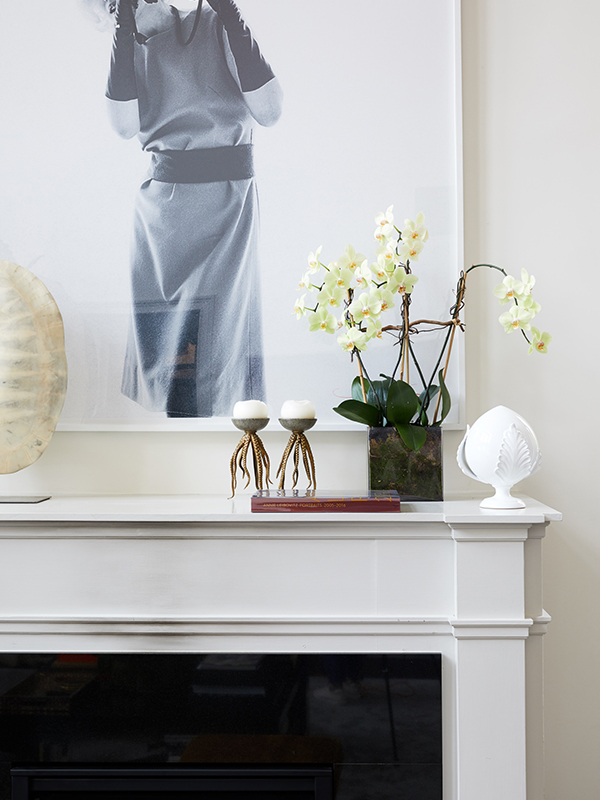 Jake and Brian are as warm and inviting as a cashmere throw. Their stunningly lit apartment in Soho, that is both reflectively soft and masculine, is a perfect metaphorical parallel to their relationship. Balanced by bright expansive windows overlooking their beloved neighborhood, ebony lacquered floors reminiscent of a Tom Ford tuxedo lapel, gilded details, and grounded by a serenely cream-colored hearth, the duo finds symmetry in each other's passion and career goals with support, love, and above all, humor. The handsome couple wearing their monogrammed Piu PJs and our Pique Hooded Robes chatted about winter plans, goals, and their love of entertaining at home.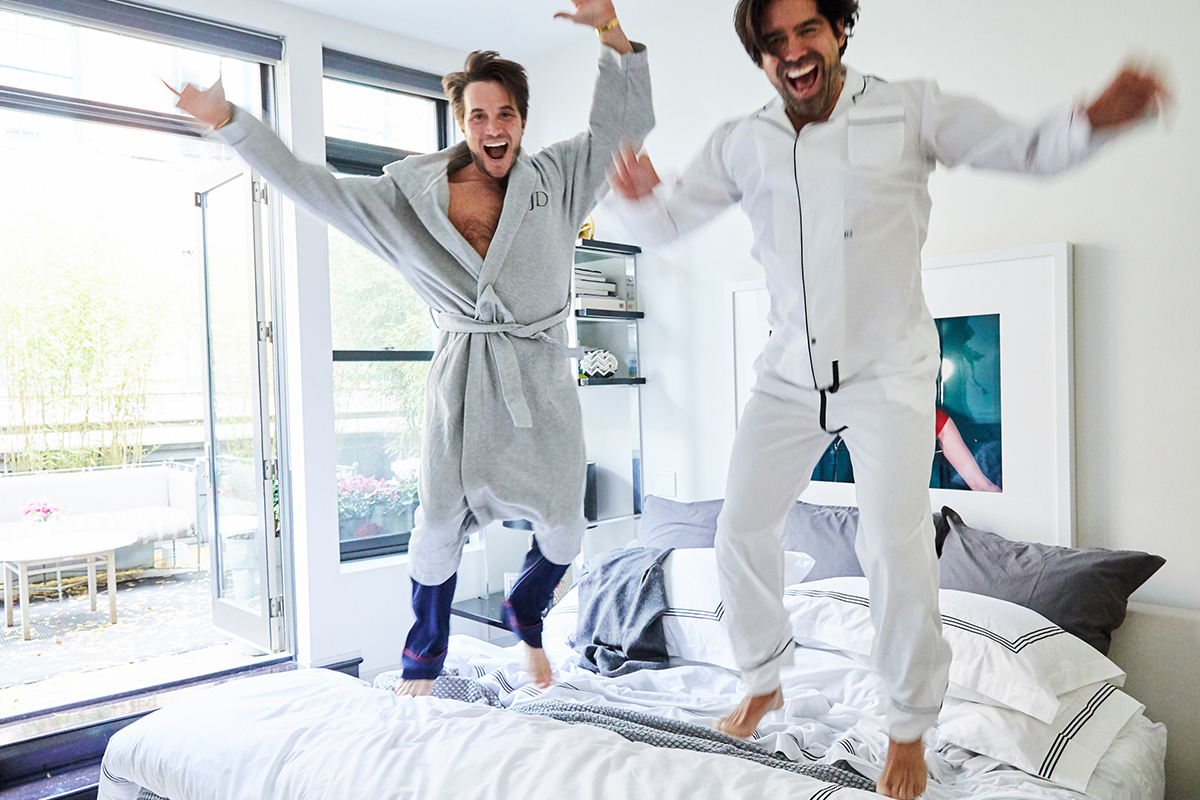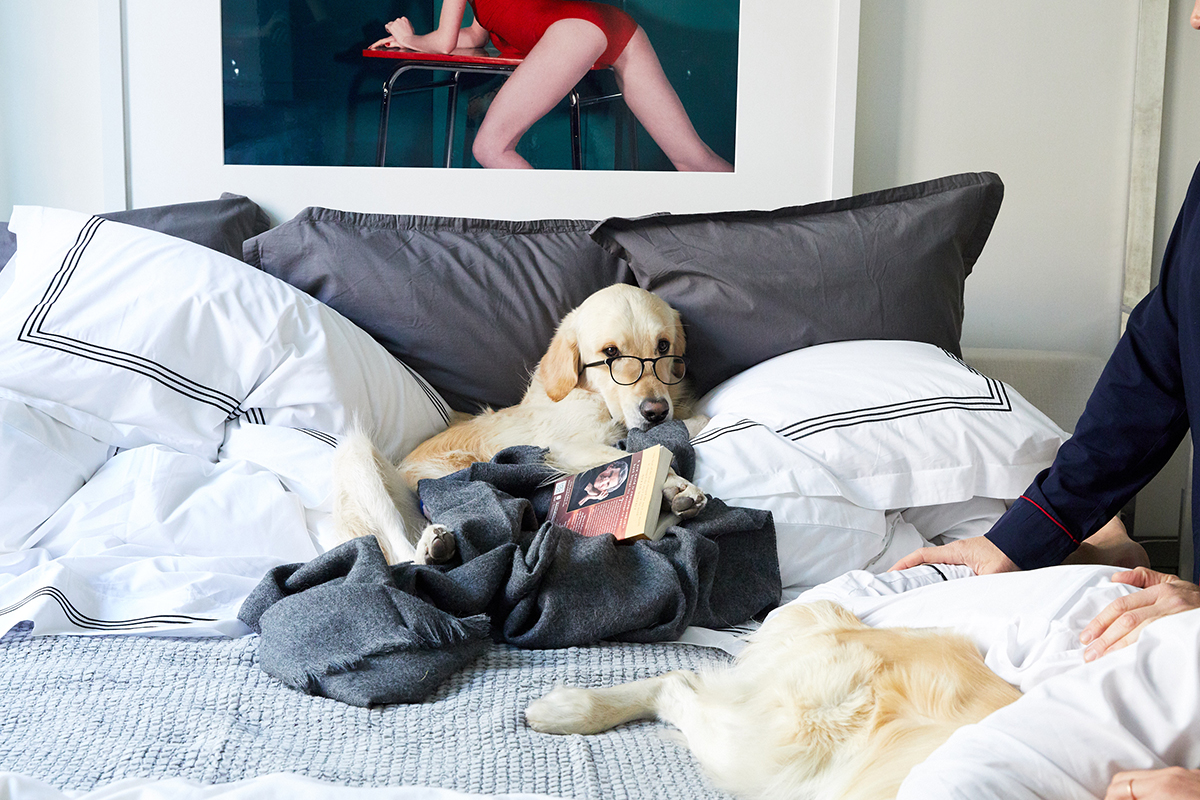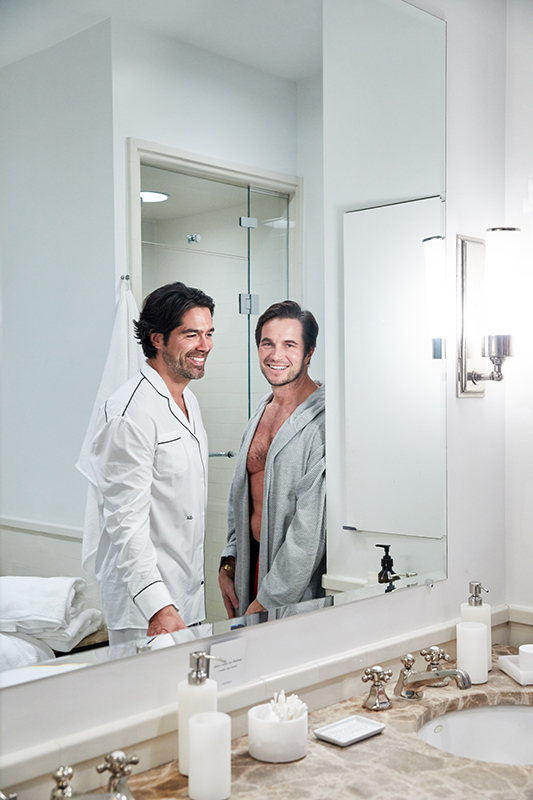 K: Who is the morning riser and the night owl?
JD: Neither is a morning person, though I have to get up early for medical practice. Brian is always burning the midnight oil. That's when creativity seems to flow.
K: Best time to work out?
JD: Any time possible, hopefully in the least amount of time.
K: Neighborhood restaurant we can usually find you at?
BA: Sant Ambroeus, Soho. Our cantina and office.
K: Music currently on at home?
JD: Chill Channel.
K: Winter cocktail choice?
BA:Tequila, it's seasonless.
K: How do you inspire each other to continue the hustle in each profession?
JD: Medicine and fashion balance each other out. You can't take things too seriously in either otherwise you'll burn out.
K: Making Scents: Your go-to scent and does it change throughout the year?
BA: Diptyque in Figuier.
K: Was designing your home a collaborative effort?
JD: Yes. With the help of Studio Mellone.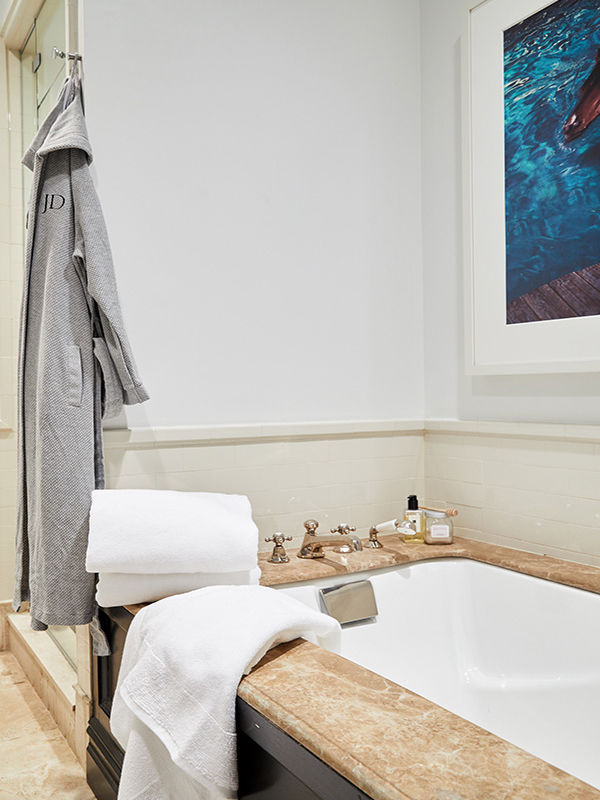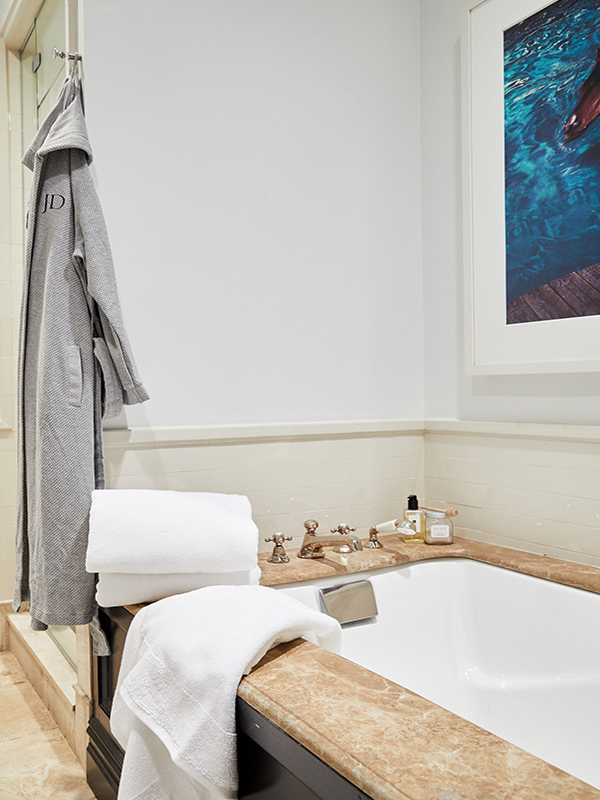 K: Three words to describe Jake's style:
BA: Classic, Tailored, Fashion-minded.
K: Three words to describe Brian's style:
JD: Chic, Indulgent, On-Trend.
K: For a typical vacation, do you escape or embrace the cold?
JD: Escape.
K: A perfect winter weekend includes?
JD: Dog day trips to the park and fire in the evening.
K: Hosting an evening of friends at home usually includes?
BA: Way too many flowers and never underestimate the power of a DJ even for small house parties.
K: Winter is Coming: Favorite item to use to combat dry, winter skin.
JD: Soil. It's an oil for hair but we use it everywhere.
K: Who is the better patient when someone gets sick.
JD: Me. Brian is known to run around the house like a kid when it comes to a simple flu shot.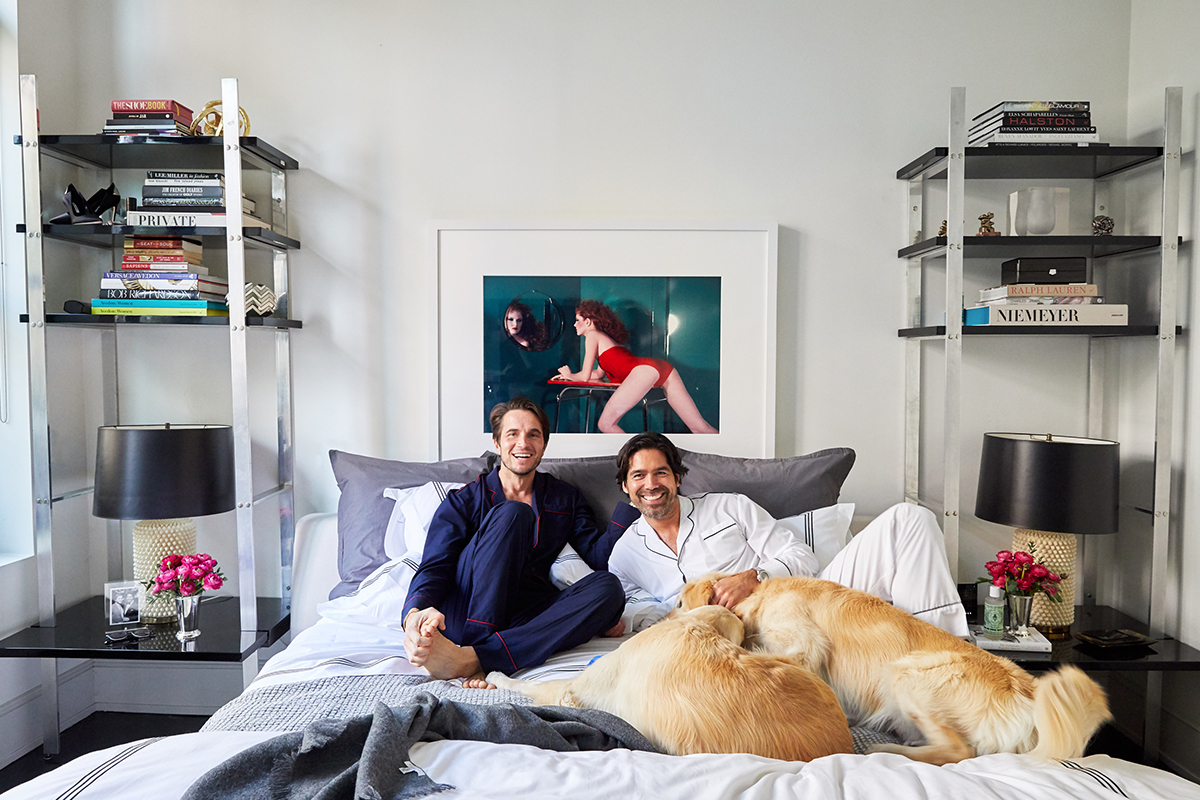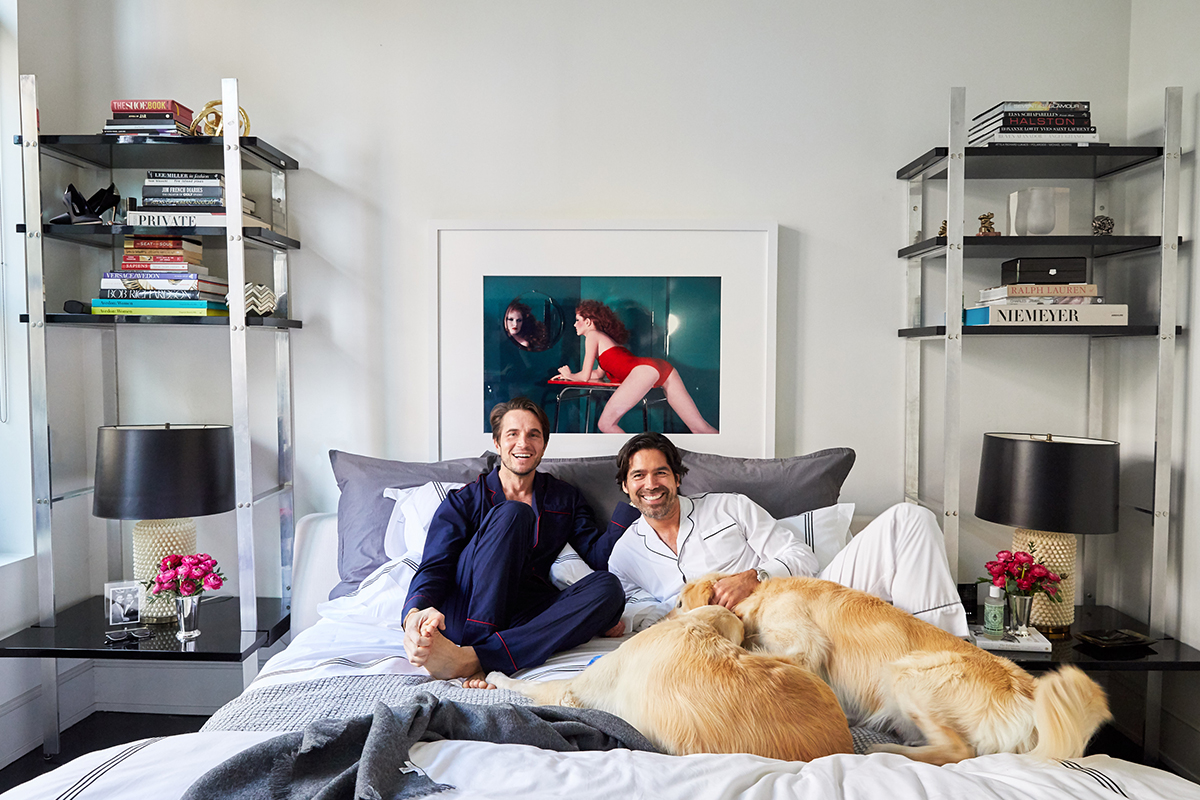 Written and Produced By: Kelly Florio Kasouf