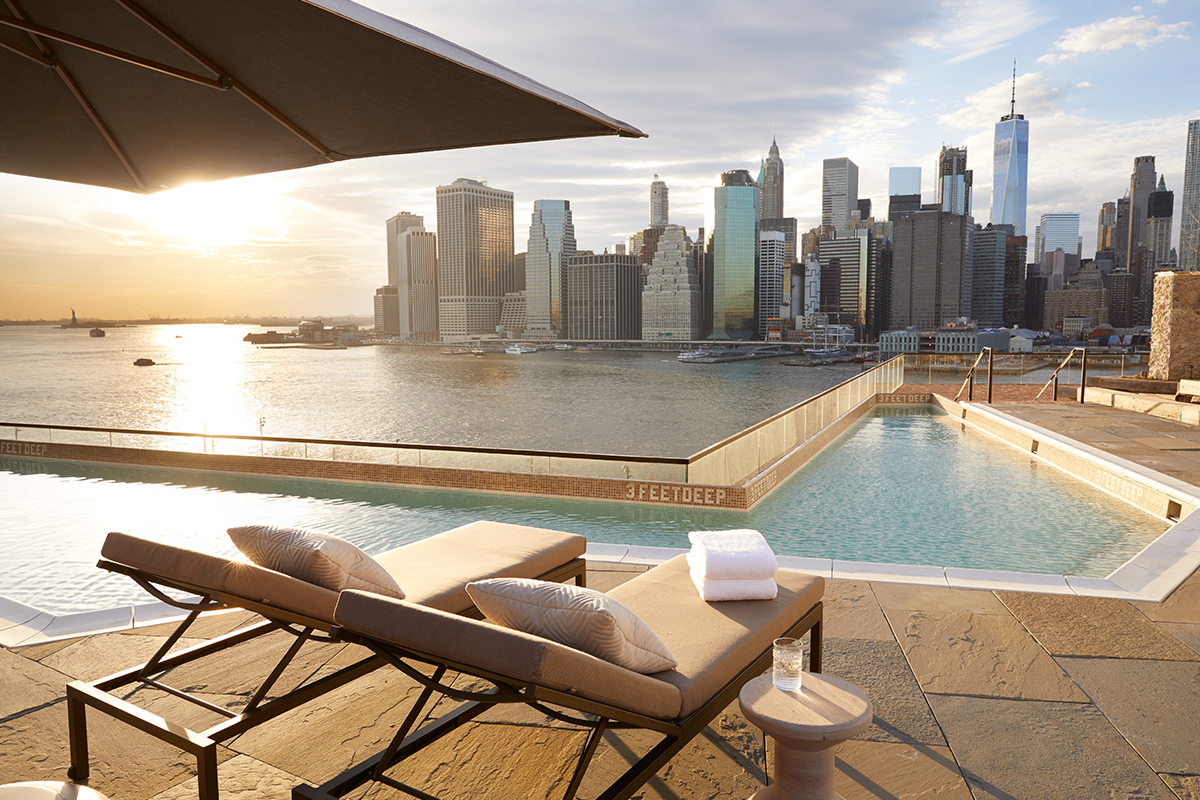 There is nothing more exciting than meandering around parts of Brooklyn and finding new gems of restaurants, galleries, and shopping meccas. What was once a first home to many immigrants, Brooklyn's history is immersed in the sounds, flavors, and vibes of generations past that are still simmering away. Brooklyn's cultural layers are vast and colorful, and truly worth the experience. For those seeking to do as the locals, we combed our favorite neighborhoods for the best of the best Brooklyn has to offer. From live art events to beauty havens, these are our can't miss places to visit.
Stay Here: 1Hotel Brooklyn Bridge
60 Furman Street, Brooklyn, NY
There is no where else that truly captures the essence of the city and possesses the most breathtaking vistas from any vantage point than at the 1Hotel Brooklyn Bridge. From cocktails at Osprey Restaurant to soaking in a glass-encased bathtub overlooking the cityscape, and a reflective pool to cool off in, the hotel is quite possibly the most serene yet simultaneously exciting place to be in Brooklyn.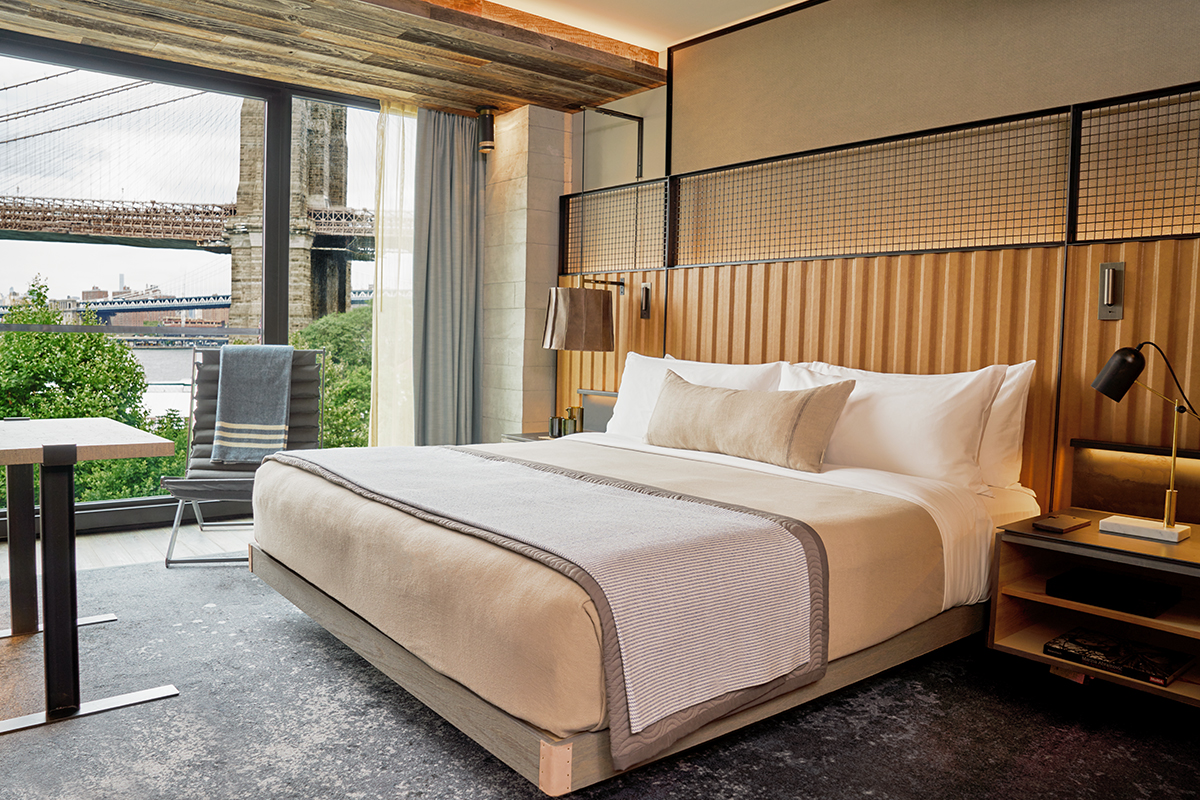 Worth the Trek Beauty Haven: Shen Beauty
315 Court St.Brooklyn, NY 11231
Ask for Jessica when you arrive at this can't miss beauty shop. From the moment you step inside, the team at Shen will give you an overview of your skin type and recommend products from the ends of the earth that will change the way you view your cleansing regimen. It's not uncommon to see the likes of bold named beauty editors and bloggers perusing daily here.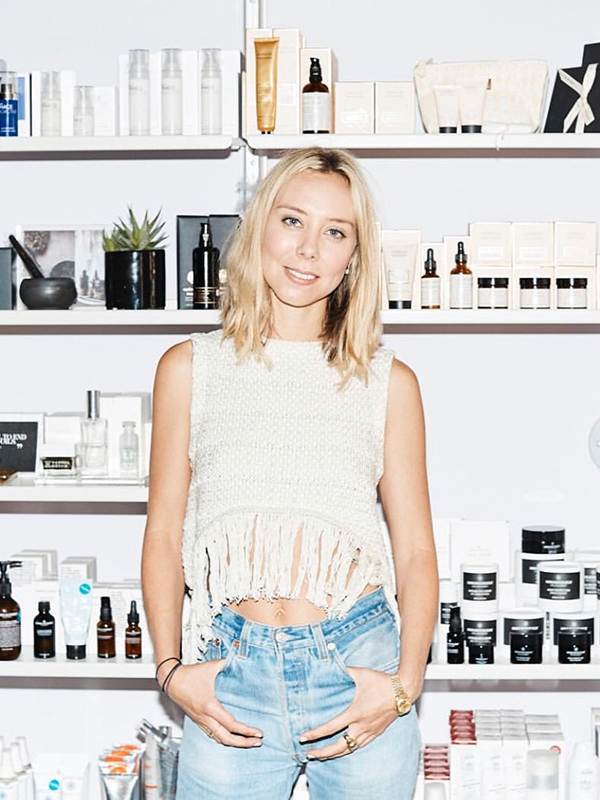 Get Your Ohm On: POE Yoga
90 Furman St, Brooklyn, NY 11201
Before your local excursions through the neighborhood, we love to hit up POE yoga for a daily stretch and some breathing exercises. The calming effect the studio has will keep you motivated and harmonious the rest of your day.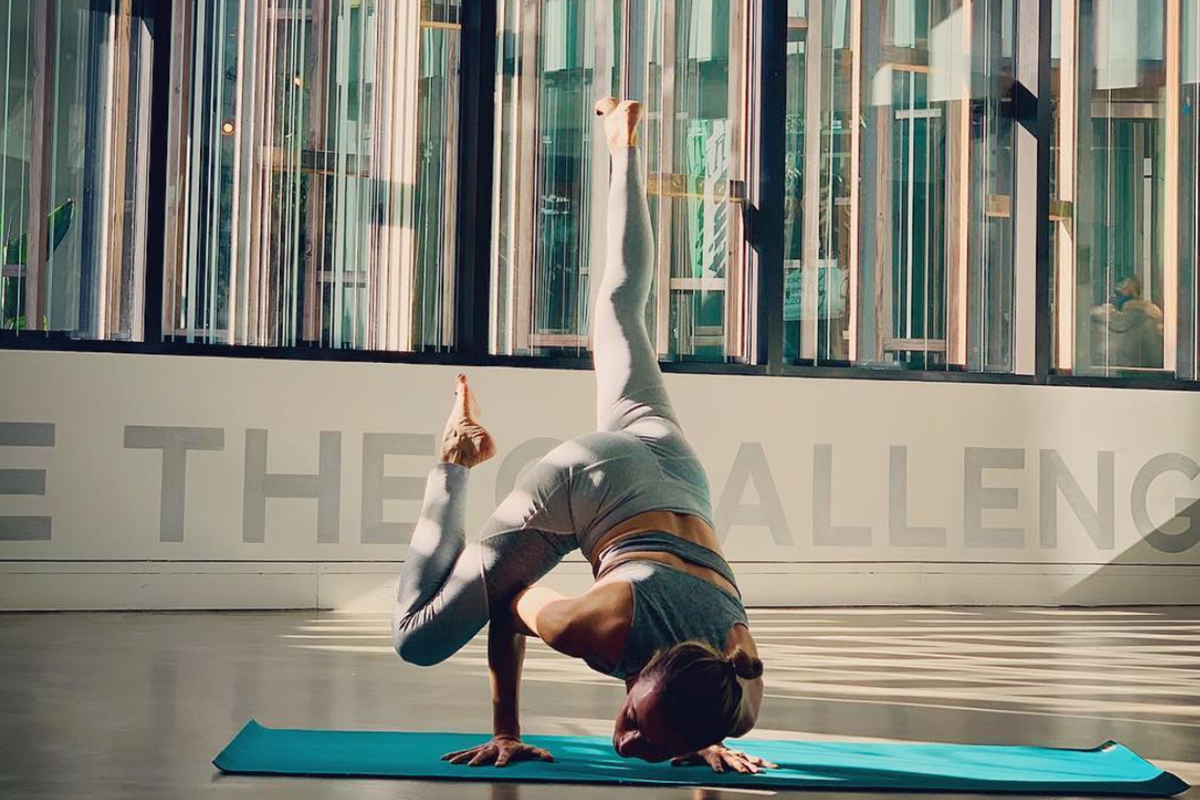 55 Water St, Brooklyn, NY 11201
If Moonstruck and Lady and the Tramp grew up in today's Brooklyn, this would be their quintessential date night locale. Serving elevated Italian cuisine with sweeping views of downtown Manhattan to giant bowls of delicious pasta, Cecconi's is a must if you're looking to fall in love again and again.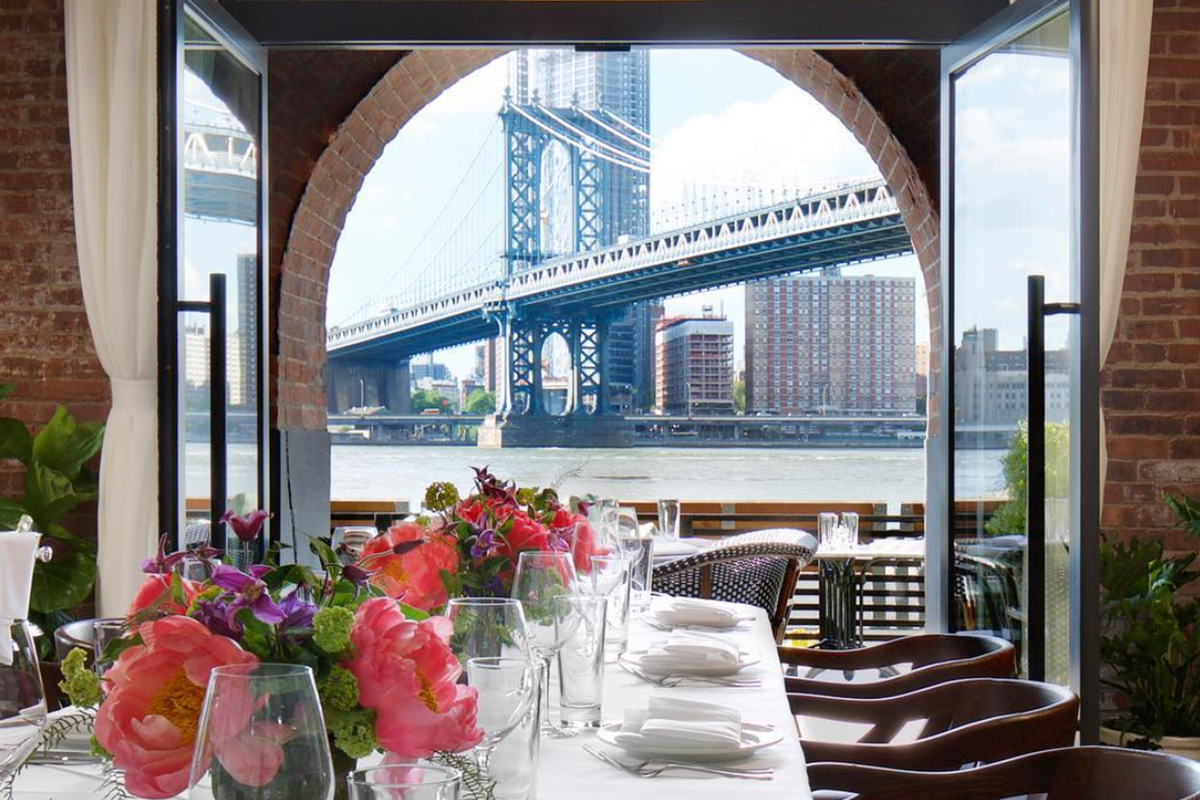 Old Dock St, Brooklyn, NY 11201
Exquisitely painted horses fit for adults and children to enjoy. Originally installed in Ohio in 1922 but was later bought by a woman named Jane Walentas, who fully restored the carousel, and is now ensconced in a glass jewel box of a structure. Breathtaking views of Manhattan await.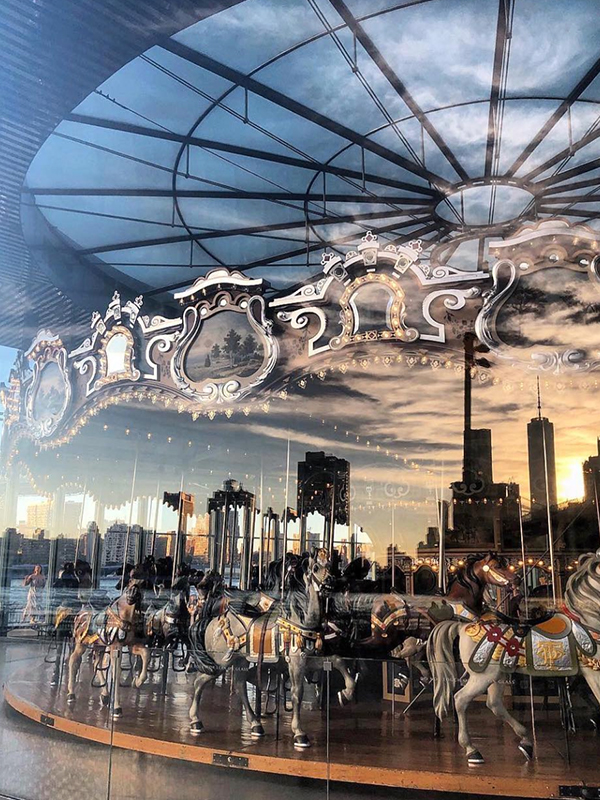 1 Front St, Brooklyn, NY 11201
There's pizza, and then there's Grimaldi's historically classic and synonymous with defining a generation of pizza lovers pizza. It's a necessity to experience this quality sauce. Skip the Empire State Building lines and make your bellies happy with a slice of heaven instead.
247 Water St Suite 106, Brooklyn, NY 11201
One part puzzle solving, one part creative experience, Beat the Bomb is a team building escape room venue where guests are invited to make their way through the room in an alloted time or else, you guessed it, artistic paint explosions for everyone to revel in. Win or lose, it's a competitively colorful good time.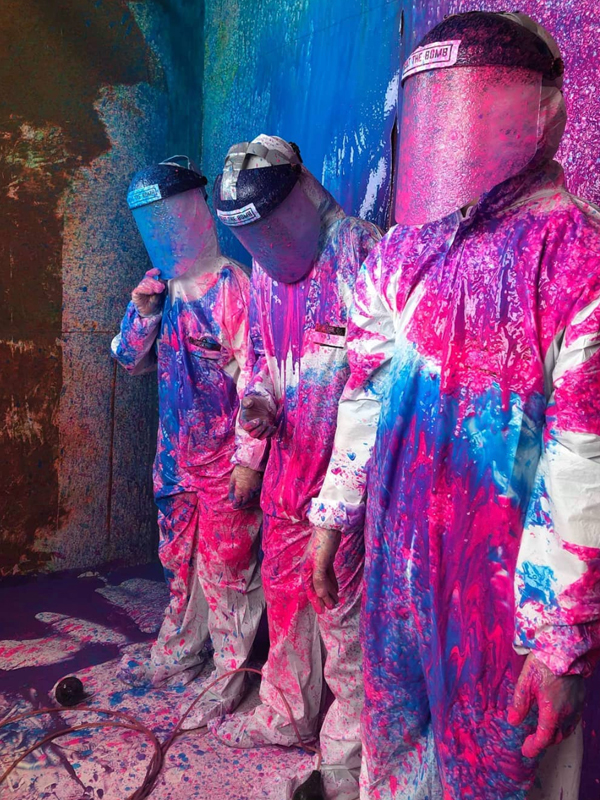 89 Water St, Brooklyn, NY 11201
An eclectic and introspective collection of artists can be found gracing the walls at the famous Klompching Gallery. From prints to paintings to photography, the artists in residence will satiate your cultural needs with their gripping installations.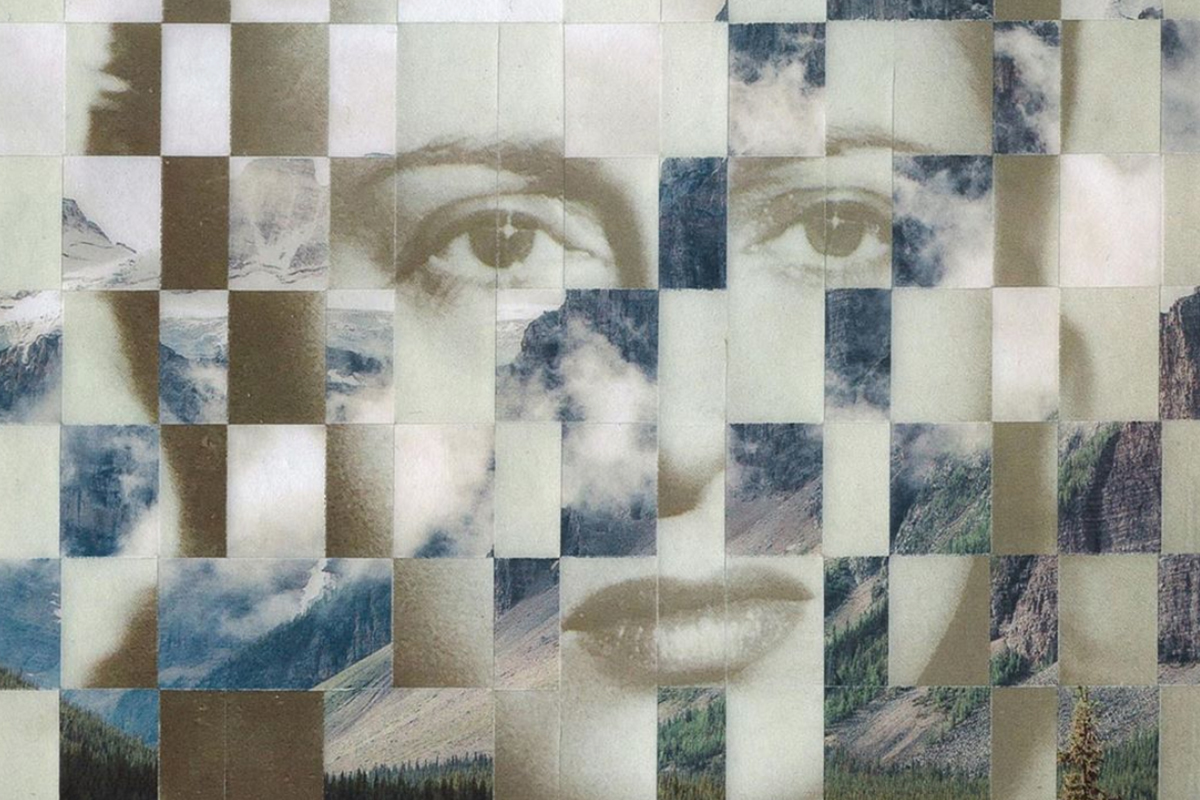 Enter to Win
After enjoying a fun-filled day, we invite you to a supreme sleep in our exclusive custom organic bedding collection we specifically designed for the 1Hotel Brooklyn Bridge. Continue the at-home hotel experience with our sweepstakes with 1Hotel and TUMI. Click here* to enter to win a two-night stay at the 1Hotel Brooklyn Bridge, spa treatments at the Bamford Haybarn Spa, our Lorimer Bedding Collection, Hotel Spa Robes, and Nuage Bath Towels, and TUMI Luggage. It's time to recharge your batteries and experience the quieter moments of New York City.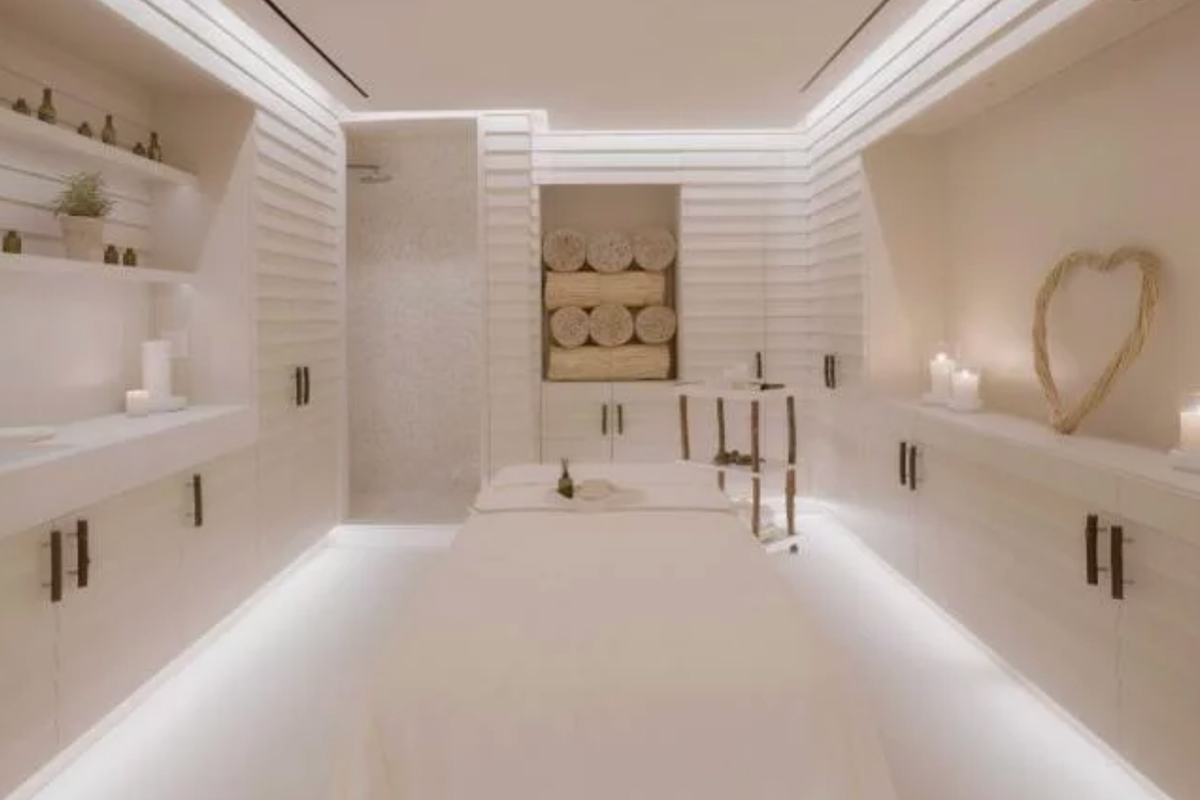 Written and Produced By: Kelly Florio Kasouf
*Enter by June 10, 2019 at 11:59 p.m. EST.