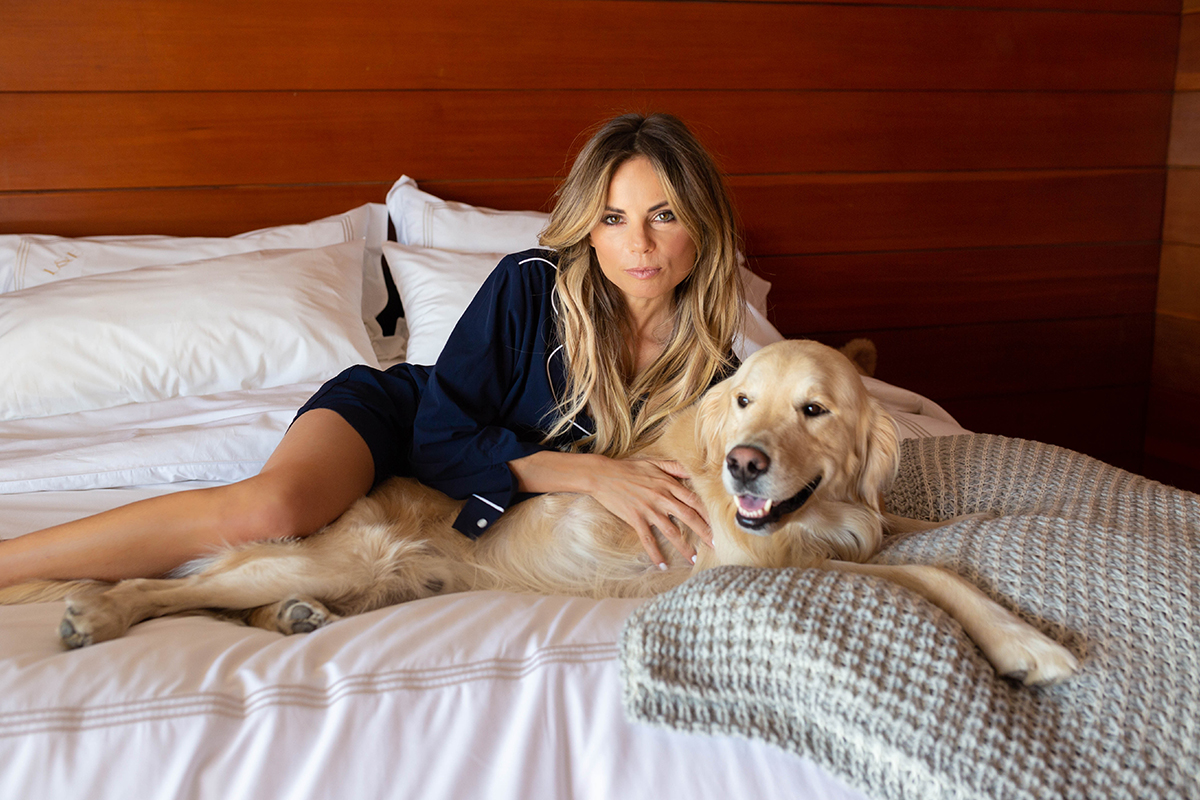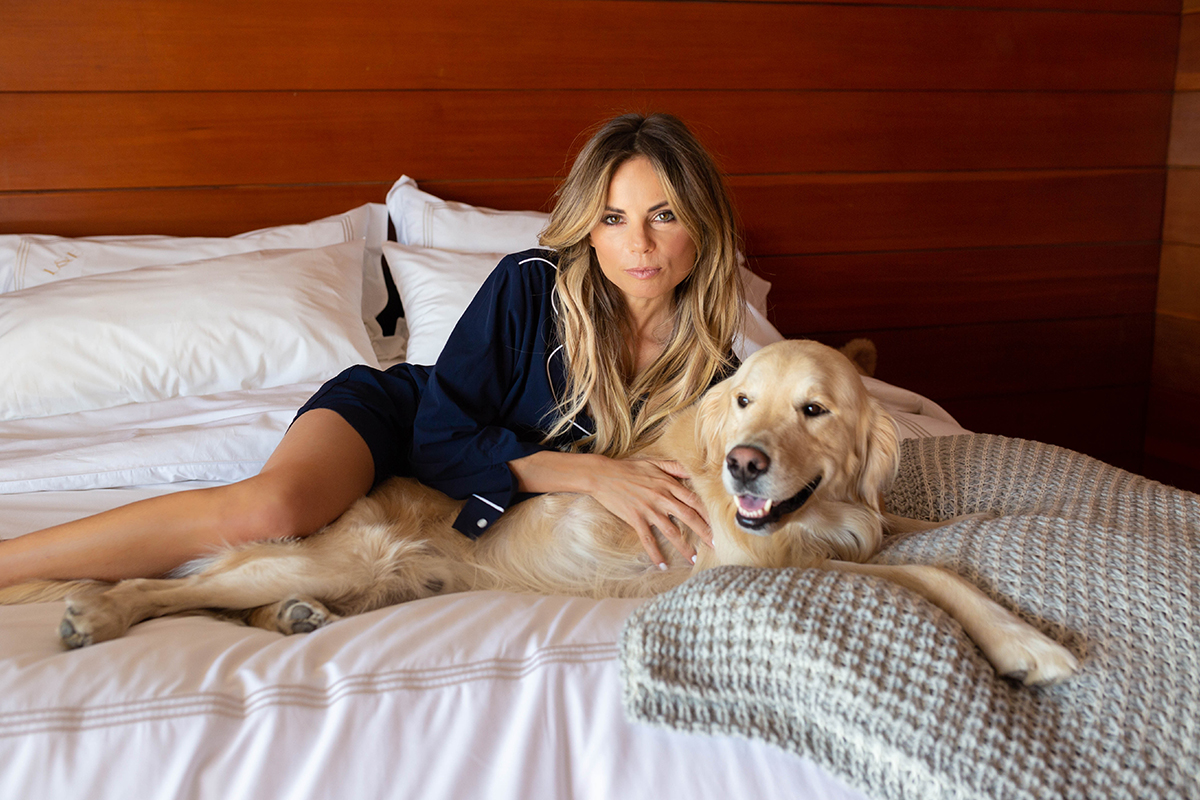 Erica Pelosini is like a shot of fine Limoncello. Small but fiercely affective. With sun-kissed skin and caramel highlights, Erica wears Los Angeles well. However this Italian born siren from Florence is anything but idle.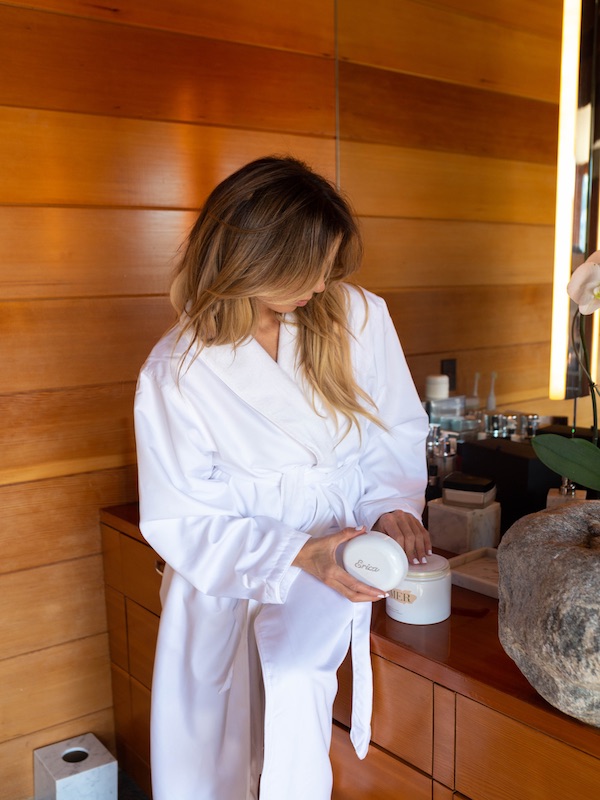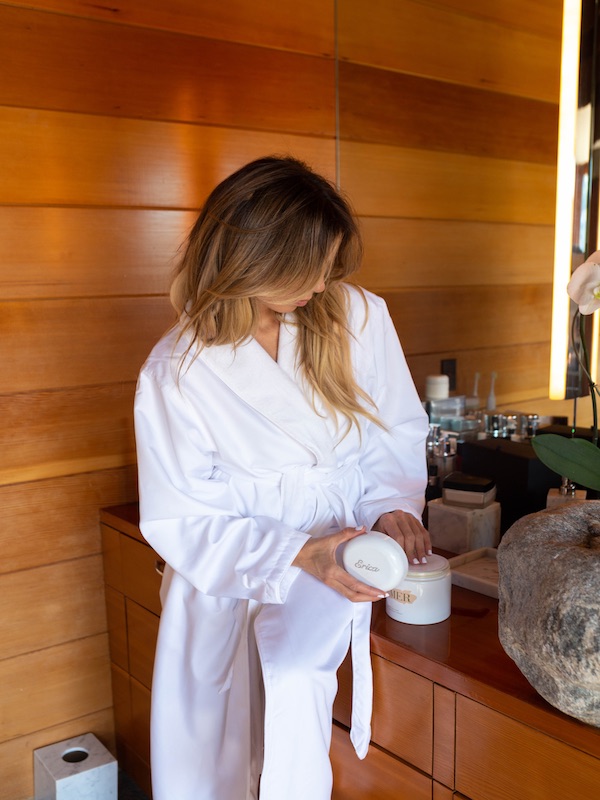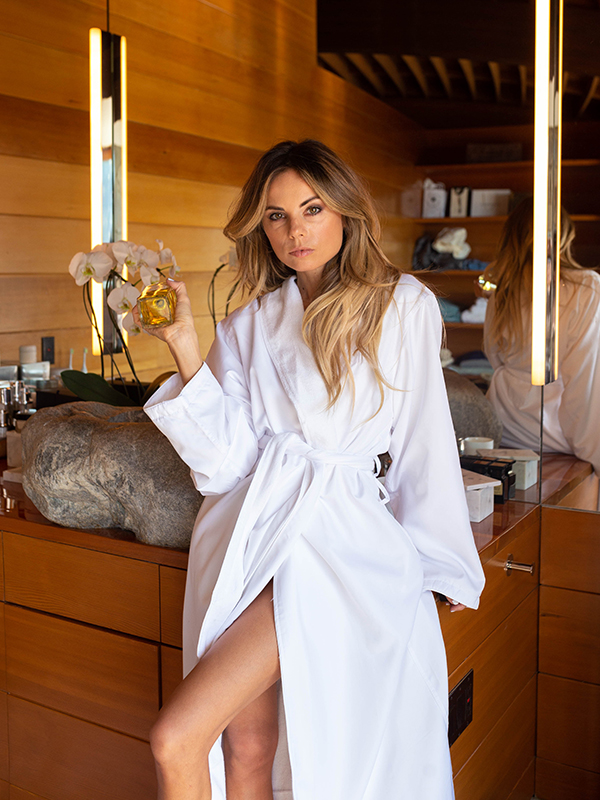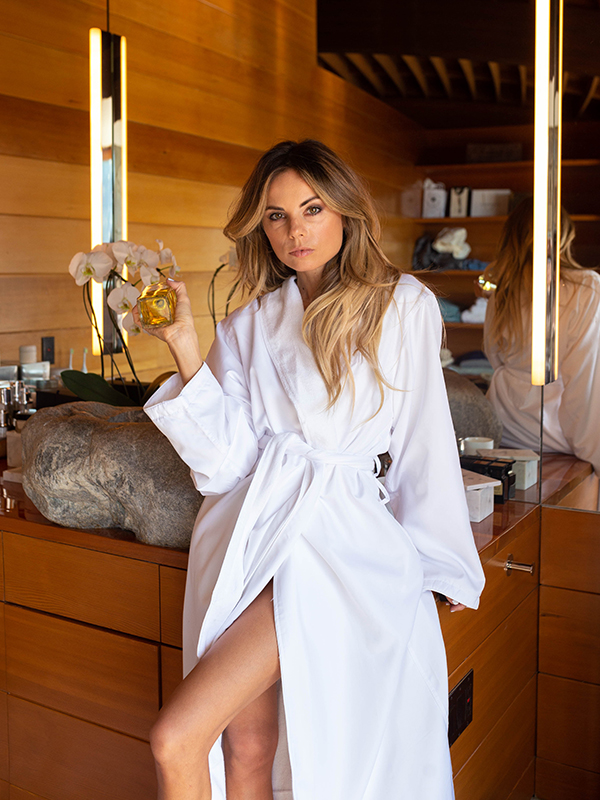 As a stylist, editor, creative director, and ambassador to brands like Christian Louboutin, Roberto Cavalli, Emilio Pucci, Salvatore Ferragamo, and Mary Katrantzou, Erica's poetic eye and ability to tell a fantastical story through fashion is the driving force in her brand. Her name is well known in the fashion publishing world for being a contributor to Harper's Bazaar UK and US, Vogue in Spain, Italy, Mexico, Brazil, Dutch, and Japan, as well as at L'Officiel Paris, Russia, Italy, C Magazine and style.com Arabia.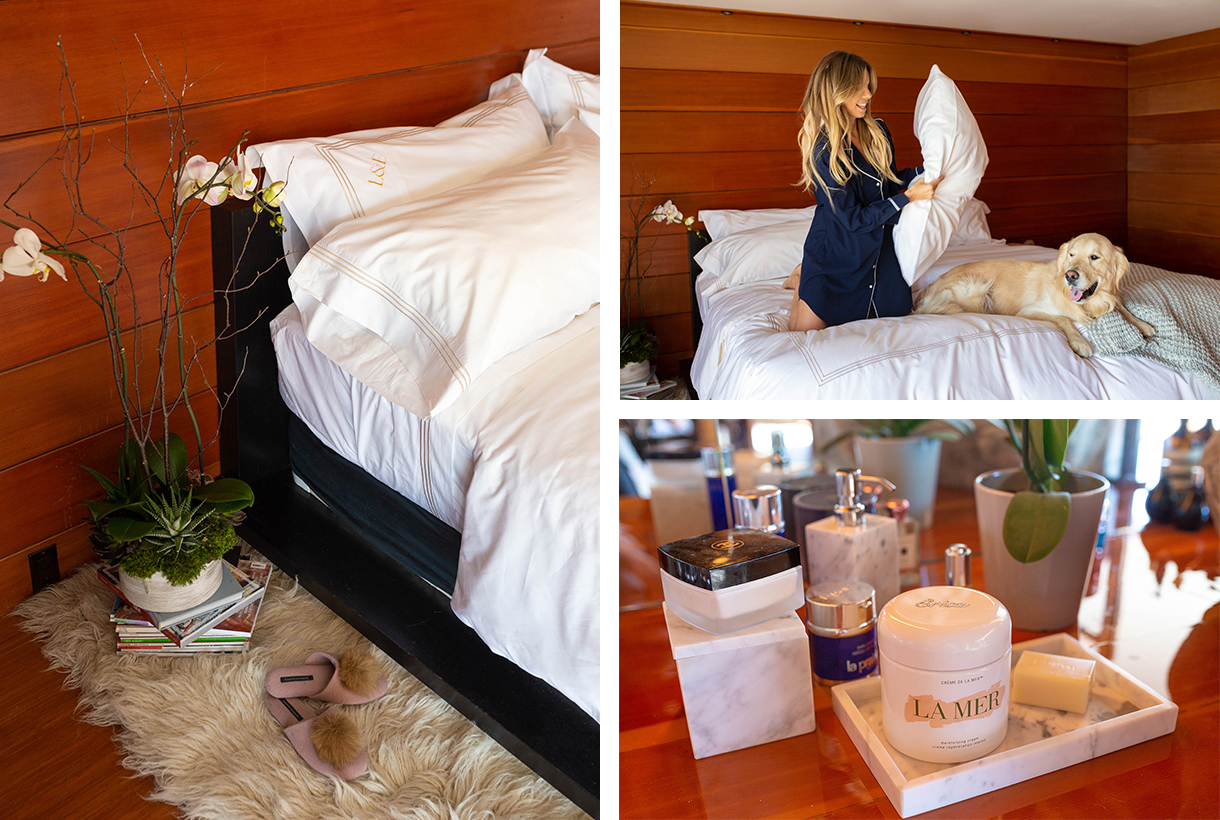 Married to Dutch shoe designer Louis Leeman, whom she launched his eponymous label with, she is also a creative director at their family business. Louis and Erica recently introduced the women's collection, and have been forever travelling in search of inspiration, the latest trends, and celebrating the brand.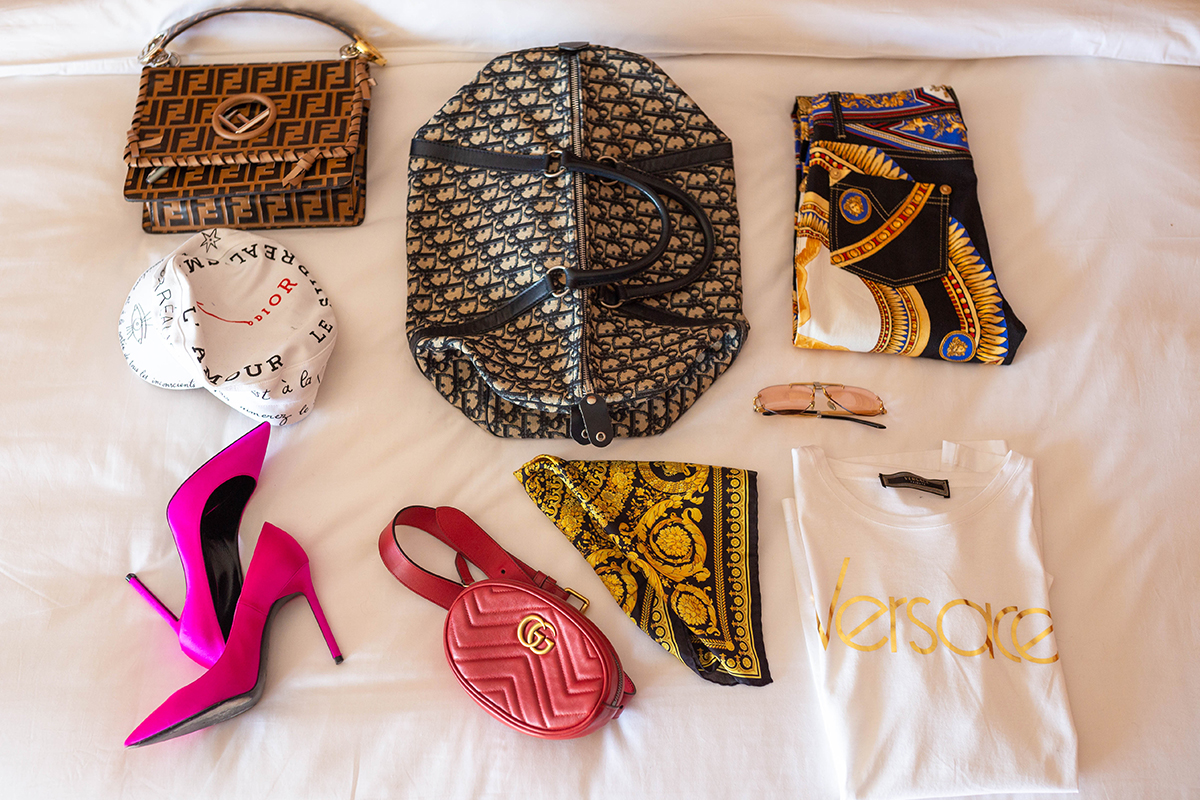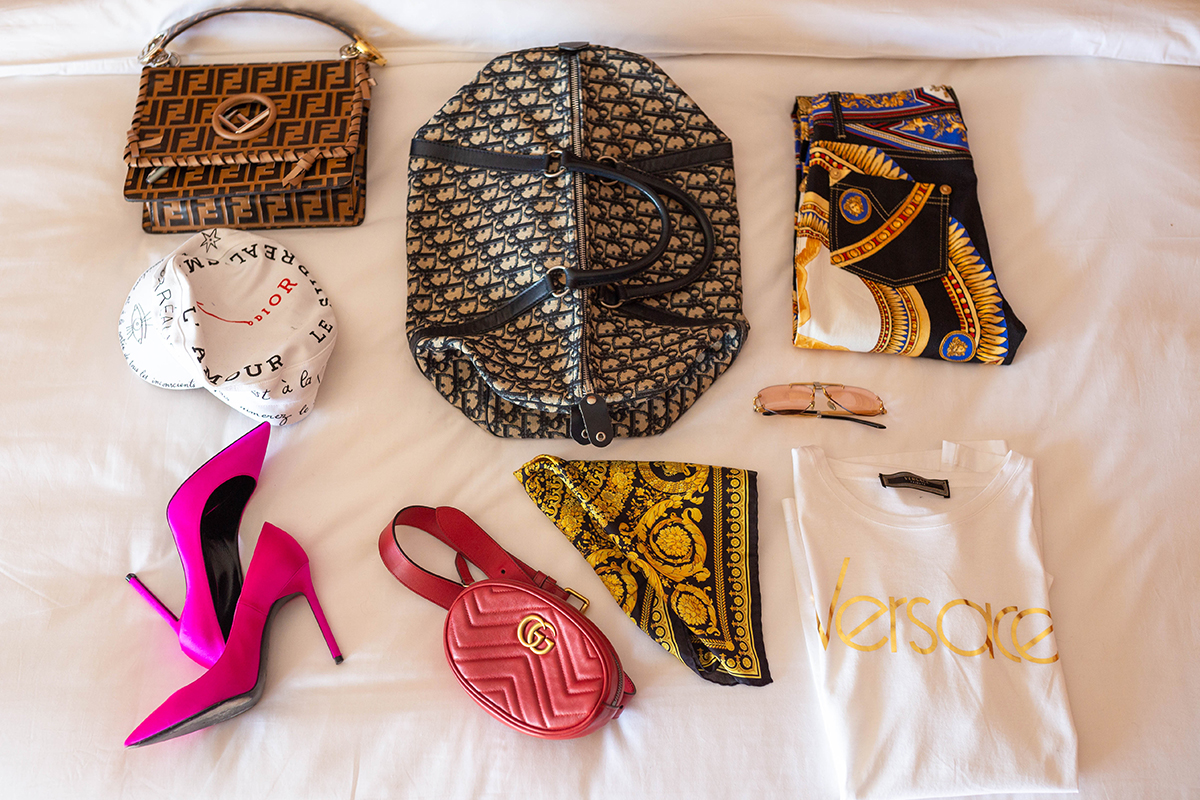 With her various creative directing projects in rotation, Erica is constantly on the go. We asked Erica to show us how she jet sets in style and what her absolute necessities are when she is away from her abode in LA. Wheels up.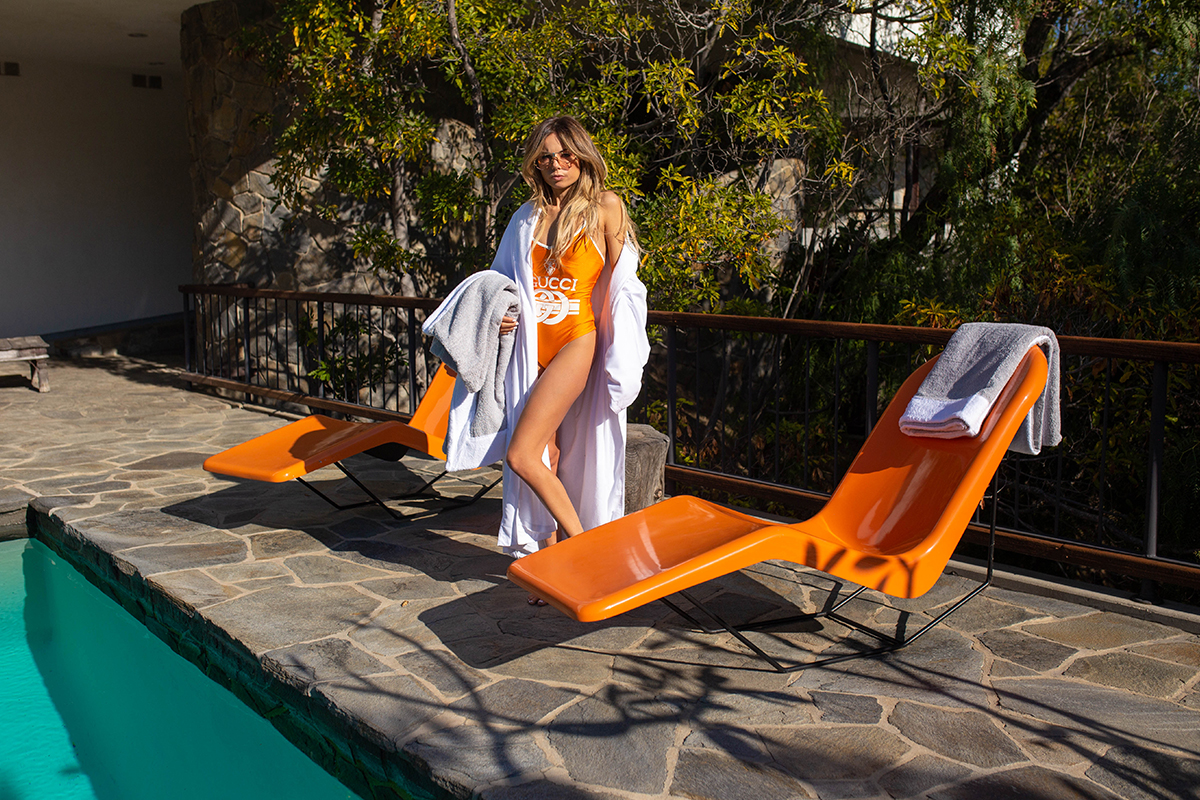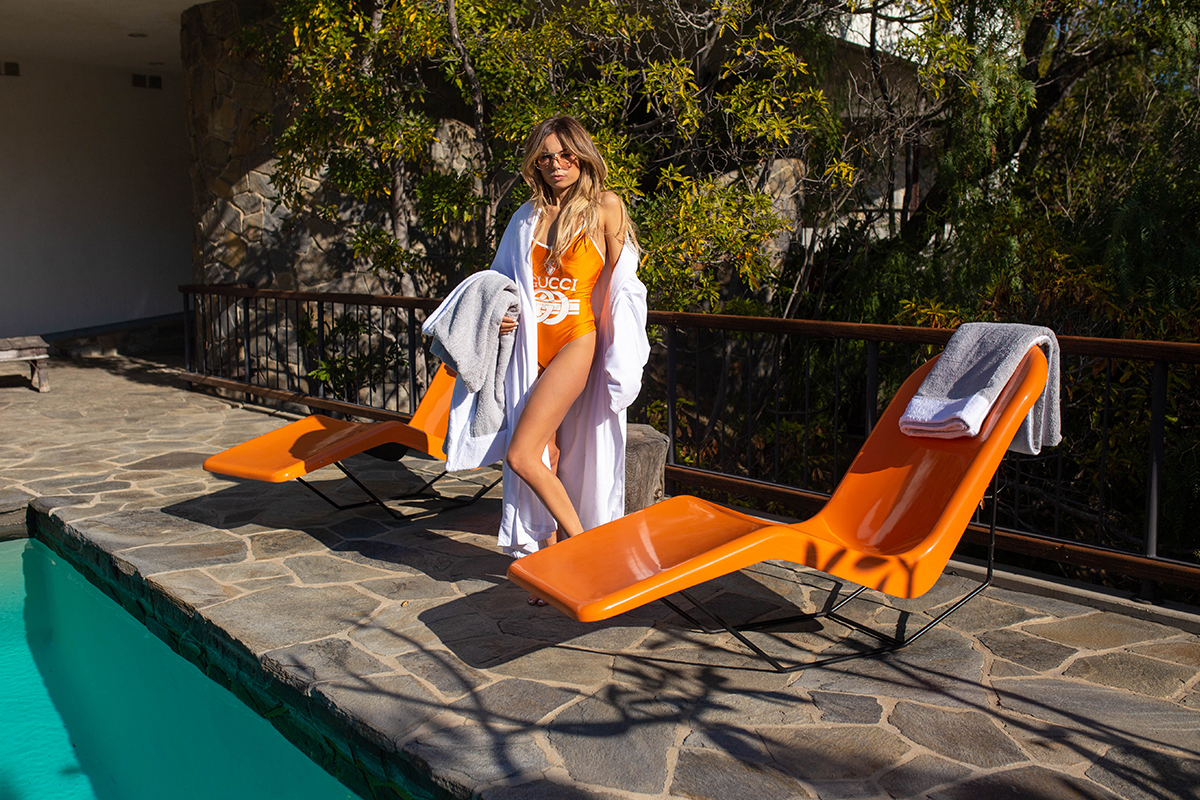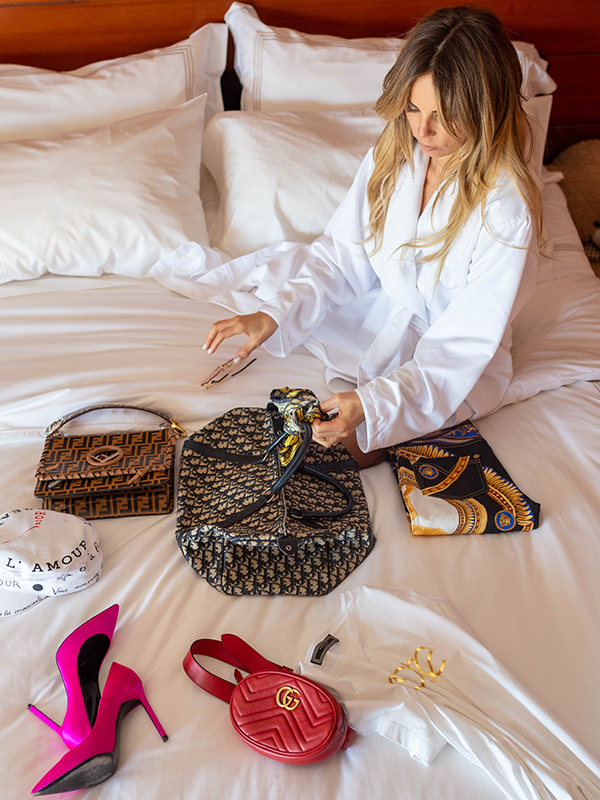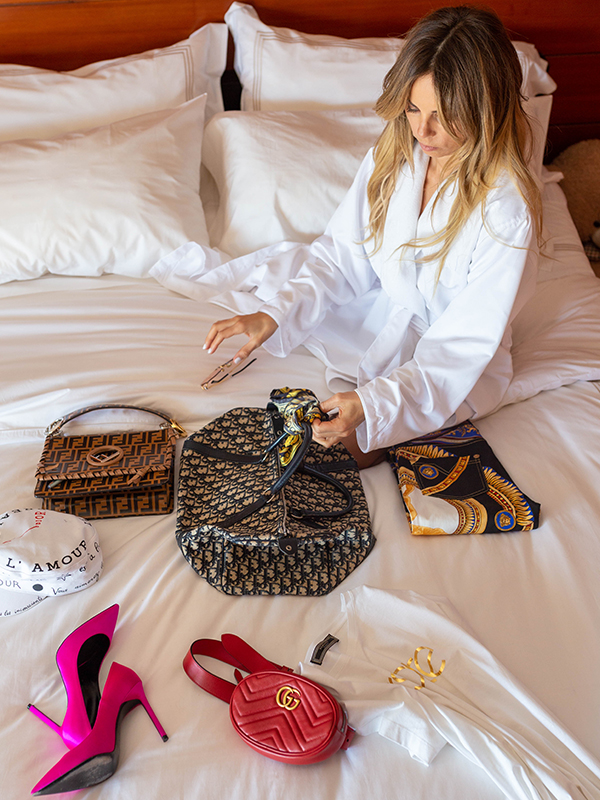 K: Time to jet: Get to the airport insanely early or barely make the flight.
EP: Barely make the flight!
K: Commercial or Wheels Up?
EP: Wheels Up.
K: Earliest traveling memory?
EP: Going to Cortina d'Ampezzo with my family during Christmas.
K: Podcast or Music?
EP: Music.
K: Your travel playlist includes?
EP: Depends on where I'm traveling to and my mood. It can be anything from hip hop (Drake,) pop (Madonna,) or classic (Queen.)
K: Hydrate or enjoy some bubbly?
EP: Hydrate, boring I know 😉
K: Top three beauty carry-on items are: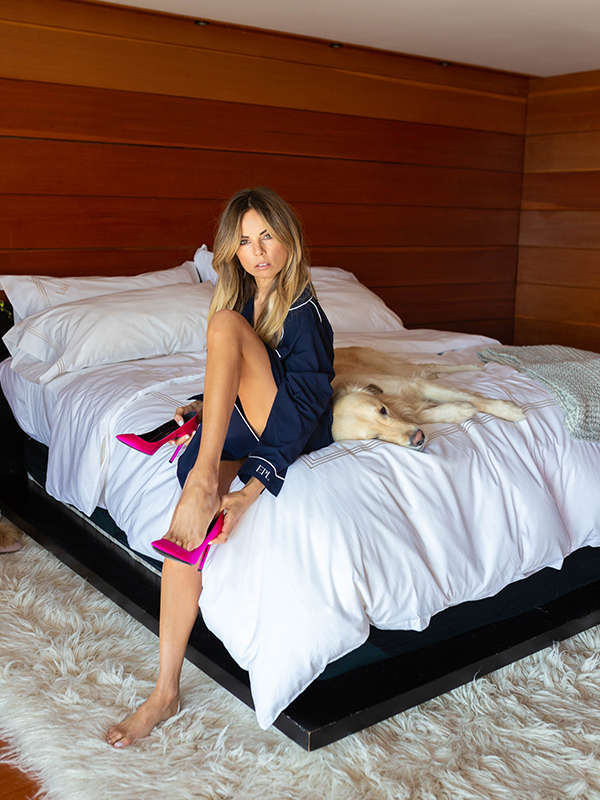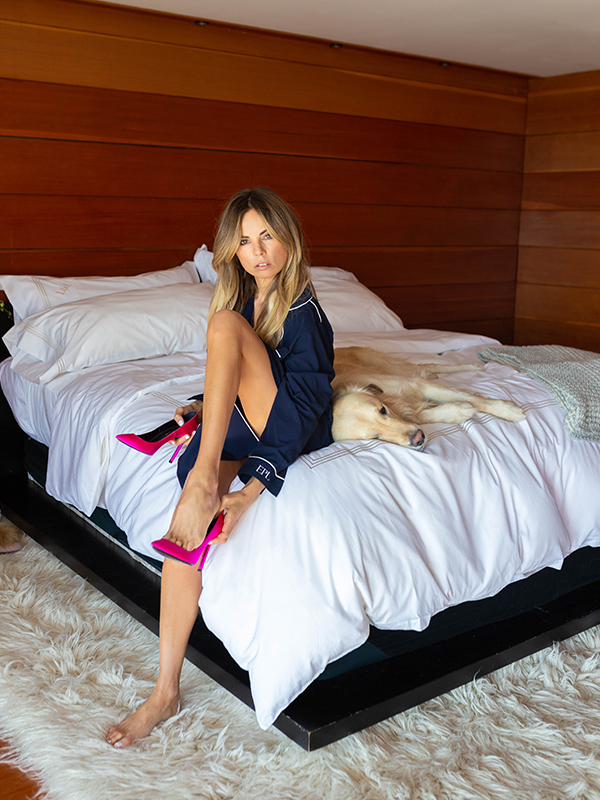 K: Worst travel experience?
EP: When I didn't wake up in time for a photoshoot I had in the Hamptons so I missed my flight and had to take a train. I've never been so stressed in my life!
K: Your carry-on luggage will always be:
EP: Louis Vuitton.
K: The most amount of bags you ever traveled with was:
EP: Every time I go to Couture [Fashion Week,] my dresses take up 1 bag each, so let's just say a lot 😉
K: Your longest flight was to:
EP: When I flew from LA to Dubai and then to Tokyo.
K: Movies or a TV binge-a-thon?
EP: Sleep.
K: Travel in style – Your travel uniform includes:
EP: Versace sneakers and my Naked Cashmere pajamas.
K: Is it totally ok to apply a facial sheet mask in flight or no?
EP: Yes!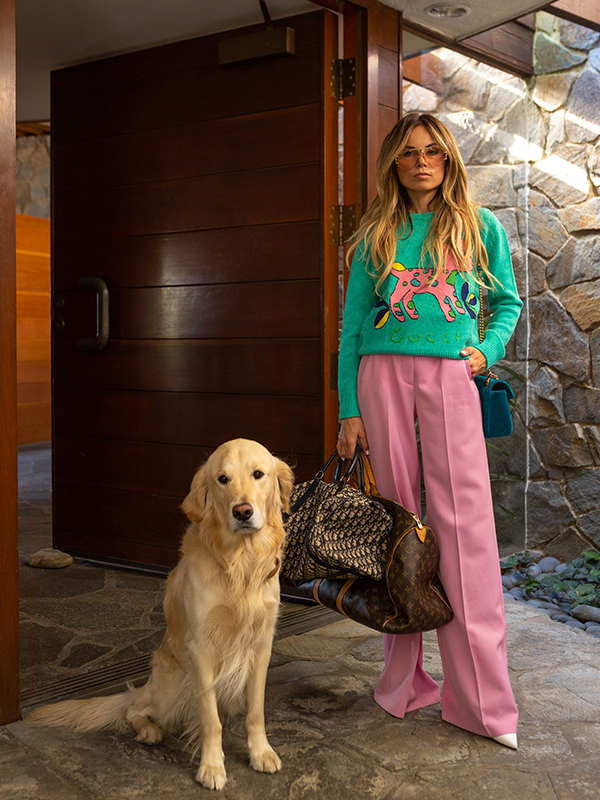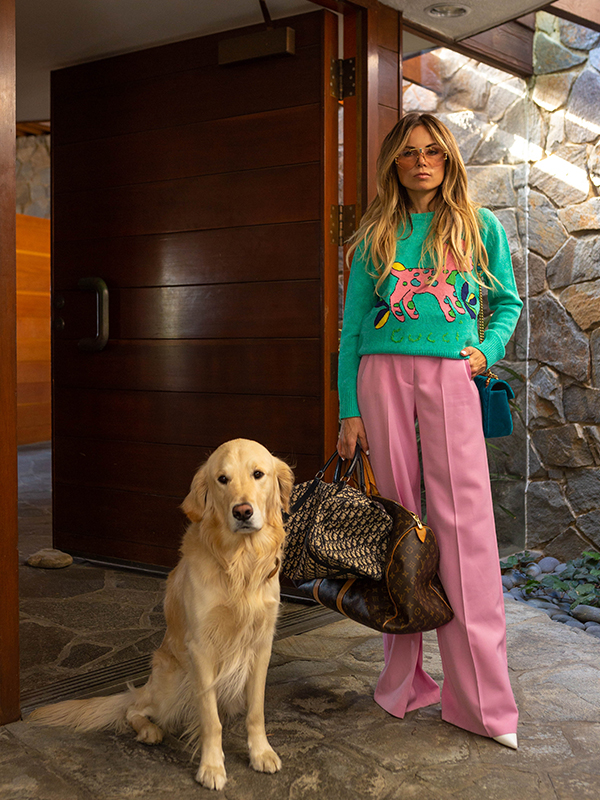 K: Travel Set: Cashmere blanket and booties or not necessary.
EP: Necessary!
K: When traveling slippers or stilettos:
EP: Sneakers.
K: Your dream vacation includes:
EP: Sun, crystal blue water, and my dog Cashmere.
K: One place you are dying to travel to:
EP: Africa!
K: Favorite person to travel with?
EP: Cashmere, obviously.
K: Do you prefer to travel in packs with family and friends or keep it to a minimum?
EP: Minimum.
K: Cozy with @Cerethegolden : Does your pup travel with you at all times?
EP: Yes, everywhere.