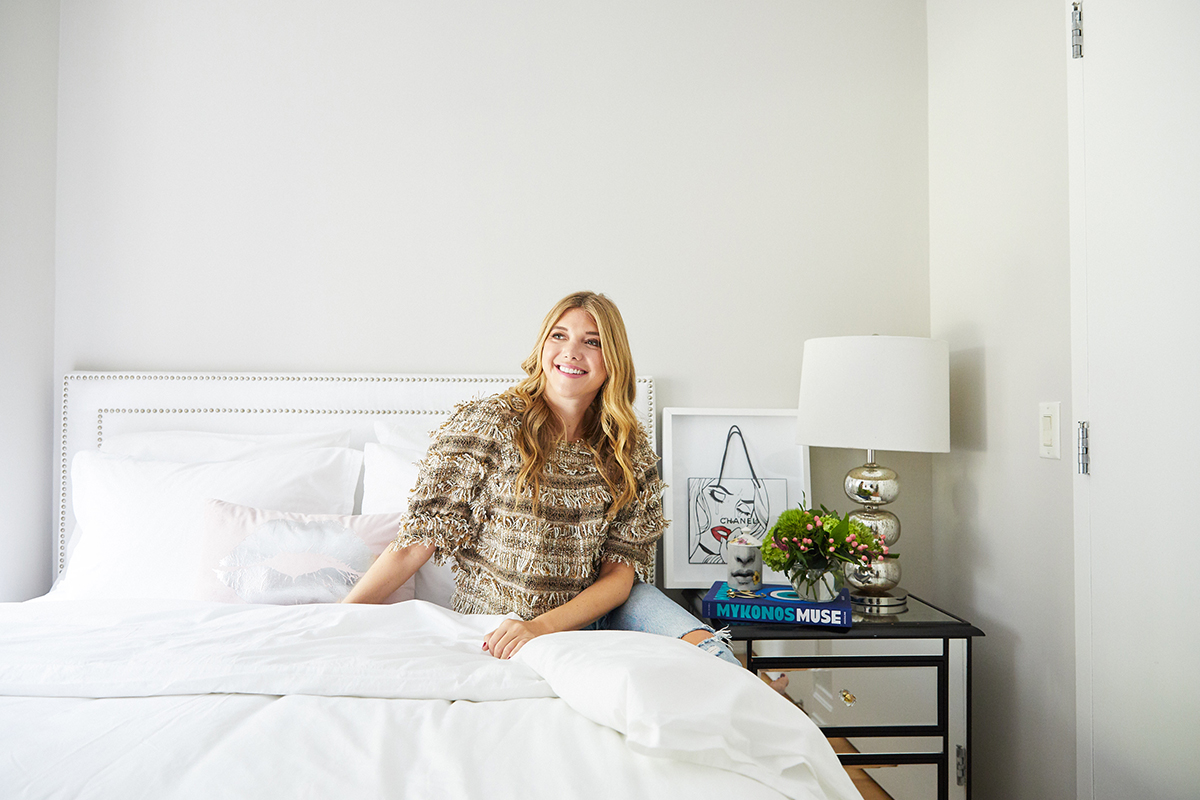 Katie Sands recently made some major adult progress and moved into her first apartment on her own. Joking about how cheese plates are the sign of maturing times when guests visit, the bubbly and vivacious blogger known as @HonestlyKate, produces gorgeously lit shots of the latest fashion and lifestyle trends for her growing audience. As an on air correspondent for FOX and NBC, Katie can be found seeking out collections and brands that are as effervescent as her online personality.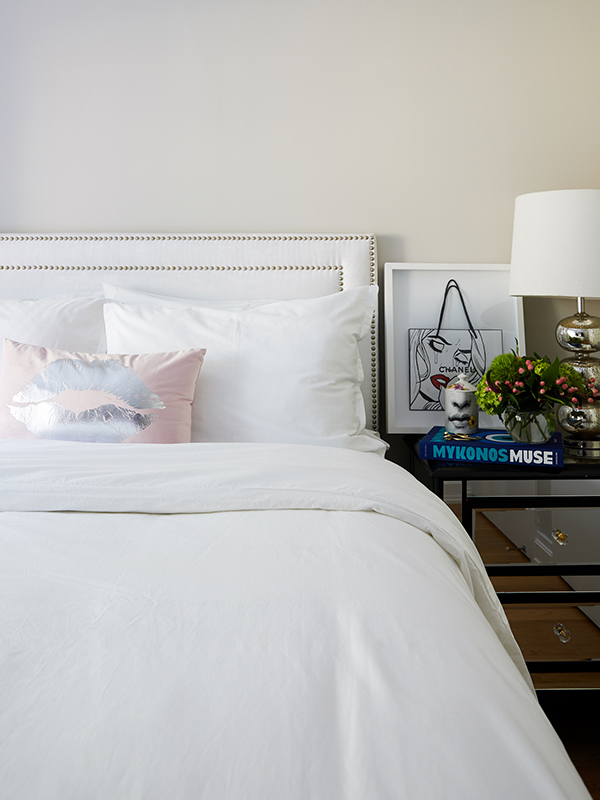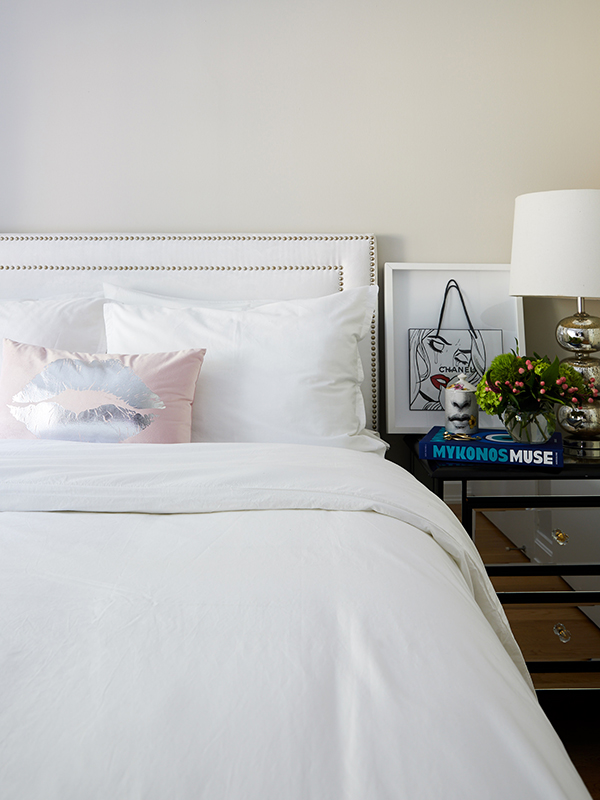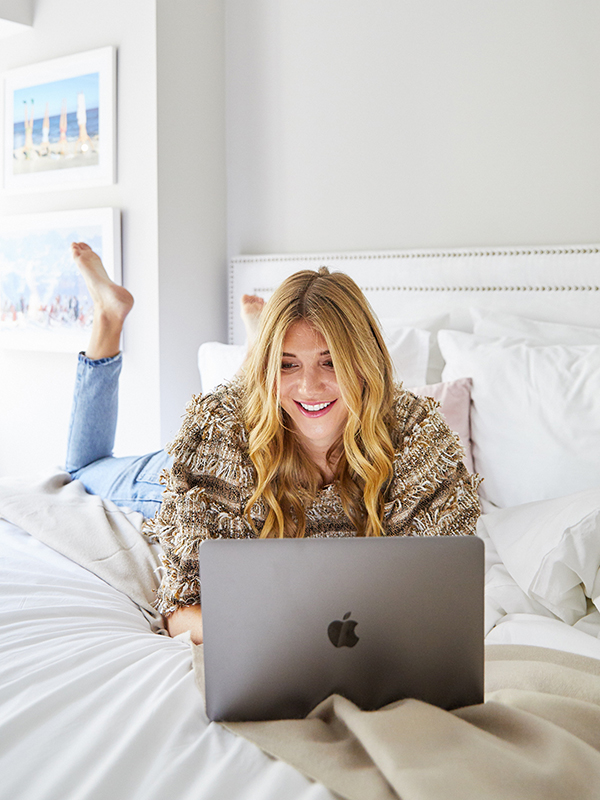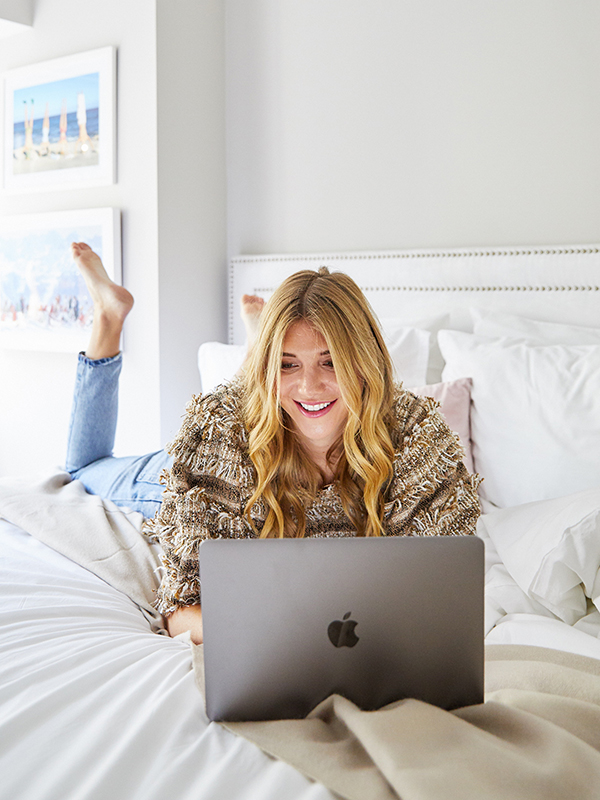 Raised in Locust Valley, NY, and studied performing arts after graduating from the University of Richmond at the William Esper Conservatory, Katie looks at social media as a stage, and finely tunes what her audience enthusiastically responds to. After living with her best buds since graduation, Katie moved into a splendid one bedroom apartment in the NoMad neighborhood in New York City, designed with Barbie and bubble gum in mind. The calming gray walls are the perfect backdrop for her growing art collection. Her preference for pop art and bright bold colors are on display, and some artists she has on rotation are Slim Aarons, Larry Silver, Dani Taylor, and Robyn Blair.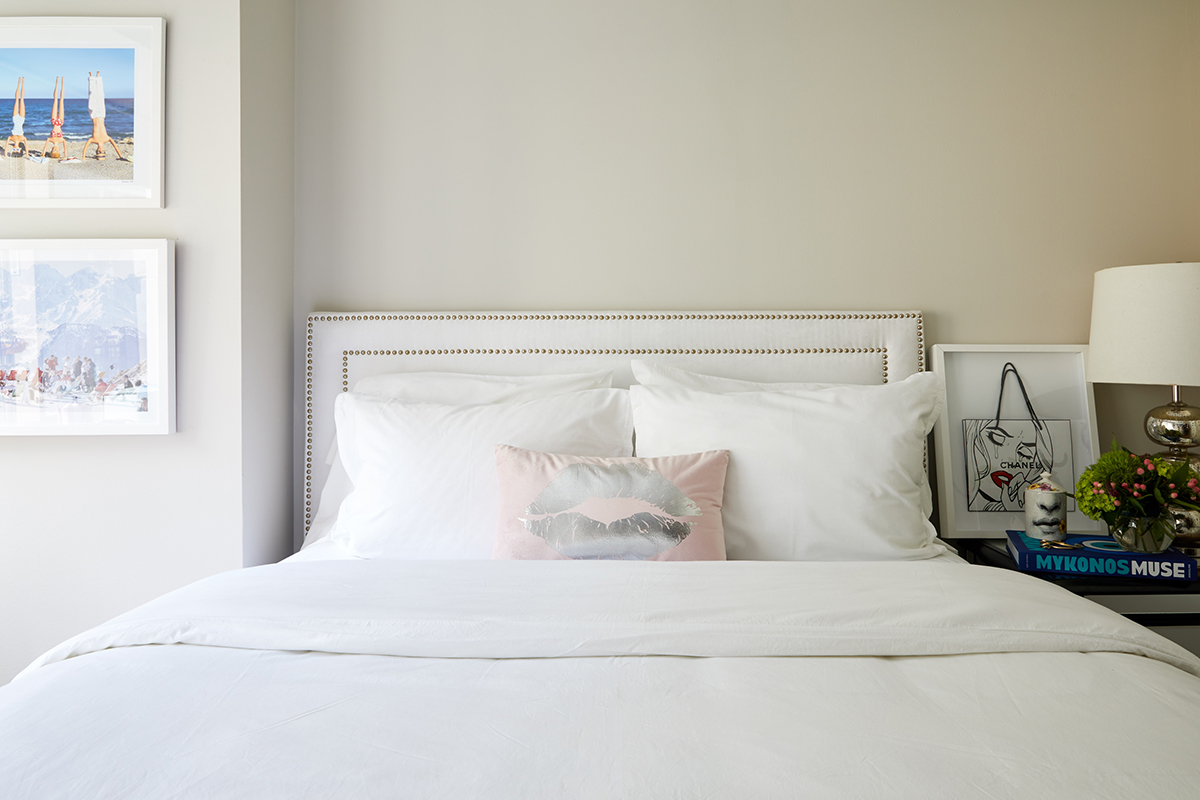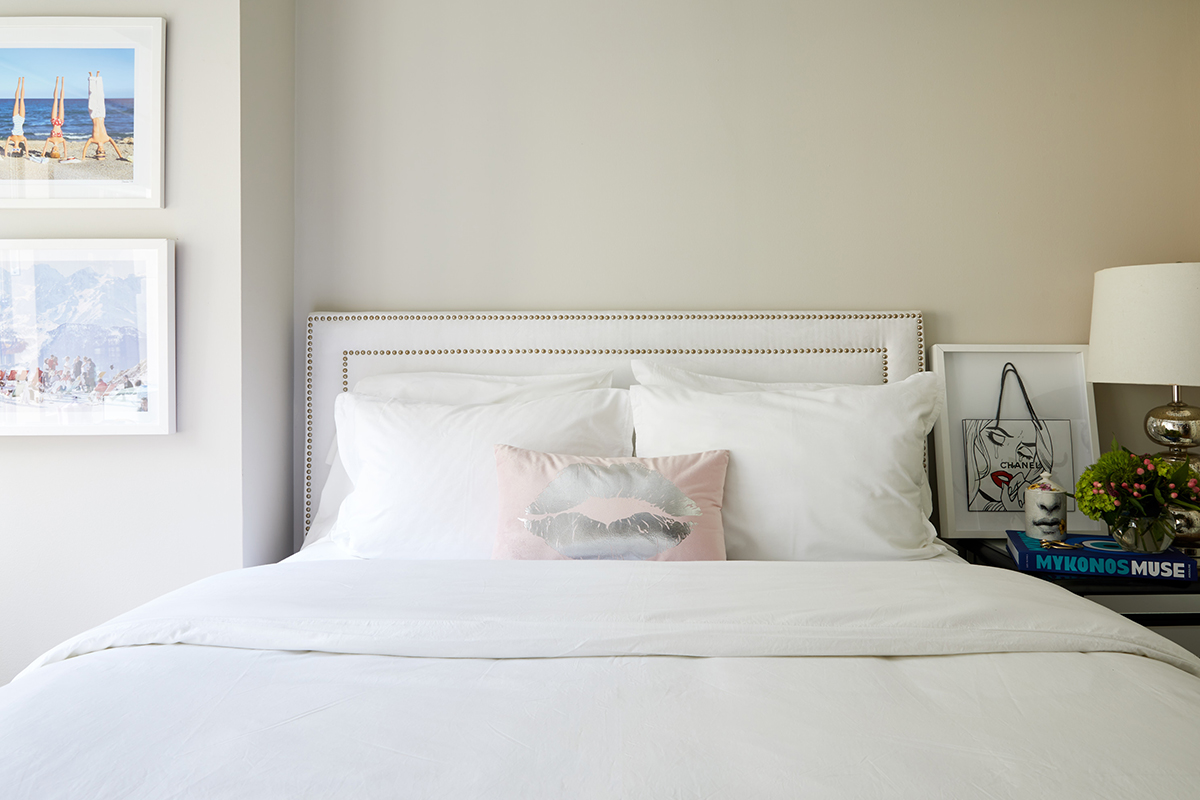 With ample closet space and a cozy nook to read after a long day working with everyone from Shopbop to Veronica Beard, Katie wanted to design a bedroom story that represented her love of clean lines and her light and airy nature. Buying bedding can be daunting if you don't know what you are looking for, so Katie worked with Kassatex to create a relaxed and inviting bedding design.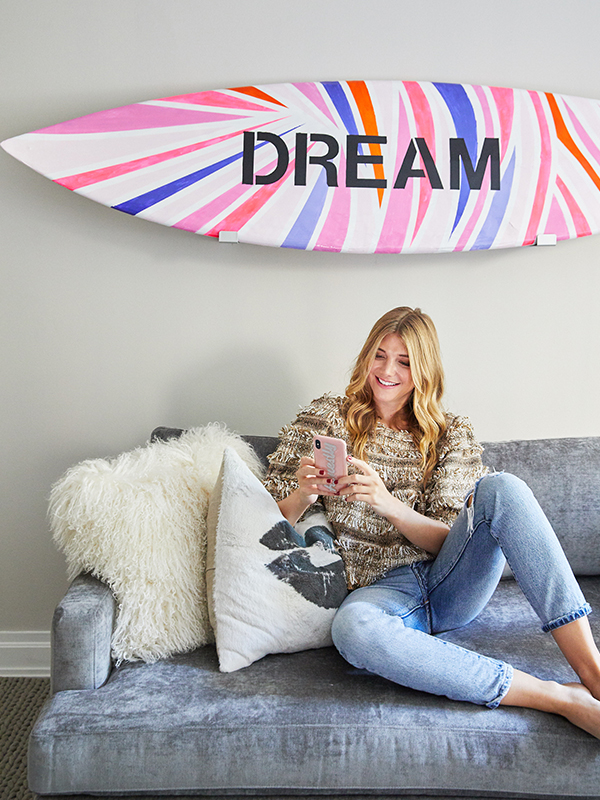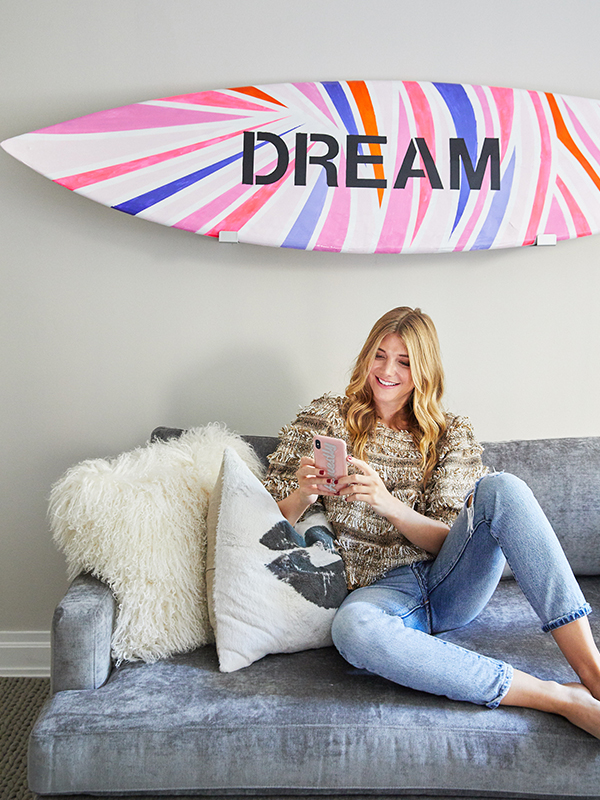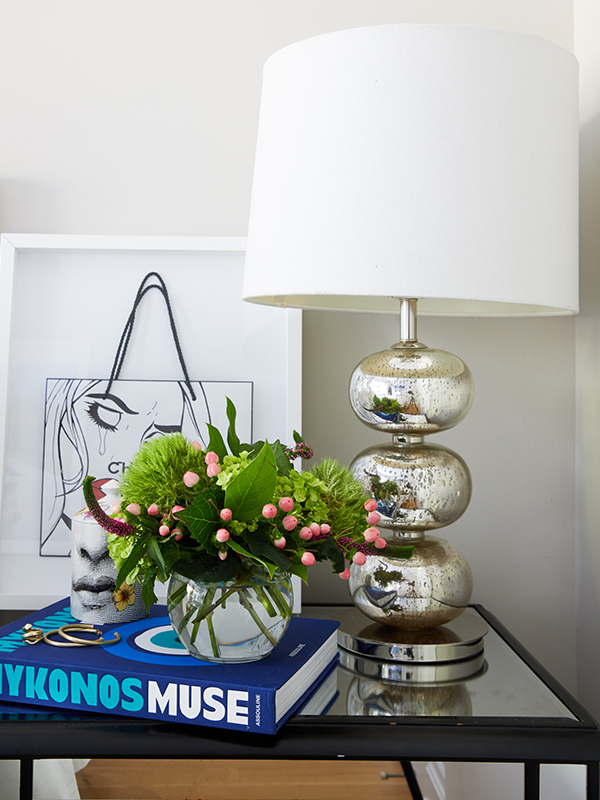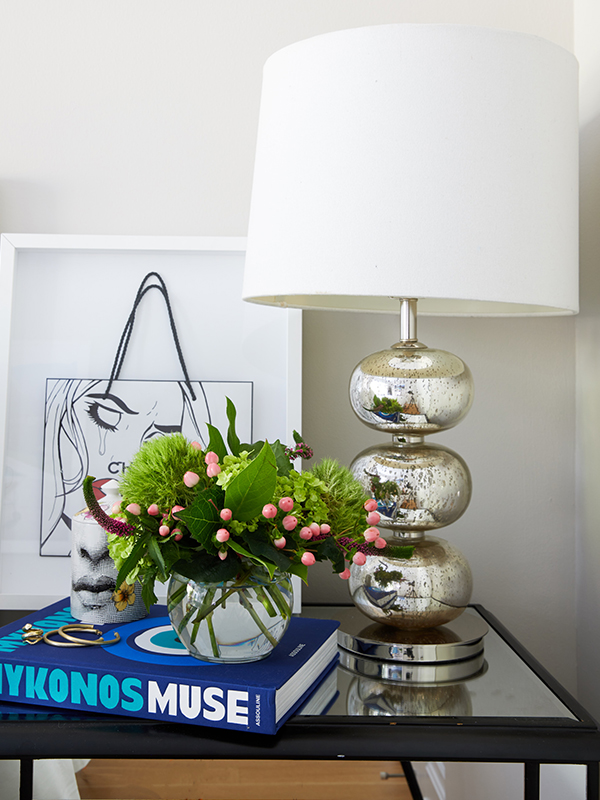 As a first time buyer, Katie gravitated towards the Lorimer Washed Percale Collection. With a selection of 7 different hues, the crisp bedding includes pillowcases, shams, sheets, and a duvet. This is the base for any bed story. After selecting a color preference, Katie added the Messina Coverlet in aluminium to pick up the subtle tones in her wall color, and selected the soft Mancora Baby Alpaca Throw in taupe as a calming and warm tone to ground her design. Finishing it off with personal flare, Katie tossed on her own throw pillow and sealed it with a kiss. After making the bed with Katie, we sat down and chatted about living on her own, personal style, art collecting, and the story behind her @HonestlyKate brand.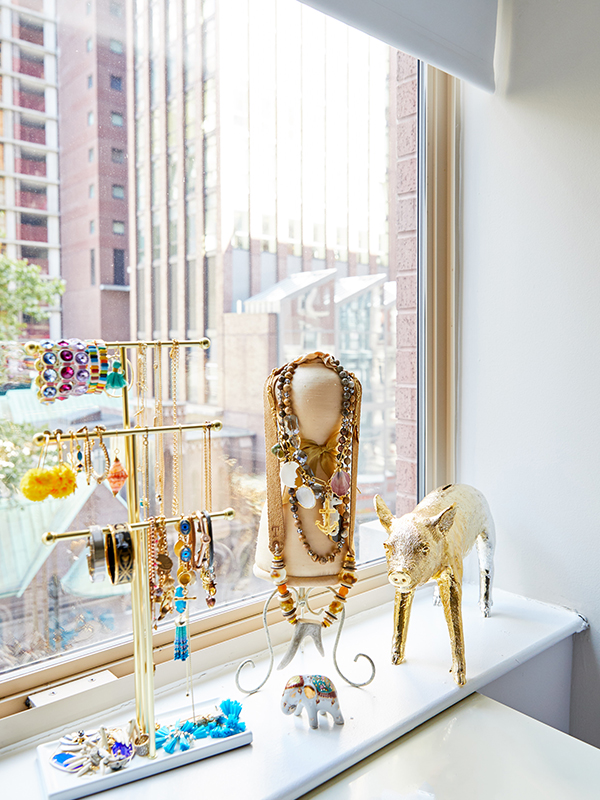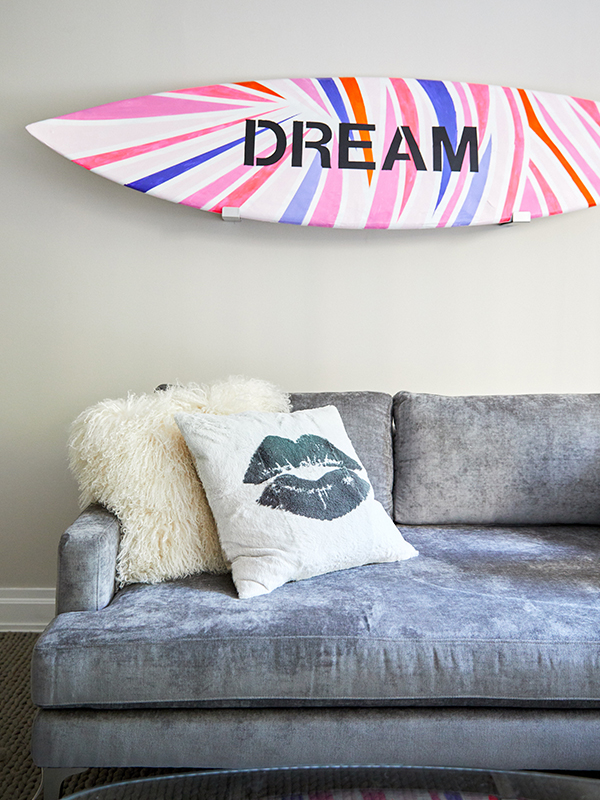 Kassatex: Who is @Honestly Kate and why did you start your blog?
Katie: @HonestlyKate is a fashion and lifestyle brand I created a little over a year ago to reflect my journey as a young woman living in New York City. My main goal has always been to inspire women to curate their own futures while letting them in on as many fashion and beauty tips as I can. I minored in costume design in college, and that really sparked my passion for styling, but it's never something I thought would come to fruition until I actually decided to be an entrepreneur. And what better place to share this crazy journey than New York City? It truly is a place where I feel my most creative and inspired.
K: Where do you find design inspiration for your first apartment?
KS: I find most of my design inspiration from pop artists. My mom collects modern,
post-modern, and contemporary art, so I've been around bright, fun colors ever since I was little. Street style from walking around New York, and Pinterest are other major design influences for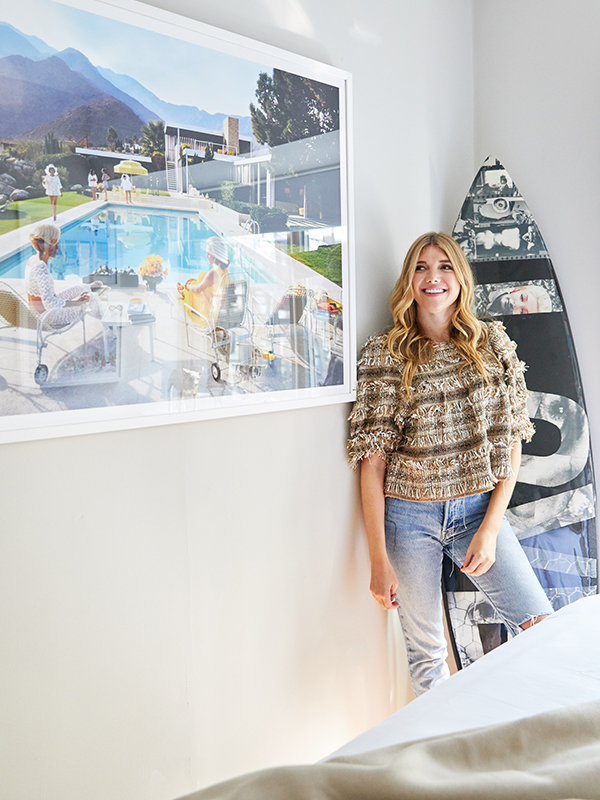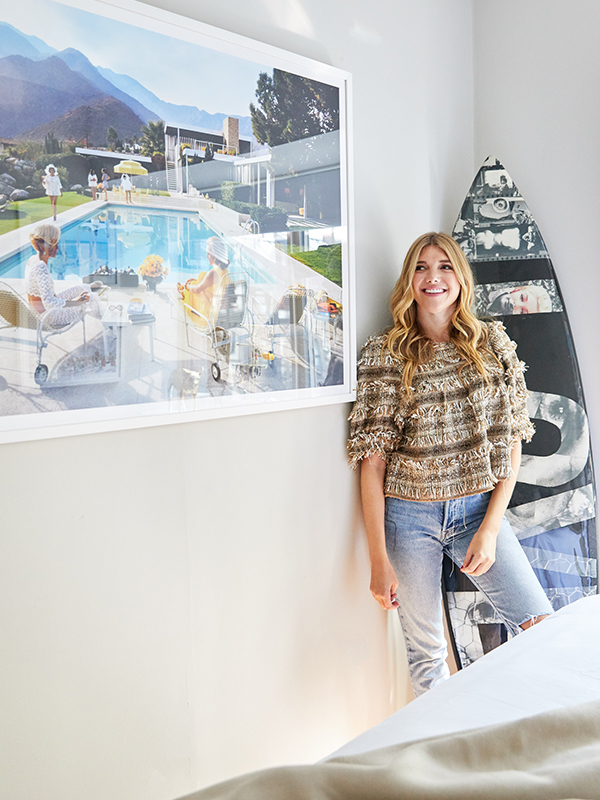 K: Your interior style tends to be traditional, eclectic, or modern?
KS: My interior style tends to lean more on the modern and eclectic side. I try to keep the
furniture very sleek, so I can go wild with the art and accessories.
K: Does your choice in fashion translate to how you style your home?
KS: I definitely think so! My home reflects aspects of my personal style in that I tend to
accessorize and decorate with colorful accents. Though I keep my walls and larger furniture
pieces on the more neutral side, I love accessorizing with colorful art and fun textures; similar to a lot of the outfits I style.
K: First piece of furniture you bought and did you style your apartment around this item?
S:The first piece of furniture I bought was my couch, but it ended up being the last piece to actually arrive, so I found myself in a little bit of a rut. I tried to style the rest of the space around the couch, as I find it to be the most prominent piece in the apartment. You see it right when you walk in. I did my best to make sure everything flowed well together and embodied my own personal style!
K: Top three favorite services or apps you use to help with living in your first apartment?
S:Task Rabbit has truly been the best app ever. It's helped me get SO many things done in such a quick amount of time. I also love Instacart because they deliver from any grocery store directly to your door, and Roadway Moving – the best moving service in the game!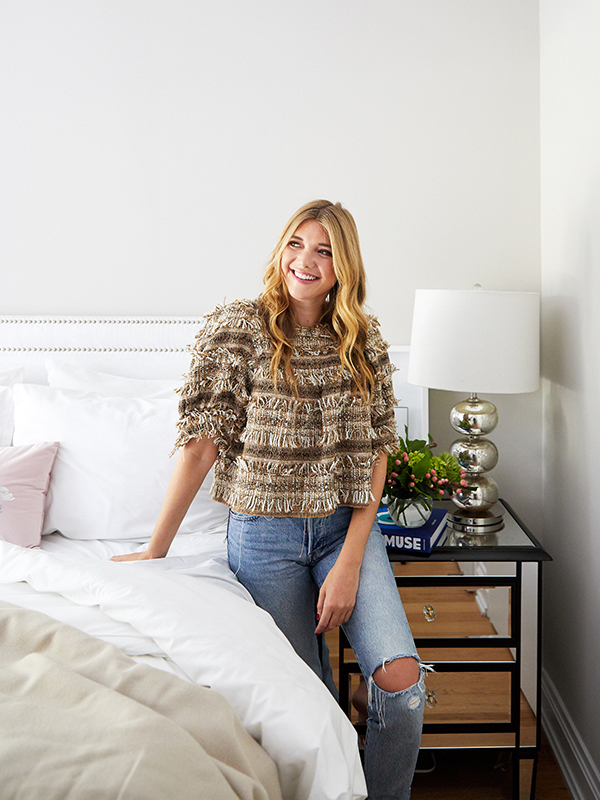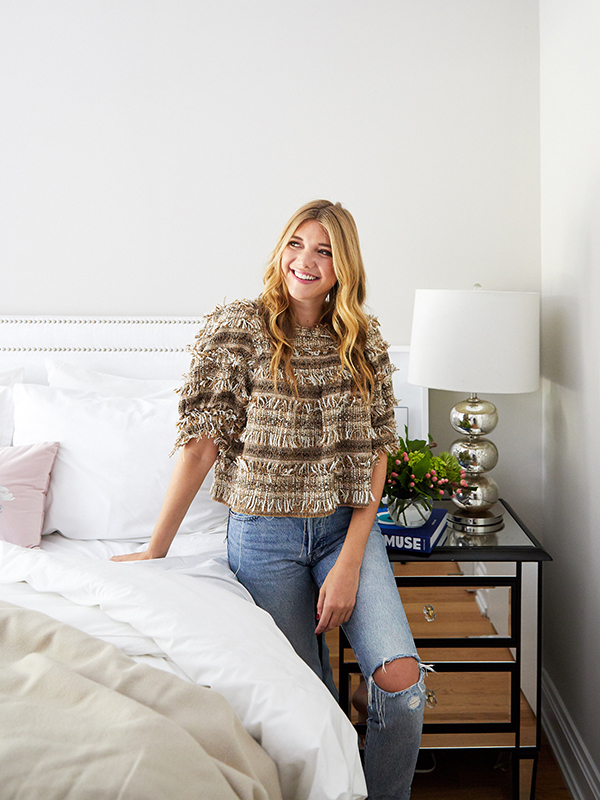 K: Decor Amor: When in doubt, art or a mirror?
KS: Art, without a doubt! I've been taught the importance of appreciating and being around art, and I really think it can change the entire feeling of a home.
K: A first apartment should have a big living space or big closets?
KS: Personally for me and what I do for a living, a big closet space is a MUST! However,
because I love to entertain and have my friends and family over often for dinner and brunches, I was lucky enough to find a space that had both. It was important for me to find a space that had a lot of functionality, and I waited until I found the right one!
K: Favorite colors to design with?
KS: Grey, white, and any kind of neutral tones are my go-tos because I find them calming. After my crazy days at work and running around the city, my apartment is a place where I can totally relax. Plus, decorating with neutrals allows me to choose fun, colorful art to use as statement pieces.
K: Hardest part of living in your first apartment so far?
KS: Grocery shopping for one. I always get way too much produce because I've been so used to living with roommates, so it's hard for me to gauge how much food to buy. I'm learning, though!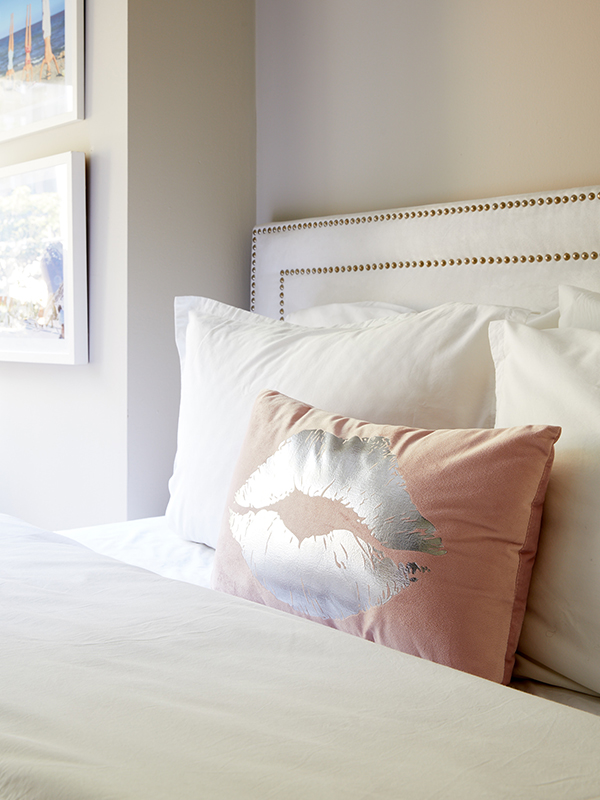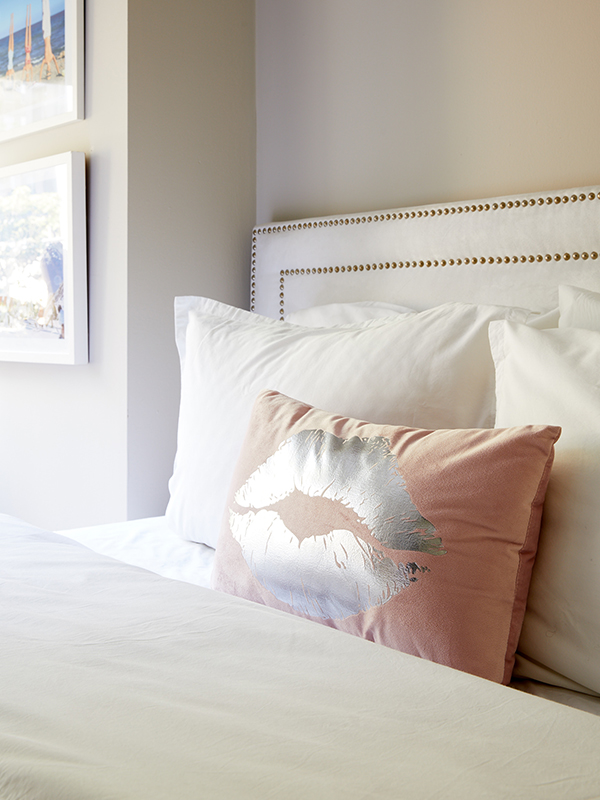 K: To top sheet or not to top sheet: How many layers do you like to sleep in?
KS:Funny you ask, as I was ALWAYS against a top sheet until this summer when my
boyfriend convinced me that the top sheet makes all the difference when you're trying to fall
asleep. It gives you that extra bit a weight needed for a good night's sleep, especially in the
summer when a comforter can be too much. So now I'm convinced a top sheet is the way to go!
K: Your bedroom is a place to ________.
KS: Sleep only! I've never had a TV in my room, and I try to stay far away from any electronics while I'm in my room as there are so many negative side effects from looking at screens before bed; it can really mess up your sleep quality. My bedroom is a space to clear my mind and calm down from the craziness of the city and work. I once read you should never hang out in your bed because it should only be for resting, and I try my best to do that.
K: Make your bed first thing in the morning or leave it for later?
KS: I try to always come back to a clean apartment with a my bed made, as it helps me be
more productive throughout the day. This isn't always the case, as I'm usually in a big rush in
the morning with how crazy my schedule has been lately, but there is something about coming home to a clean apartment with a made bed that is SO satisfying.
KS: Right now it would have to be Marina Abramović. I've found all of her art performances
mind blowing since I was just 10 years old. I always make sure to make it to one of her shows
anytime she's in the city. She really speaks to me.
Written and Produced By: Kelly Florio Kasouf