Only a true lover of New York City could create covert operations like the Flower Flash that floral extraordinaire and event planner Lewis Miller imagined. In 2016, Lewis and his team began to assemble their gift to New York; a shared experience using repurposed event flowers to make elaborate installation pieces.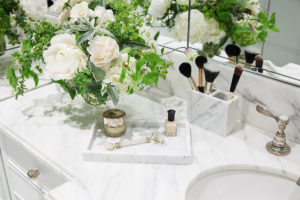 Photo by: Kirsten Francis
Since its inception, the sun and city would rise to discover the transformation of trash cans and smoke stacks brimming with bright bouquets, to sculptures and artwork intricately adorned with fresh cut flowers. The team produced eye-catching and stop-in-your-tracks moments allowing the masses to enjoy the power of florals. Miller, the "Banksy of Florals" some would say, is the genius behind his self-titled event planning company who has worked with the likes of Vogue, Valentino, Netflix, and The Met. Lewis sat down with us to discuss the inspiration behind his pieces of floral artwork, as well as event planning, and tips on how to bring flowers into your bedroom and bathroom.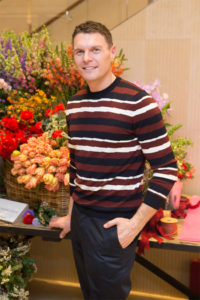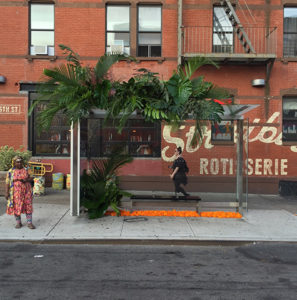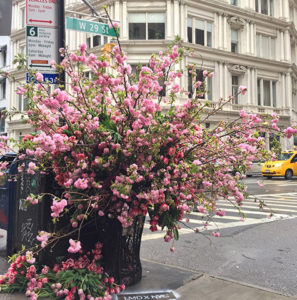 Kassatex: Was there a spark of an idea or an event that made you want to create the Flower Flash installations?
Lewis Miller: "I think I was having a small mid-work crisis, if there is such a thing. I've been in business for over a decade, My business is predominantly large scale events and weddings and everything was running smoothly, but I was feeling this strange urge to give back. I needed to create a gesture of good will with flowers for New Yorkers. The Flower Flash came out of exploring that original idea."
Kassatex: Your floral arrangements are reminiscent of Dutch and Italian still life paintings with a modern edge. They have such depth and movement with bold contrasting colors. Where do you look for inspiration for your arrangements and event design, and how do you think they have evolved over the years?
Lewis Miller: "I draw inspiration from everywhere. Film, gardens, interiors, painting, and the written word. Sometimes reading a beautifully crafted passage in a book is the greatest inspiration. Because it is not a visual reference. You're giving life and reinterpreting the written words. The words inform your imagination but do not dictate the final creation. I love Henry James and Edith Wharton. Passages that describe an environment or a trip to Paris."
Kassatex: Your most memorable event ever designed?
Lewis Miller: "It's hard to select just one! Recently, I designed a 8 peaked black tent for a client and that was a true fantasy come to life. Everything functional disappeared, so all you saw was flowers, plants, candlelight…It looked like a giant, lush terrarium that guests were able to celebrate in for just one night."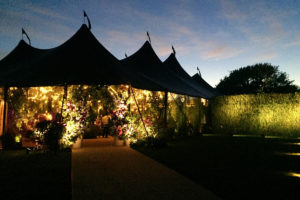 Photo courtesy of Lewis Miller
Kassatex: What is your absolute favorite flower to use in your work?
Lewis Miller:"I don't have an absolute favorite but I do love black and white anemones for their graphic and romantic sensibilities."
Kassatex: When selecting florals for you bedroom, what type of seasonal flowers should we look for when designing a bedside table arrangement and are there any florals we should stay away from?
Lewis Miller: "I would suggest staying away from anything too fragrant. I like to control the scent in any room of the house with a beautiful candle. Also stay away from anything with a high pollen content! You don't want to suffer a sneezing fit as you're trying to get some rest! Peonies are in season right now and are so beautiful flower for your bedside table."
Kassatex: We want to design our own personal spa, complete with calming arrangements. How should we arrange our flowers?
Lewis Miller: "I find single element arrangements to be very clean and relaxing."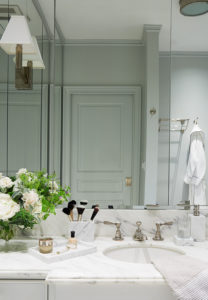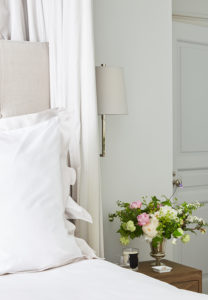 Kassatex: You have an incredible seasonal masterclass series called Back to Flower School, at the Whitby Hotel, where you to teach us mortals how to professionally arrange florals and educate us on design. Can you give us one of your tricks of the trade for creating show-stopping arrangements?
Lewis Miller:"I try not to be a slave to color rules or trends. But I do like to think in terms of duality when making an arrangement. If you are using light, fluffy flowers, also include something masculine, like a flowering branch. Playing with textures and shadows draws the eye in and makes your final composition interesting and balanced"If you are at a point with your arrangement where you feel stuck of frustrated, take a step back or a short walk and come back to it with a fresh pair of eyes. That always helps me."