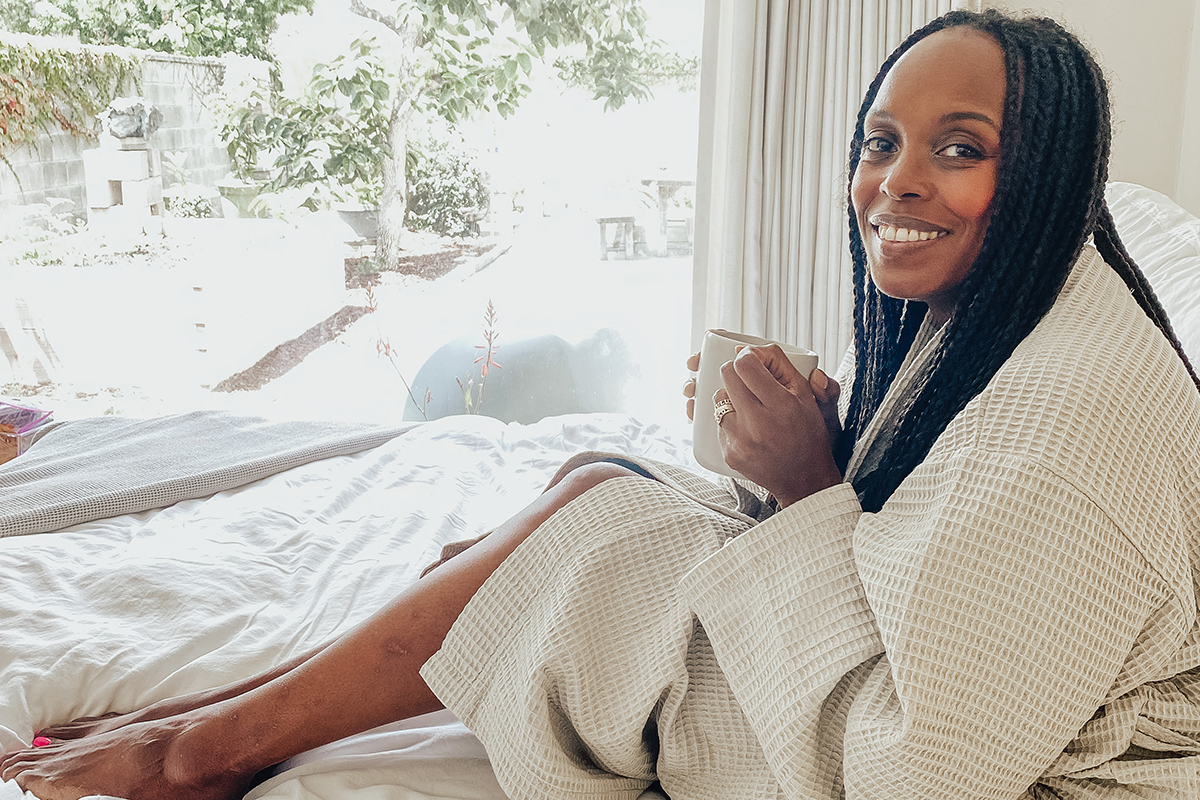 As a young girl visiting her family in Kenya, Nyakio Grieco's grandparents taught her how to use coffee beans, sugarcane, and other natural resources to treat the skin. These lessons, combined with her studies and travels, inspired her to create Nyakio Beauty, the award-winning, clean and green beauty brand that has been a pioneer in the clean beauty industry since the early 2000's.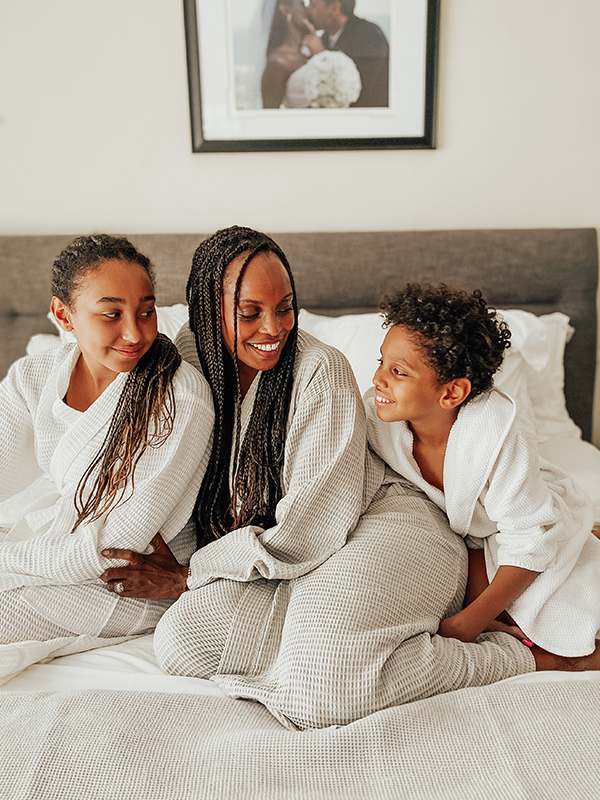 Infusing those same earthy vibes into her bed story, Nyakio designed a bed around our sustainable Linen – Bamboo Bedding finished off with the Locanda Blanket and Coleman Decorative Pillows. Nestled up in their beautiful LA home, Nyakio, her husband, David, and their two kids, spent the day wrapped up in robes discussing clean beauty, family, and cozy must-haves.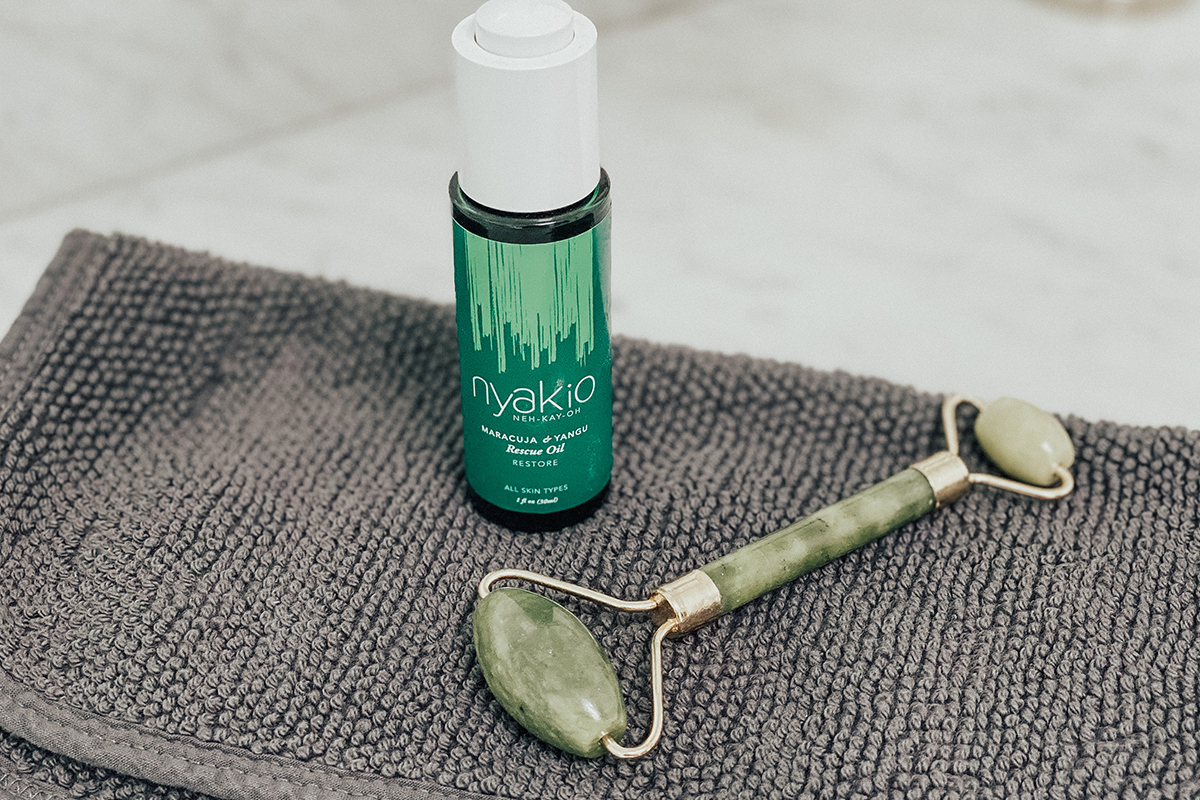 Kassatex: First thing you do in the morning?
Nyakio Grieco: On most mornings, I meditate. Sets the tone for my entire day!
K: How did you start Nyakio and why:
NG: I was inspired to create the Nyakio brand based on family beauty rituals passed down to me by my Kenyan grandparents. My grandmother was a Kenyan Coffee farmer who taught me my first beauty secret using Kenyan coffee and sugarcane to exfoliate the skin. My grandfather was a medicine man who had the ability to extract oils to treat the skin and ailments. I felt the continent of Africa was under represented in beauty, so I wanted to share these timeless rituals with all! I visited Kenya and met my grandmother for the first time when I was 8, this is when my beauty journey began!
K: Were you always conscious of sustainable and organic products and utilizing them in your home?
NG: Yes, clean beauty, clean eating et al, were never a trend for me. It's how I grew up and all I knew.
K: Where do you find inspiration for your collections?
NG: The collections are inspired by my family beauty secrets, the beauty secrets of my girlfriends and beauty secrets I've learned in my travels. Each collection highlights the beauty rituals of women who I believe have been under represented in premium beauty and deserve to be celebrated!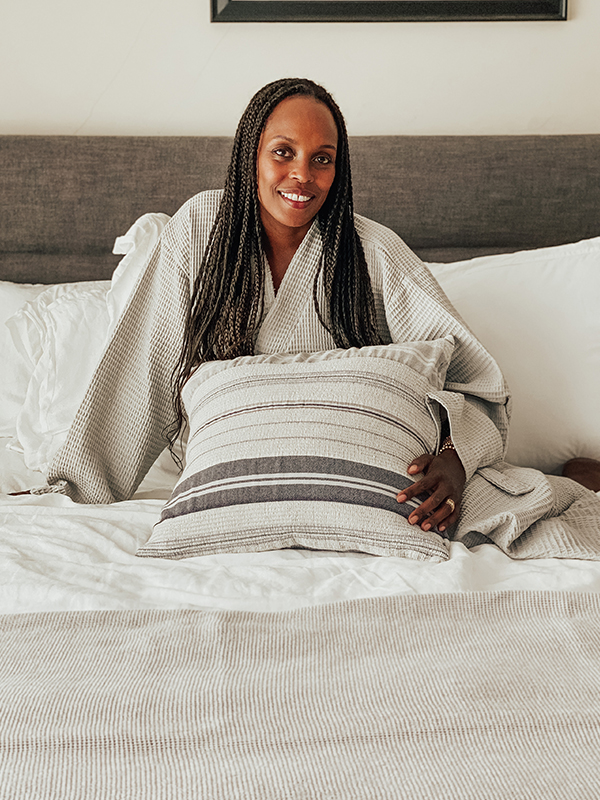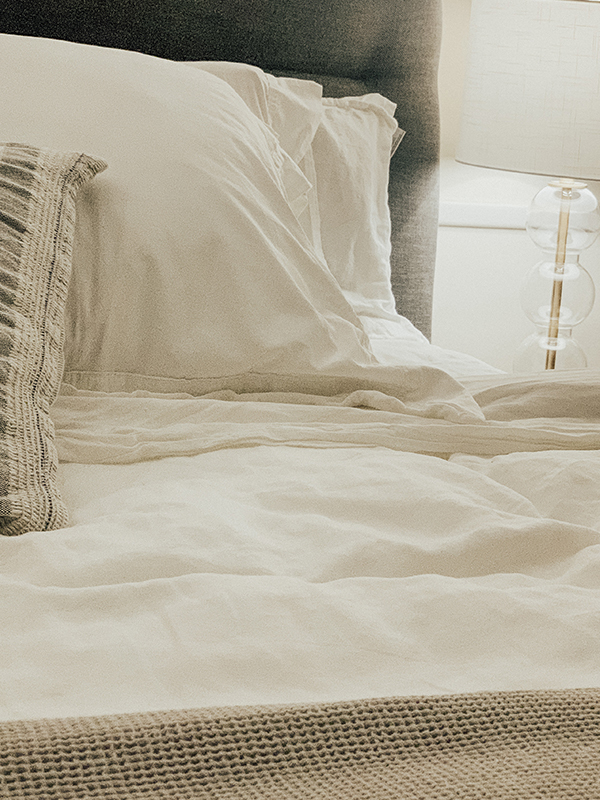 K: Most memorable moment for your brand?
NG: Launching a few months ago on Target.com. As a Black female entrepreneur, having a clean beauty brand launch at Target is a dream come true for me!
K: Currently on your bedside table:
NG: The book "Caste: The Origins of our Discontent" by Isabel Wilkerson and a gratitude journal. And a Byredo Burning Rose candle. I love candles and fresh flowers… this candle makes me feel like I have both!
K: How did you cope with quarantining with the family? What kept you centered and sane and were there activities you did together that became a ritual in a sense?
NG: The best way to cope with quarantine for me, was to be in total acceptance of the opportunity to slow down and be present with my loved ones. I am in such deep gratitude for this time to connect, for our health, for the roof over our heads, our safety, amazing meals, moments and unexpected adventures during this time. Having dinner together at the table every night is a ritual that I hope we continue even when we enter our new normal. My husband had a rough go with Covid-19, thank goodness he's recovered and my kids and I were able to avoid getting sick. In deep gratitude for our health!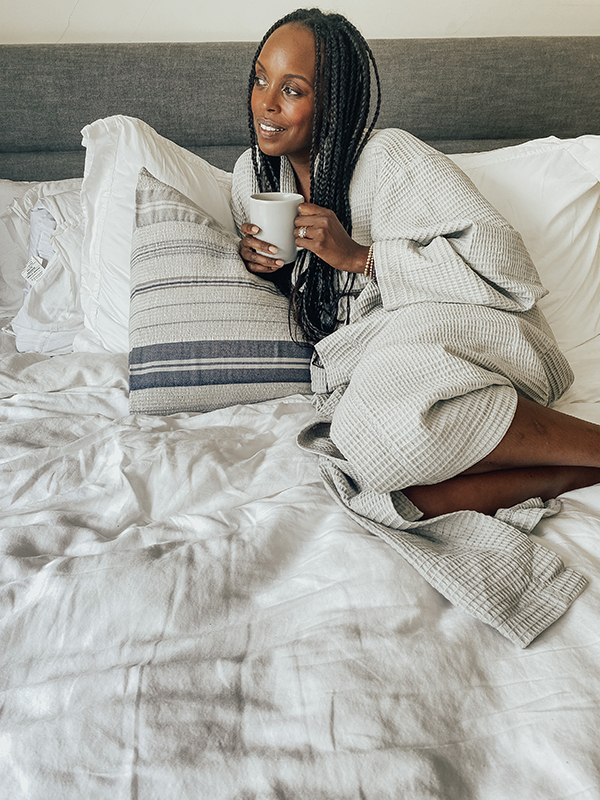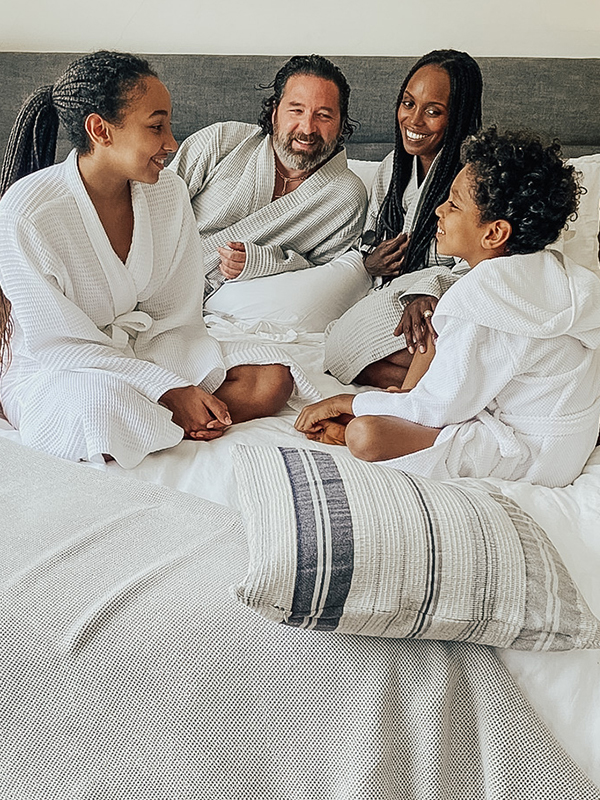 K: Best part about working from home?
NG: Going to work in cozy PJ's.
K: Worst part about working from home?
NG: Staying in your PJ's all day long.
K: Your quarantine uniform includes:
NG: A new obsession with Lunya Washable Silk Set PJ's and my Kassatex robe.
K: First place you want to travel to post pandemic:
NG: New York City. My office is there and I miss my team and the hustle and bustle of the Big Apple.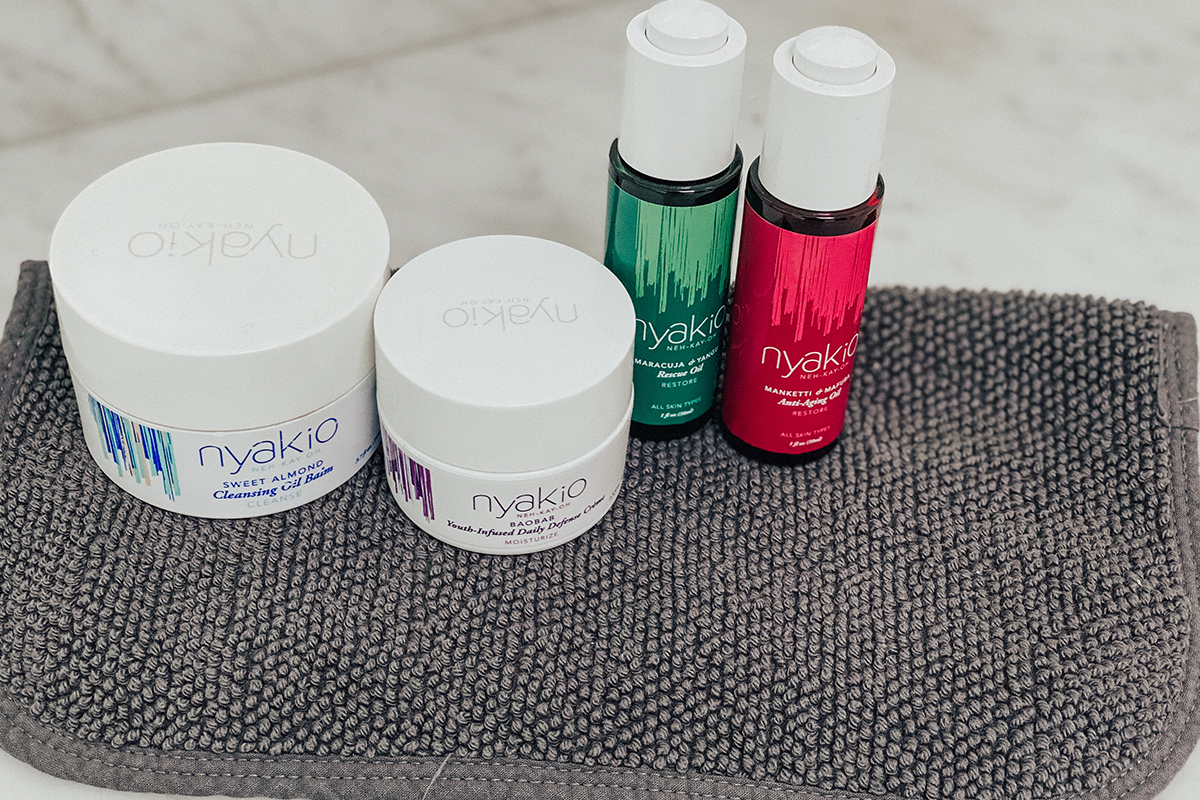 K: Your go-to Spotify station:
NG: It depends on my mood. Ranges from 90's hip hop, to the Hamilton soundtrack (my kids favorite) to country music – I grew up in Oklahoma 🙂
K: How do you unwind at the end of the day:
NG: Catching up with girlfriends on the phone, zoom, or social distance hang out.
K: Cocktail of choice is:
NG: Spicy Skinnyseed Margarita with 21 Seeds Cucumber Jalapeño Tequila! Its insanely delicious!
K: Describe your bedroom in one word:
NG: Cocoon
Written by: Esther Khoudari