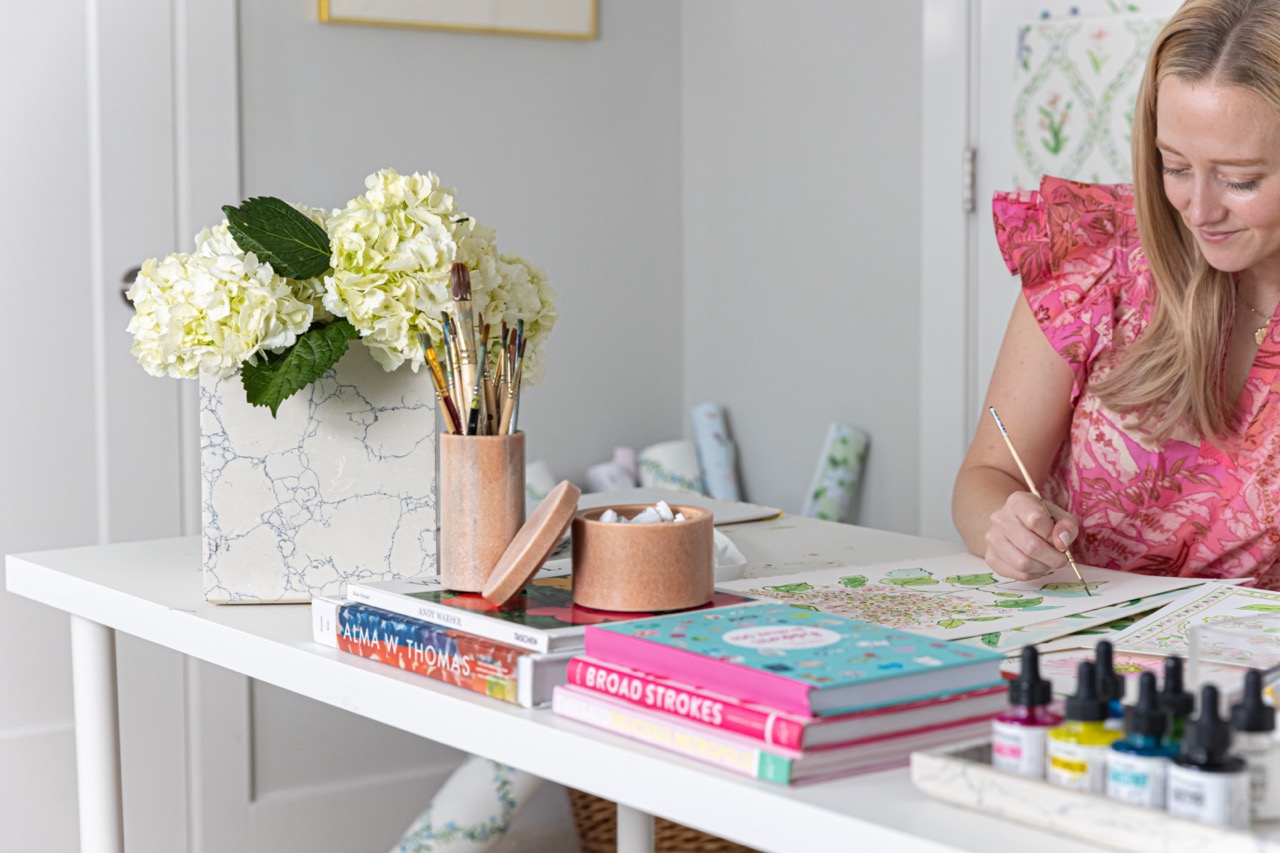 In the season of reinvention, we teamed up with artist Evelyn Henson to refresh her home office-slash-studio for the new year.Known for her colorful and whimsical prints, Evelyn draws inspiration from the small joys of everyday life, making her an expert on brightening up any room.
From bespoke pet portraits to curated city illustrations, Evelyn's pieces invoke a feeling of warm nostalgia.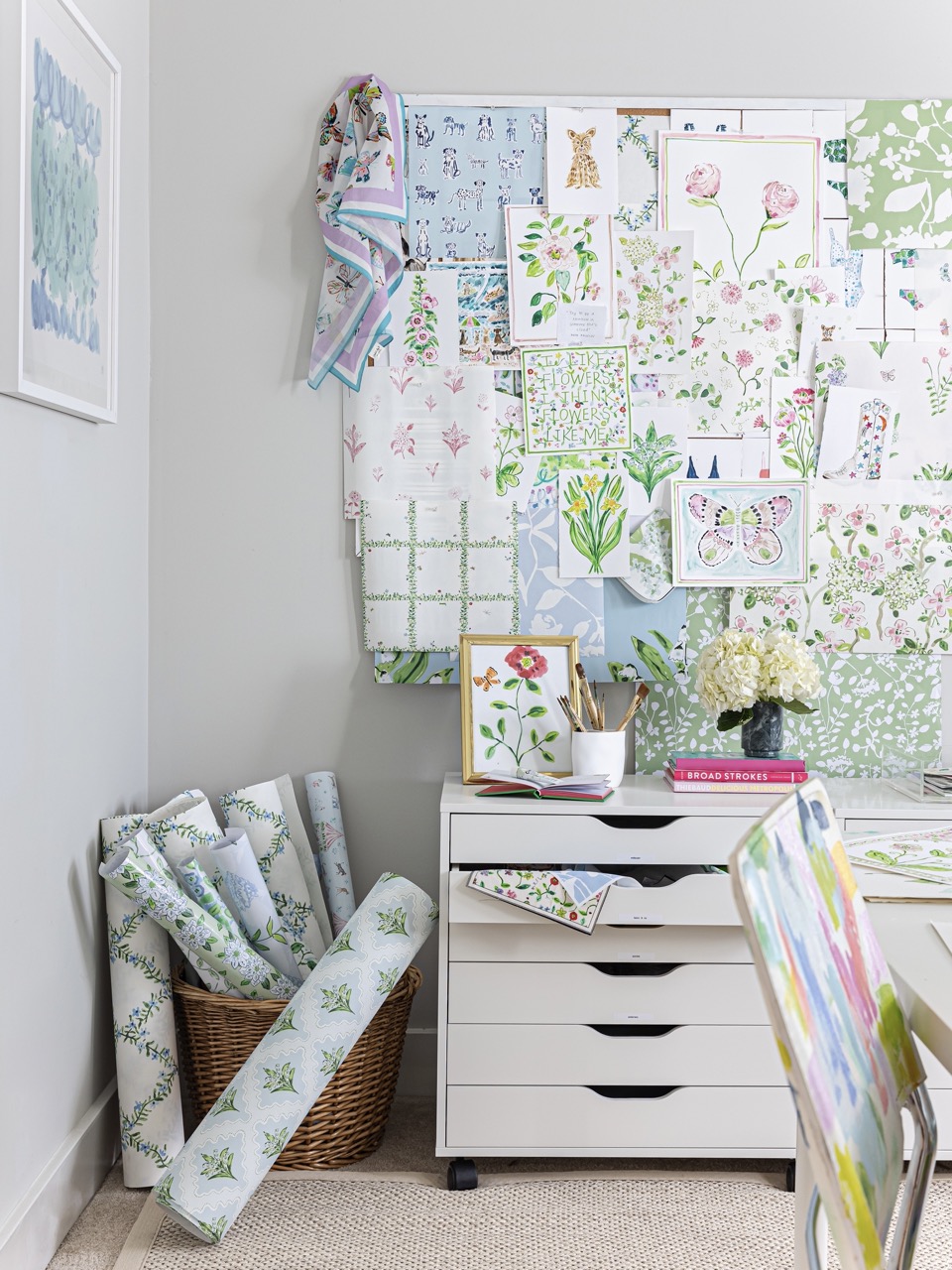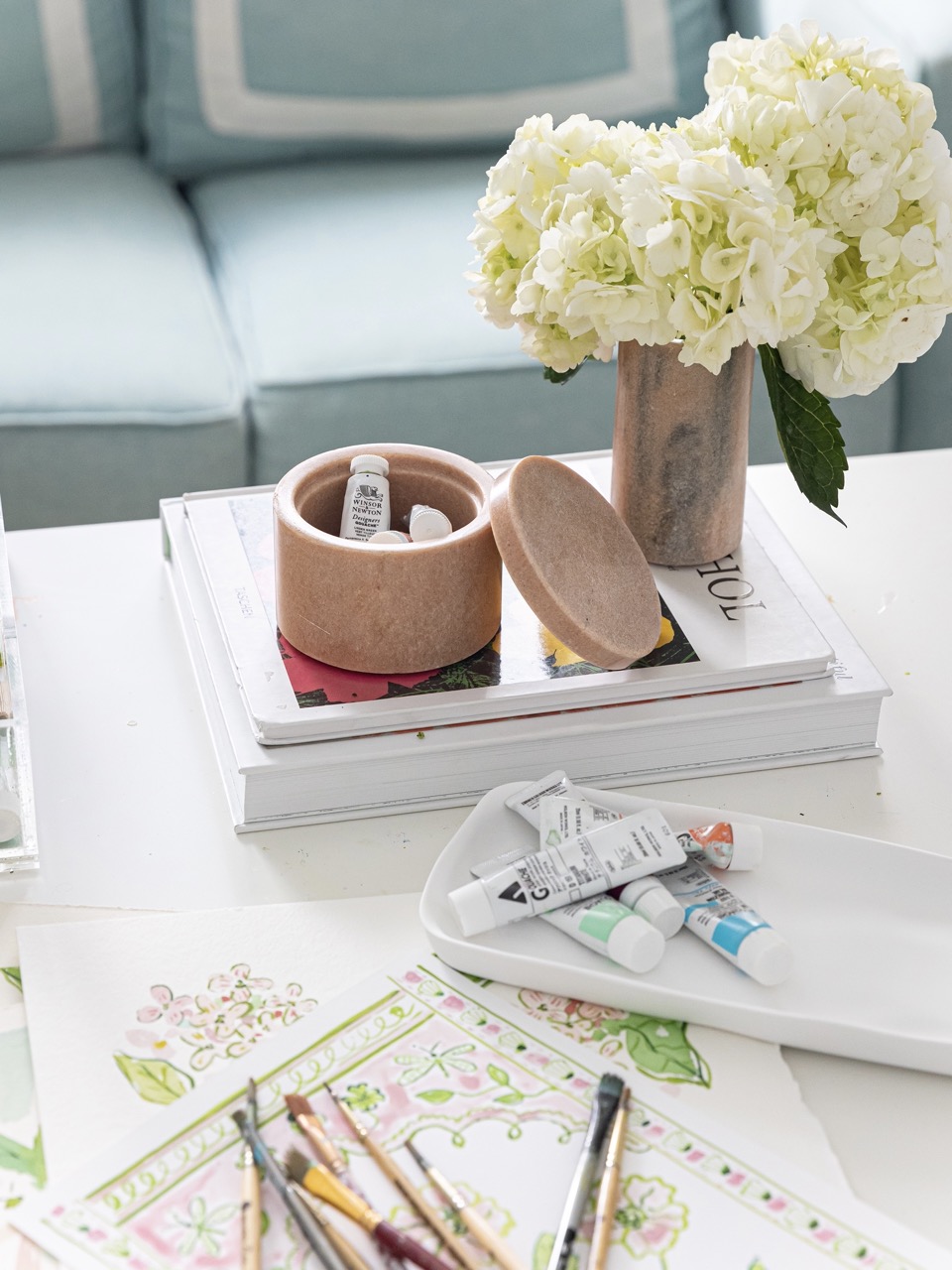 We headed south to Charlotte, North Carolina, where Evelyn is based, for some sunshine and Southern charm. As Evelyn's growing art business continues to flourish, she requires a work space that is both organized while also sparking creativity.
In this special artist's edition of Office Ambush, we sat down with Evelyn to discuss her creative process, her favorite art piece, where she finds inspiration and more.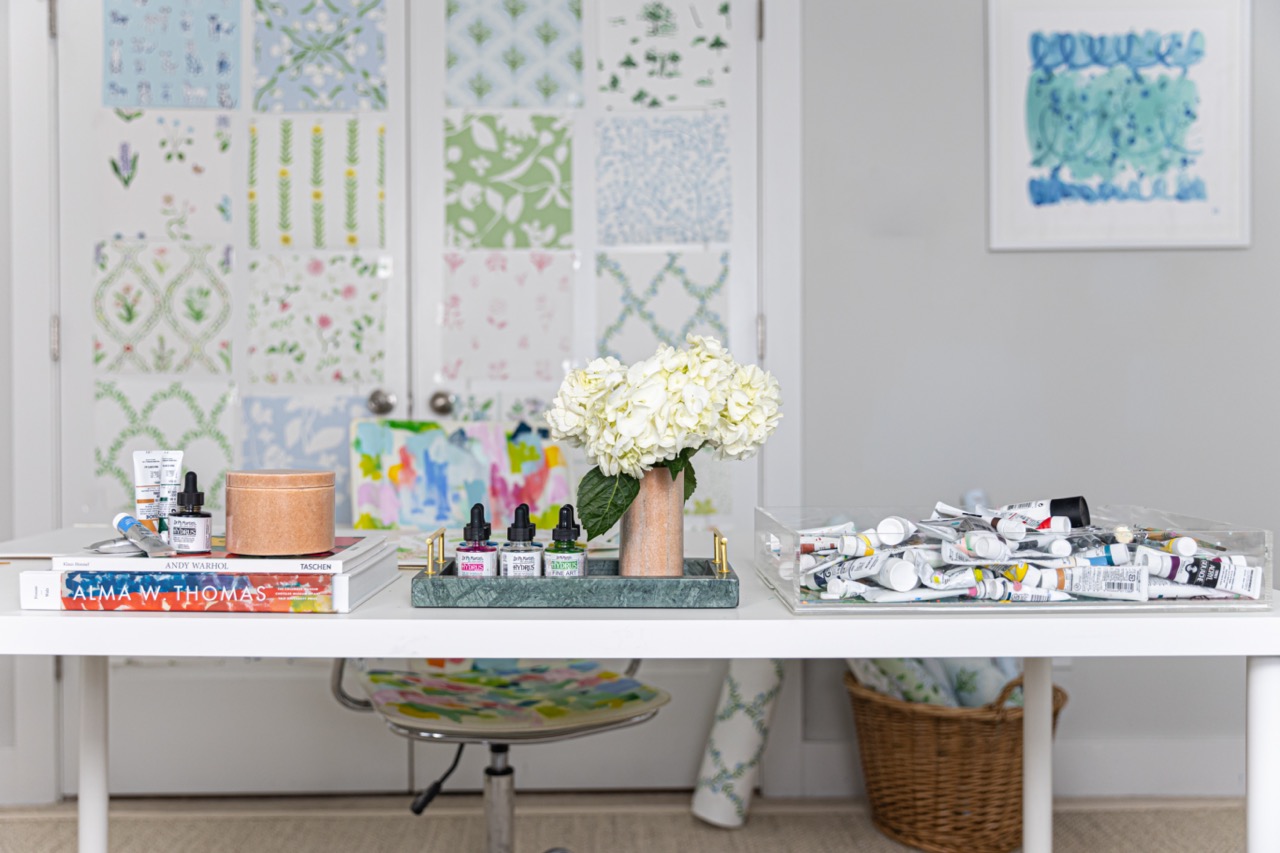 Kassatex: First thing you do every morning when you get to the office?
Evelyn Henson: Pour a cup of coffee and look at my to do list!
Kassatex: Any superstitious items you must have in your office?
EH: No superstitions, but I have always kept a large cork board for pinning magazine cut outs, drawings, photos, and all the other inspiring things onto.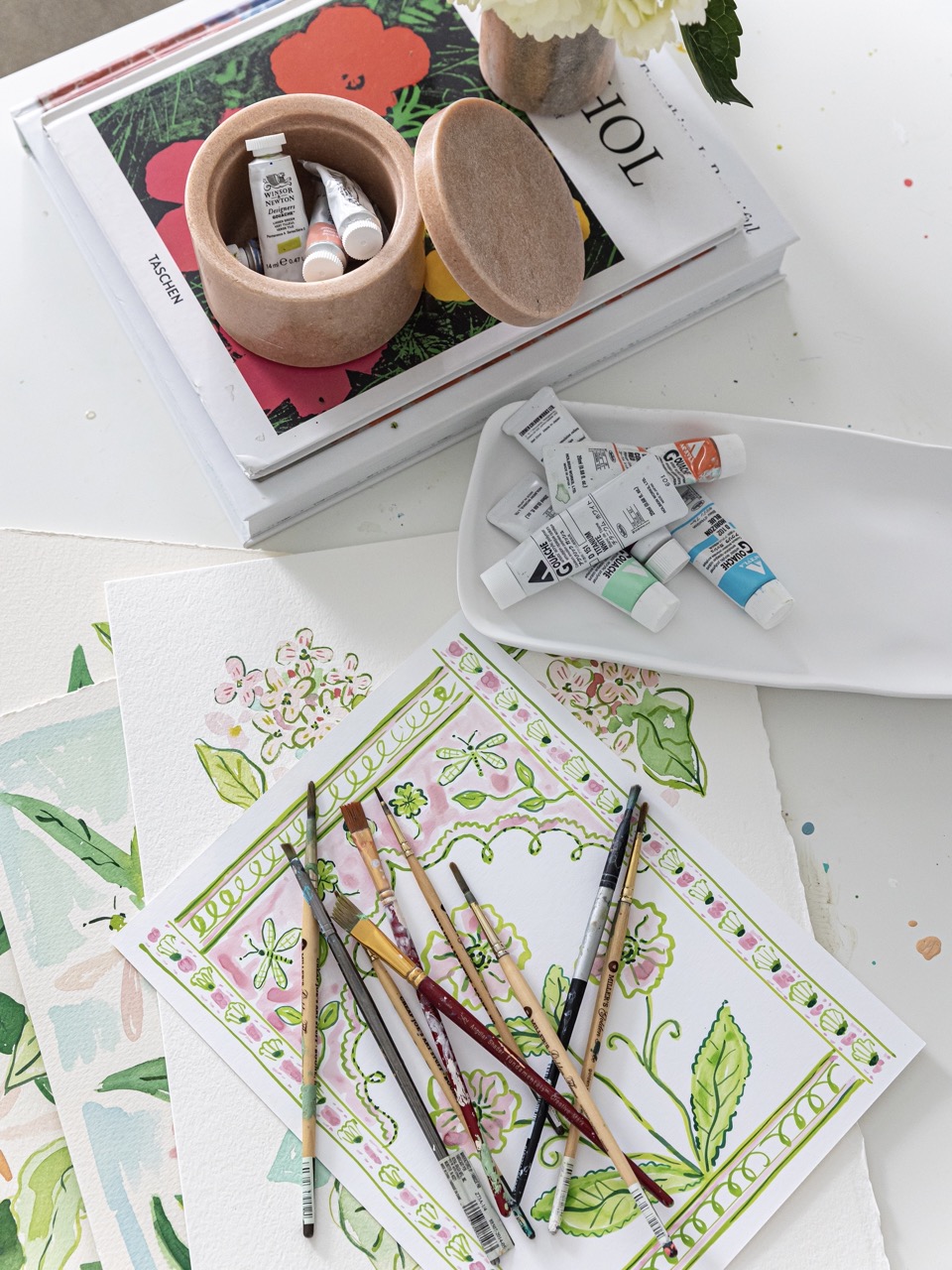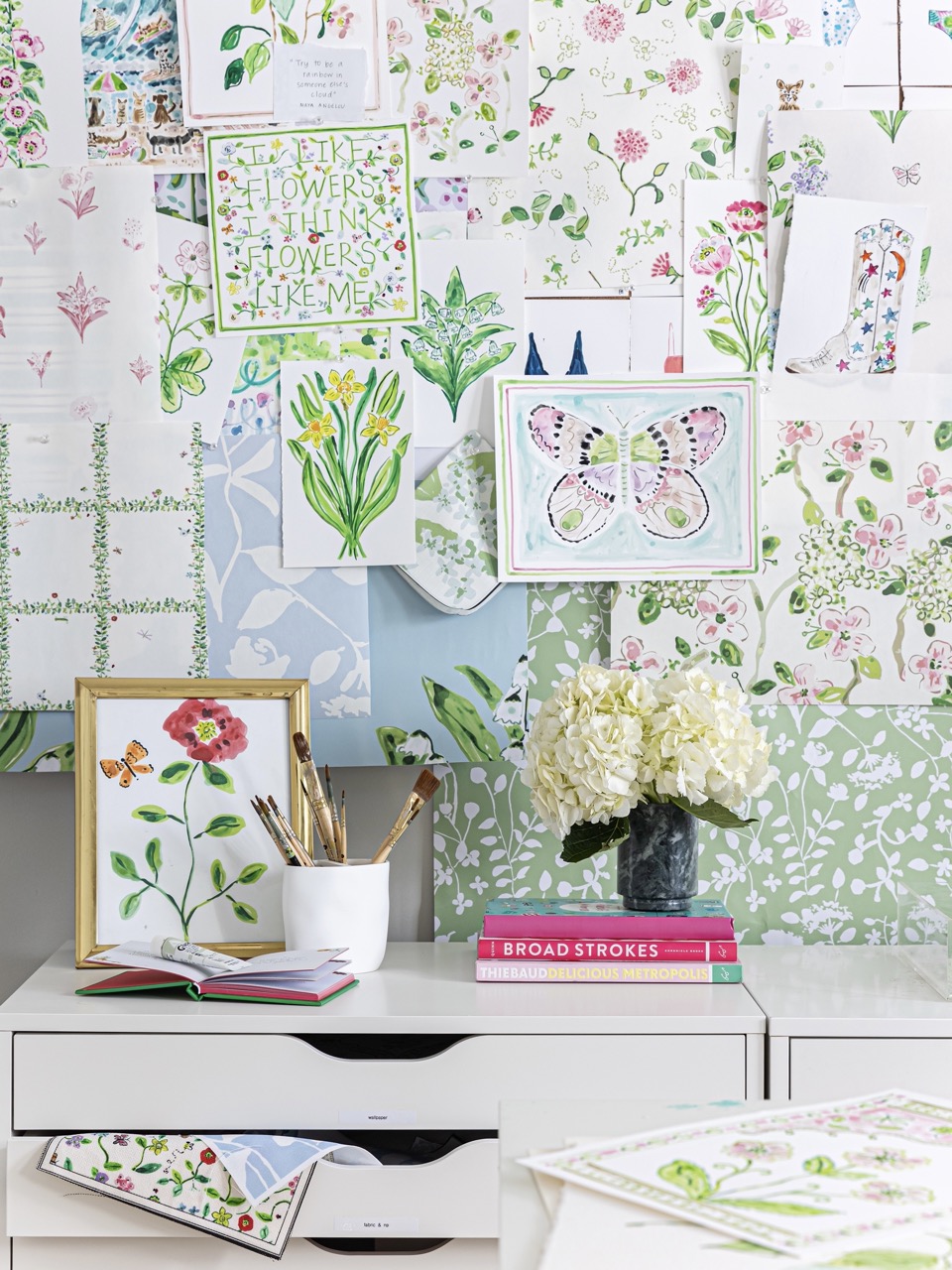 Kassatex: First item you purchased for your office when you started?
EH: My first ever office purchase was a scanner to help me digitize my art. In my current office, the first item I bought was a scalloped floor lamp for extra lighting.
Kassatex: How do you like to keep your desk: Organized chaos or Marie Kondo would be proud?
EH: Organized chaos! I've always been extremely organized, but my paints and artwork tend to be somewhat all over the place here as much as I try to contain everything into bins and baskets. My office drawers are all labeled in an attempt to keep everything together, but it's complete chaos when you open them! Not to mention, my desk is covered in paint.
Kassatex: Where do you do your best creative thinking in the office?
EH: With a pen and a notepad at my desk in the mornings!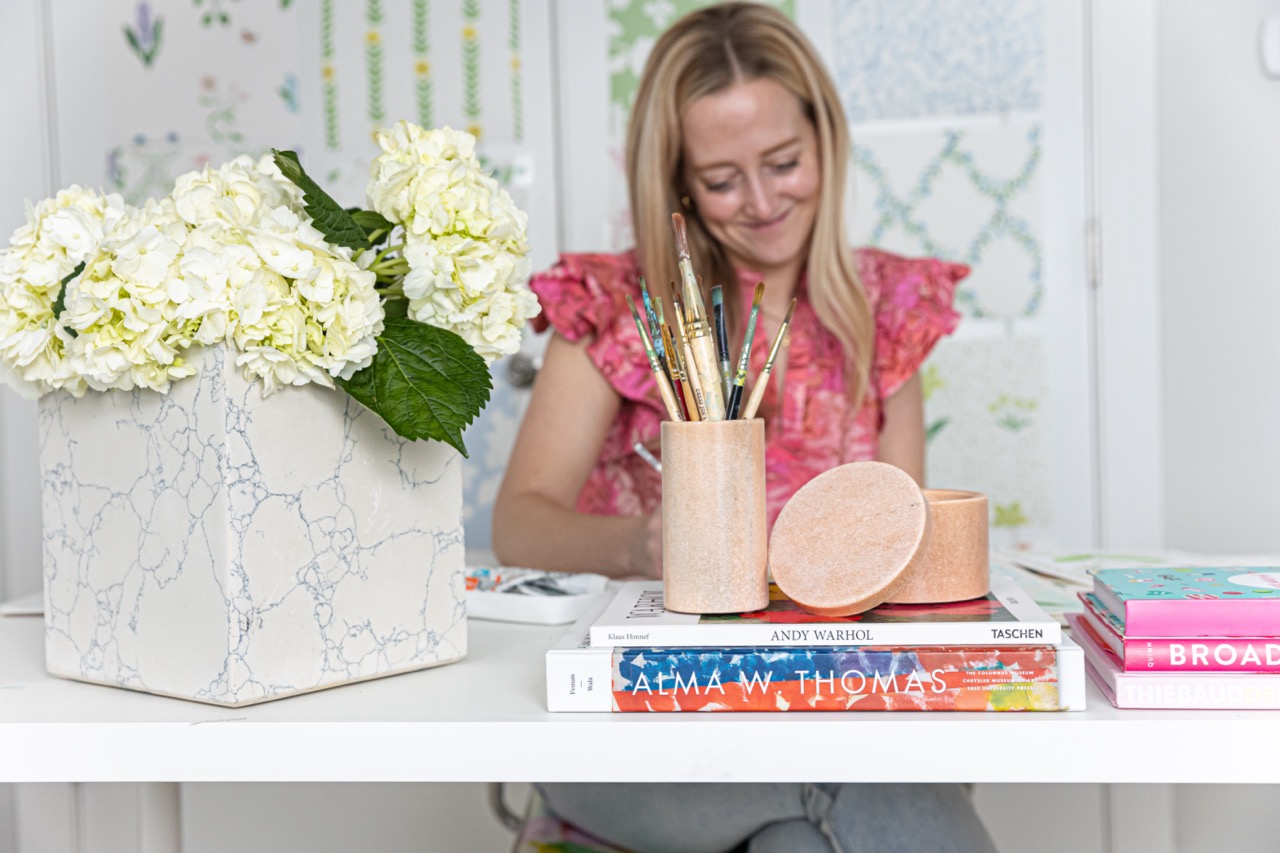 Kassatex: What colors are a must in your office to keep the creative vibes flowing and sanity in check?
EH: Pink and green is my long standing favorite color combo, but I also love a calming shade of blue! I prefer colorful palettes balanced out by light neutral shades.
Kassatex: Any special memento from a mentor?
EH: In college I interned for an amazing artist Kim Hassold, who was a magazine editor at the time. I now own one of her paintings and I love it!
Kassatex: When are you most creative: morning or afternoon?
EH: The morning is my favorite time of day for everything.
Kassatex: Most prized possession in the office?
EH: Probably my first wallpaper sample. I launched my first collection last Spring and pinned up the first sample–always so fun and rewarding to reflect on how something began and how it's grown.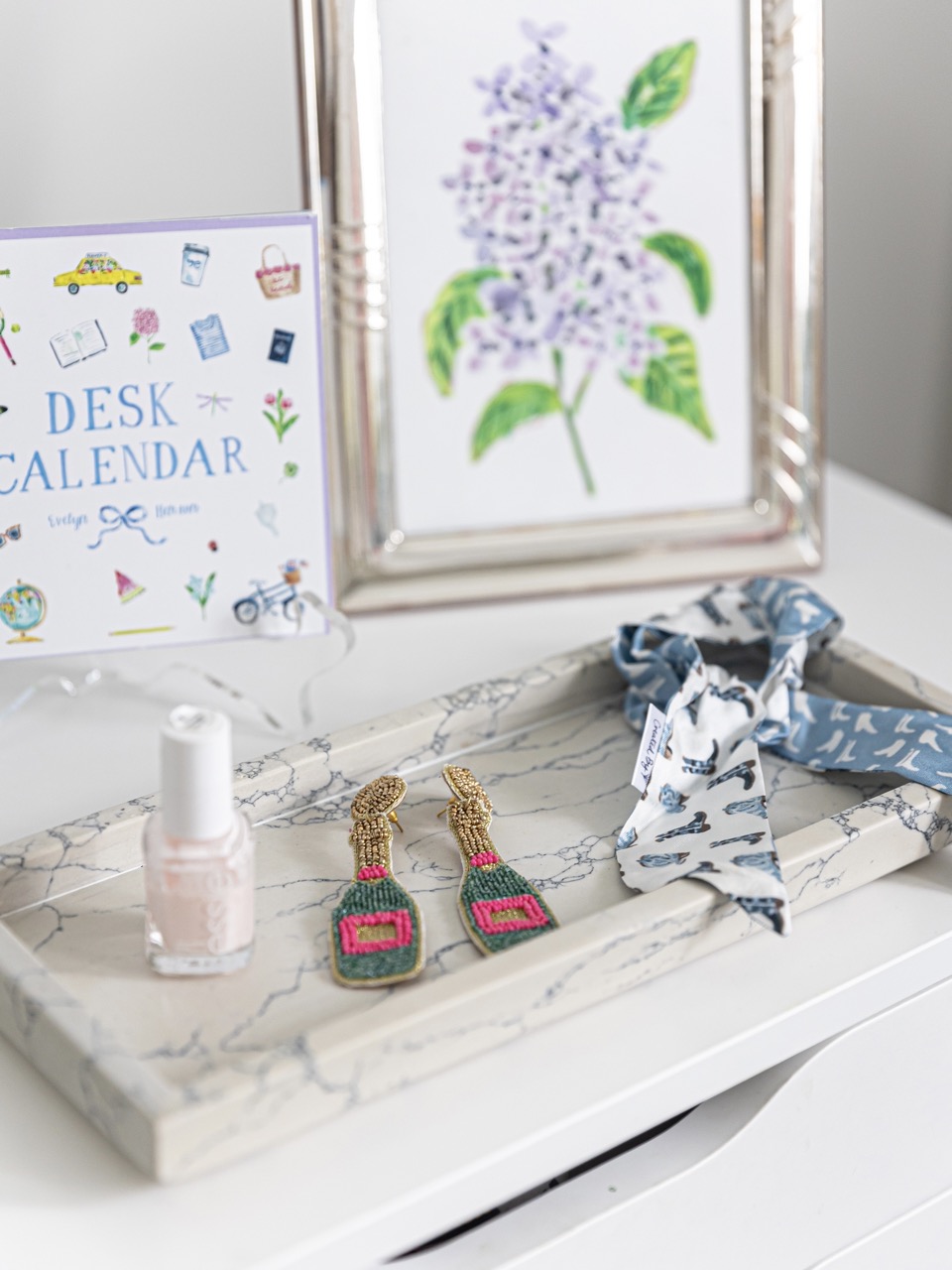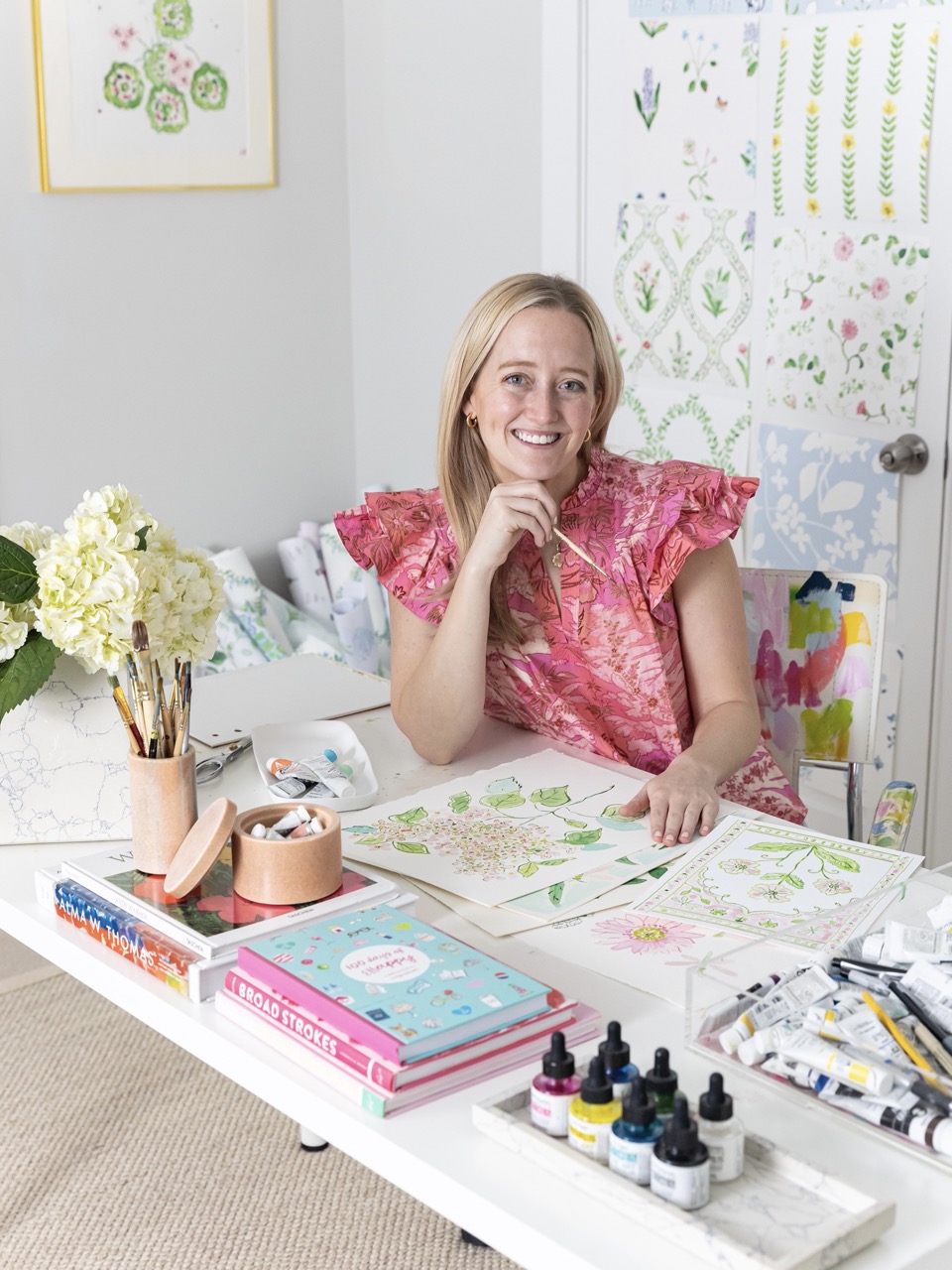 Kassatex: Desk Beauty Must Haves:
EH: Laneige lip mask, Jack Black lip balm, scrunchies, hair clips, and nail polish.
Kassatex: Your painting uniform always includes:
EH: A basic t-shirt and a scrunchie to tie my hair back with while I paint!
Kassatex: For a post work cocktail, where is your watering hole and what is your beverage of choice?
EH: At the moment, I'm obsessed with espresso martinis and have yet to find a better one than Charlotte NC's Indaco.
Kassatex: Three words to describe your brand?
EH: Sunny, whimsical, and colorful!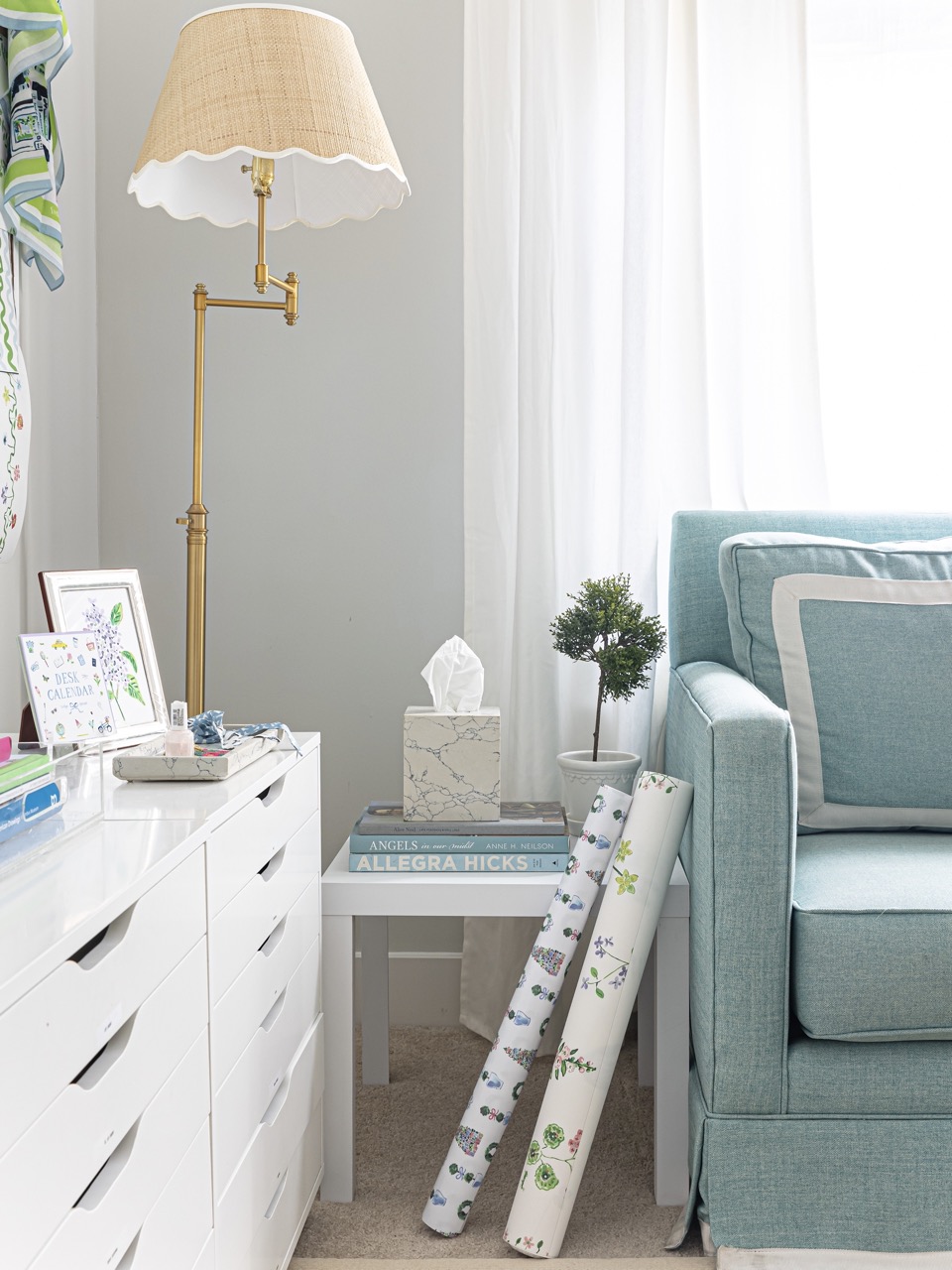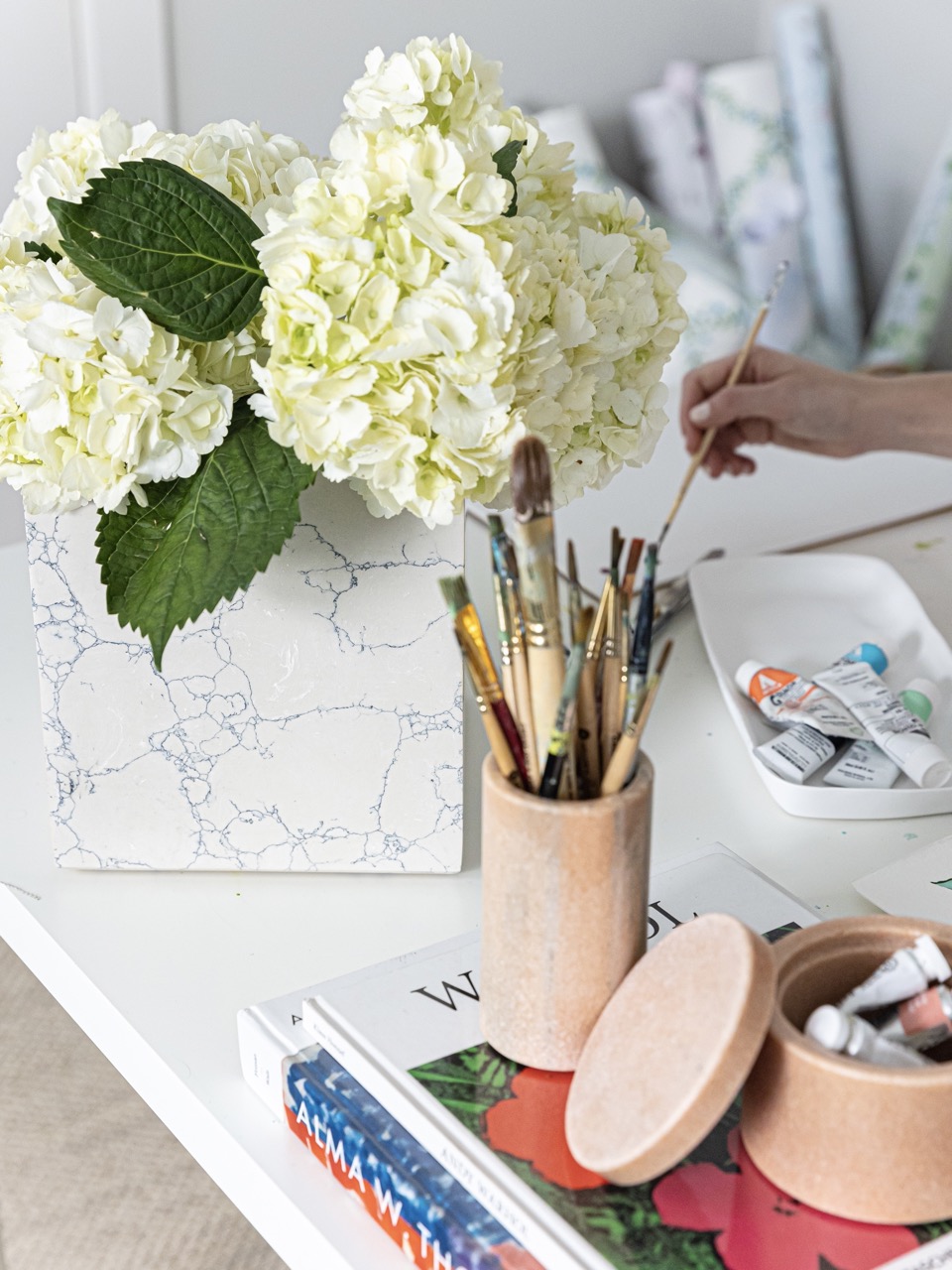 Kassatex: A painting or project you're most proud of?
EH: The confetti hearts wall, a 40 ft wall I painted in Charlotte, NC! And the matching children's book I wrote and illustrated so that kids could learn about it. The concept of the mural is that small acts of kindness, like a single heart, eventually add up into something big, bright, and beautiful–just like the mural. It's been fun creating an opportunity for kids to engage with art in a new way.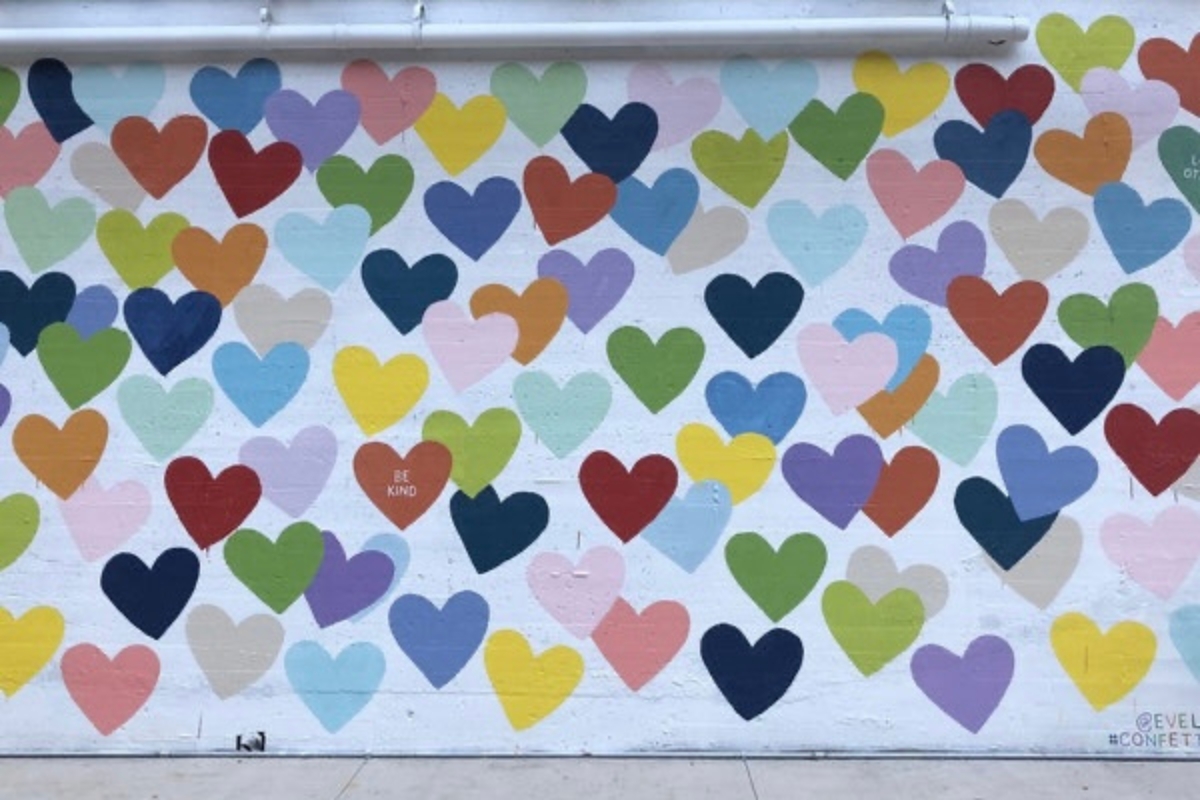 Kassatex: Go to music playlist while painting?
EH: Taylor Swift on repeat.
Kassatex: Finish this sentence: Every day I find inspiration __________.
EH: By working and practicing my craft! Picasso said, "Inspiration exists but it has to find you working" and I have always found that to be very true. For example, when I'm painting scenes for my annual dog calendars, I see dog scenes wherever I am. Or if I'm working on new botanical studies, I'm more attentive and struck by the flora and fauna around me that I might not typically notice.
Kassatex: Words to live by:
EH: "Try to be a rainbow in someone else's cloud" -Maya Angelou.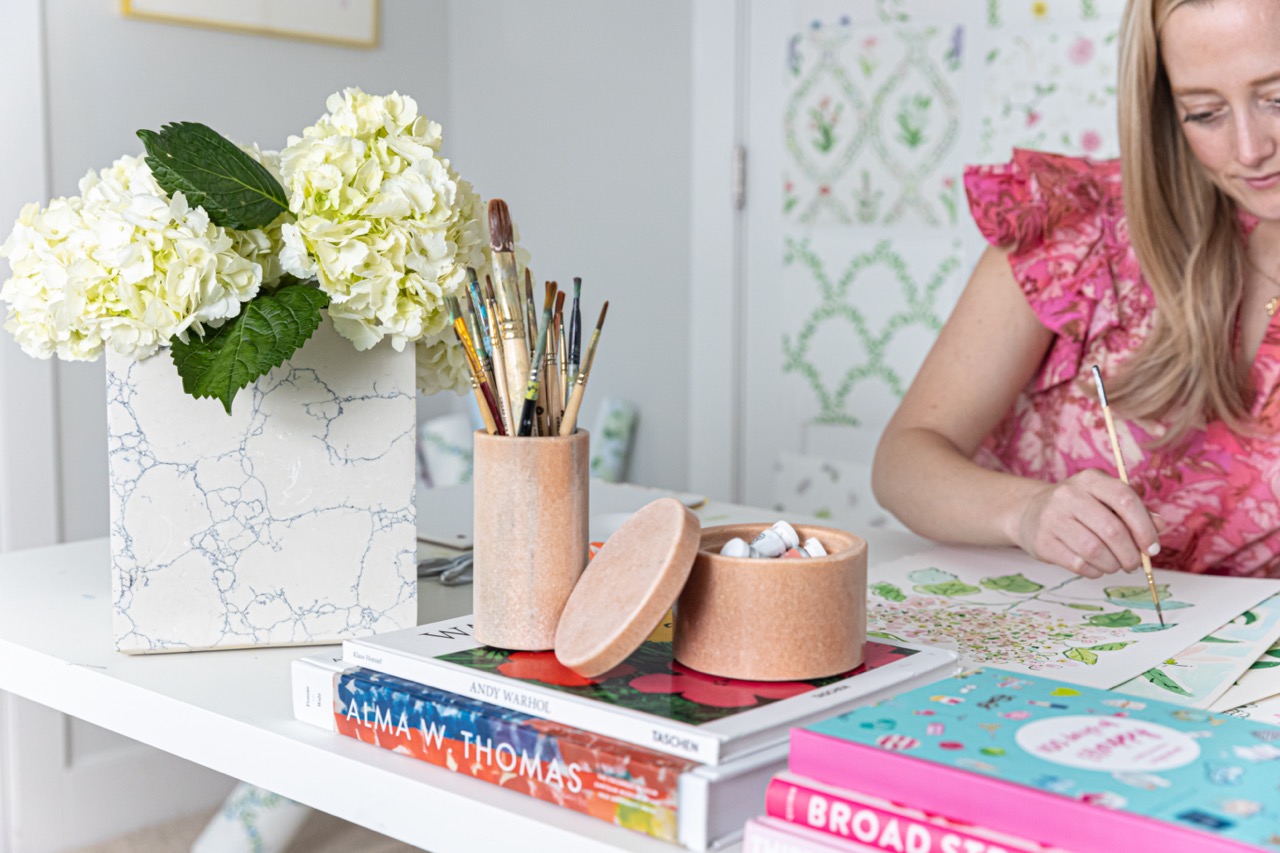 To keep your own office as colorful and organized as Evelyn's, check out Evelyn's 2023 wall calendars here.