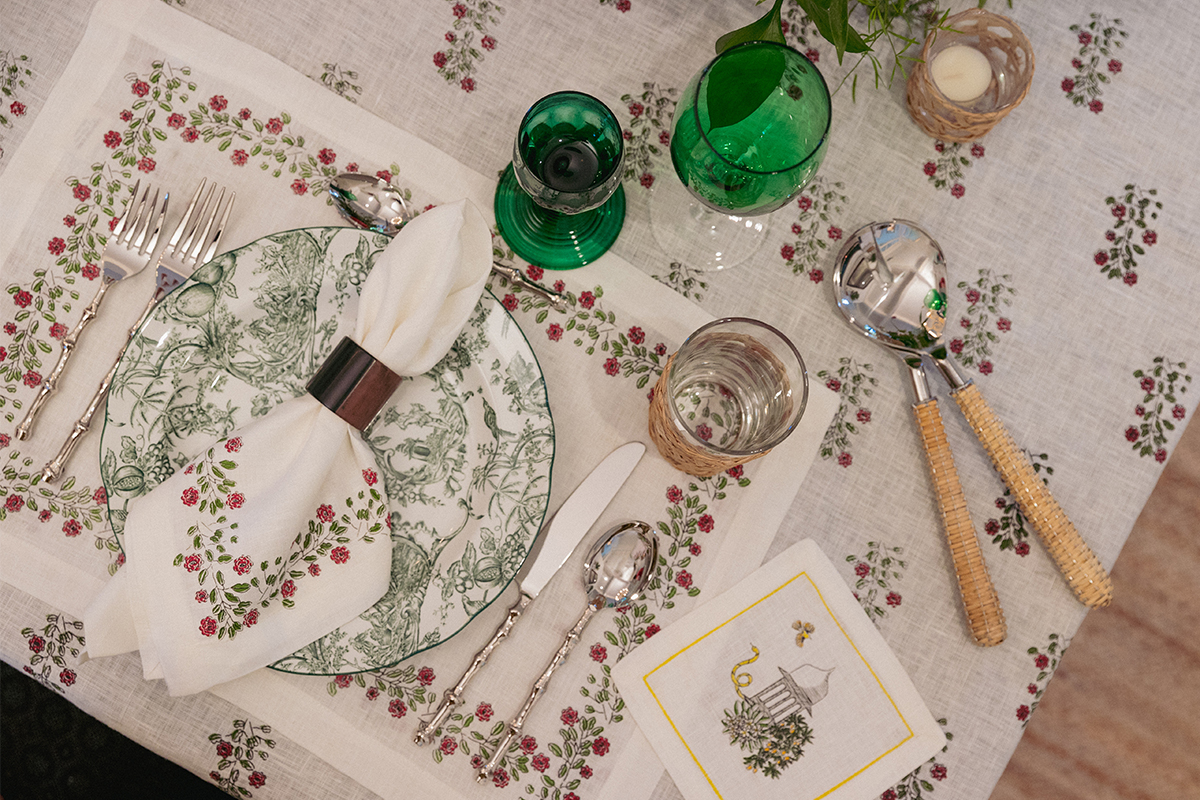 Drawing upon the magical realism of Indian folklore, Art-chives uses storytelling at the core of their handcrafted screen-printed linens. Elevate your tablescape with Art-chives' whimsical linens that celebrate India's rich artisanal luxury, textile heritage and storytelling.
We sat down with Art-chives to discuss everything from their design process and inspiration to dinner party playlists and more.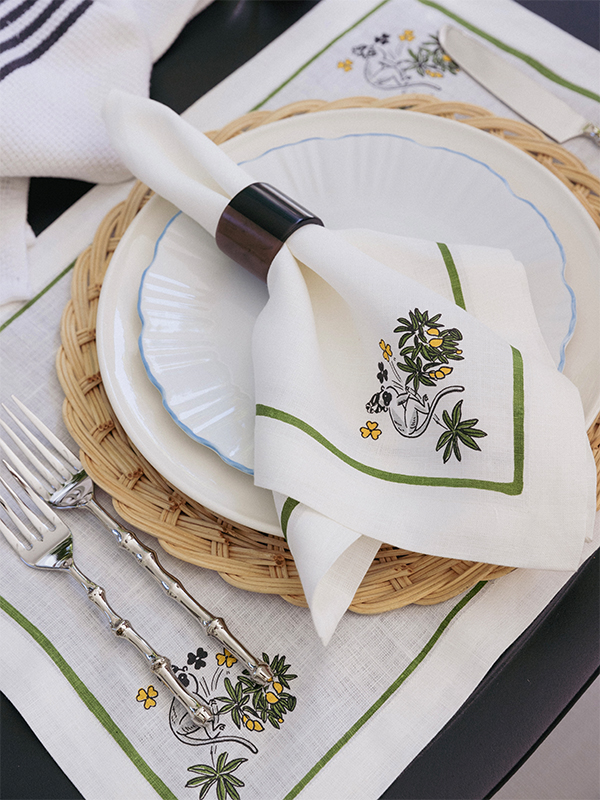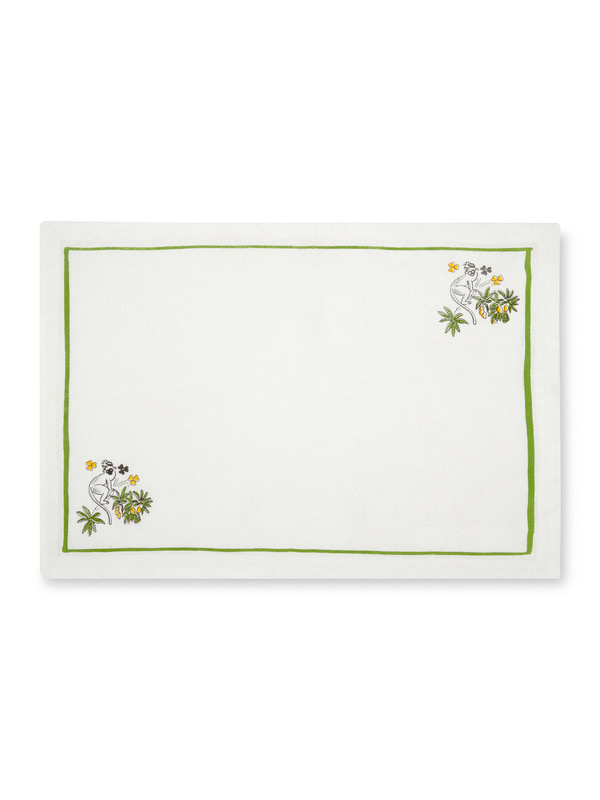 Kassatex: How did you start Art-chives?
Art-chives: A decade and a half ago as an ad man on Madison Avenue, I had an epiphany. While I was in one of the greatest cities in the world, I realized how much I also wanted the adventure of India. The magic, the madness, the magnificence. It was a wanderlust to be part of both worlds. I wanted to create a brand that could oscillate between both worlds, straddle eras and civilizations. Fifteen years later in the fall of 2021 we launched Art-chives.
Kassatex: Tell us about Art-chives.
Art-chives: Art-chives digs into the ar(t)chives of India's rich art and design history to create artisanal luxury and handcrafted savoir-faire, steeped in nostalgia and storytelling. Think a creative collision of the orient and the occident. Our design dialect is contemporary with a touch of whimsy for the sophisticated gypset. Our Instagram is always about stories.
Kassatex: Where do you draw inspiration for your prints?
Art-chives: Art-chives is all about dreams, the spirit of wanderlust and escape. Our prints are embedded in storytelling. Old folk tales, myth and legend. With a modern twist. So you catch fabulous stories on our artisanal products that could be celebrated anywhere from New York to Nantucket and Tulum to Bodrum. Think spotting monkeys on mango trees or a wild Indian garden coming alive on crisp Irish linen. All rooted in some good old nostalgia.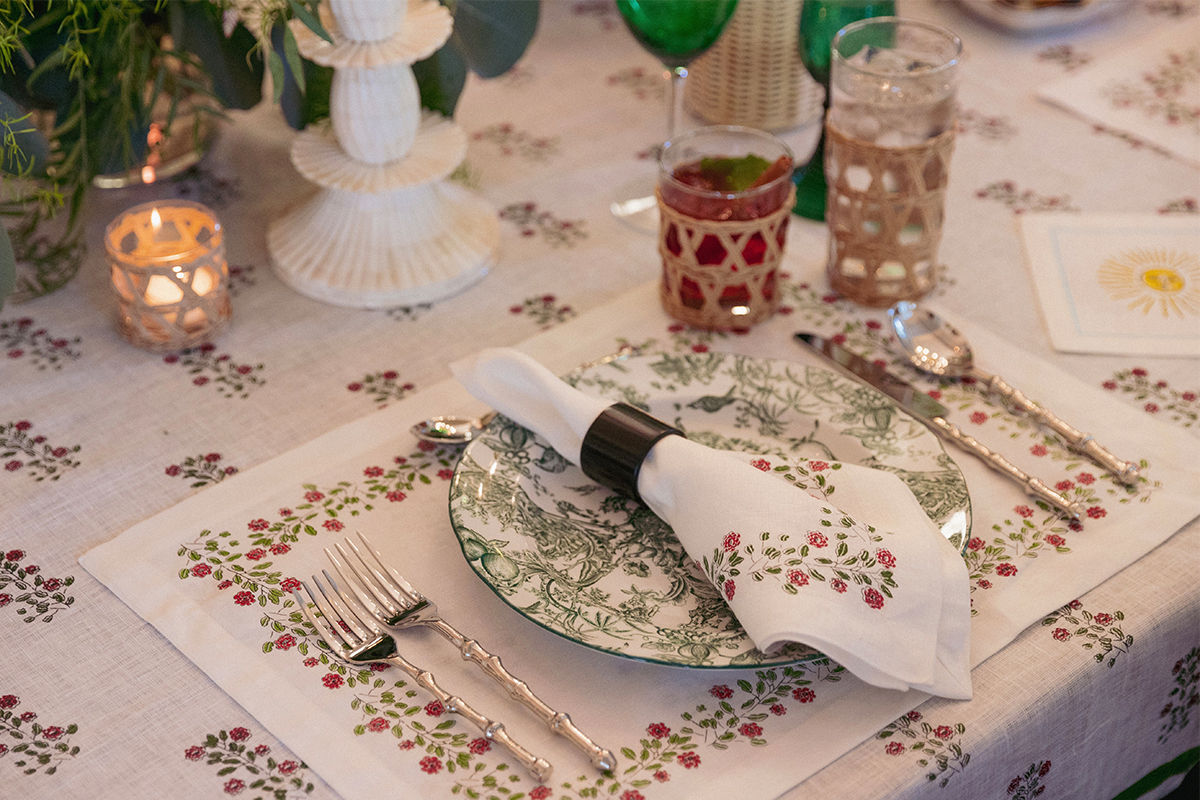 Kassatex: What traditional methods do you use in producing your collection?
Art-chives: Our pièce de résistance is our sumptuous Table Linen. At Art-chives we believe in slow luxury and turn to age-old artisanal traditions of hand screen printing on pure linen. Our raw materials are of the finest quality and can jumpstart any tablescape. We are small batch, our materials are ethical and we try to minimize our carbon footprint.
Kassatex: How do you weave storytelling into your designs?
Art-chives: Every collection starts with a story. We then brief our Creative Director with a bazillion references from history books, old textiles and paintings. Our first collection "The Wild Indian Garden" brings alive a popular folk story tale. Magic realism at its best. The gap between imagination and reality blur on a canvas of our rich artisanal products, taking you into a phantasm with humor and playfulness.
Kassatex: Finish this sentence: When setting a table the most important feature to include is: __________.
Art-chives: A story. An expression. What do you want to say? Is it celebrating a season? Start with an idea and begin layering it. Think color, texture, emotion. Table linen, crockery, cutlery, flowers or just some indigenous foraging from your garden, dotted objet d'art, precious things from childhood. Let your imagination run wild! Table linen can make or break a table. Invest in a few good sets and take care of them. Chic table linen is like couture for your dining room. They can be passed down to the next generation.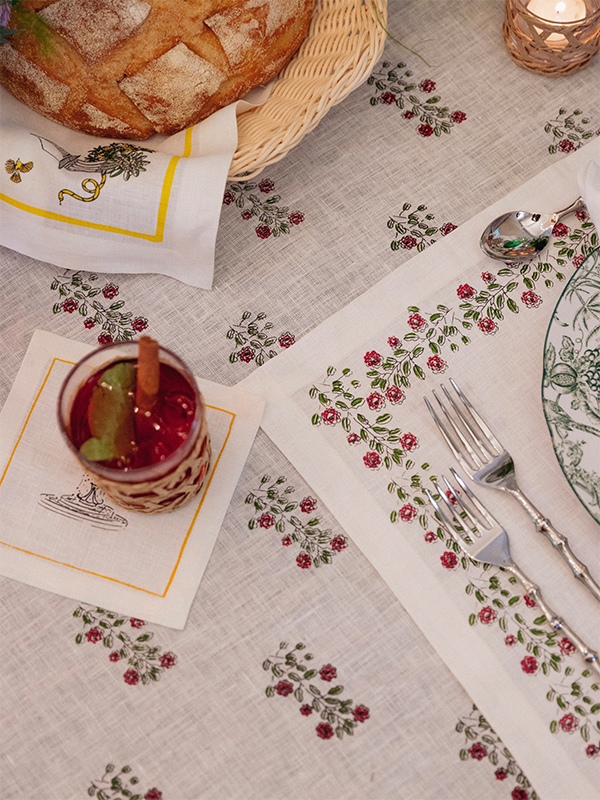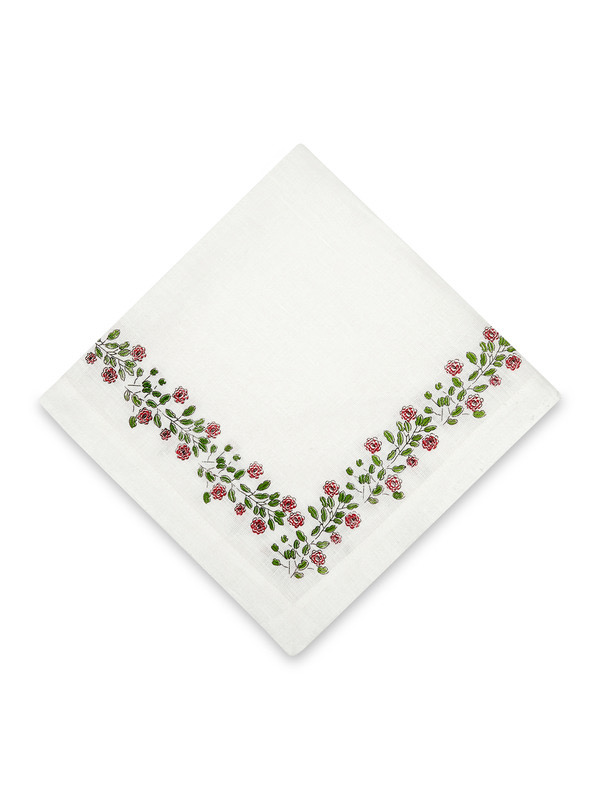 Kassatex: Go-to cocktail when hosting?
Art-chives: Martinis! And Champagne. Always Champagne.
Kassatex: Favorite traditional holiday dish?
Art-chives: Turkey when I am in New York with lots of stuffing. In India it is Yakhnee Pulao – a delicate, elegant lamb pilaf from Lucknow, slow-cooked over twenty-four hours with mace, nutmeg, saffron and other fabulous spices. An age-old recipe from the family.
Kassatex: Go-to playlist for a dinner party?
Art-chives: Jazz. Followed by ABBA or Elvis.
Kassatex: What makes a good host gift?
Art-chives: A set of cocktail napkins or beautiful table linen is really personal and indulgent. There's nothing more irresistible than unwrapping sumptuous handcrafted linen. Always so chic.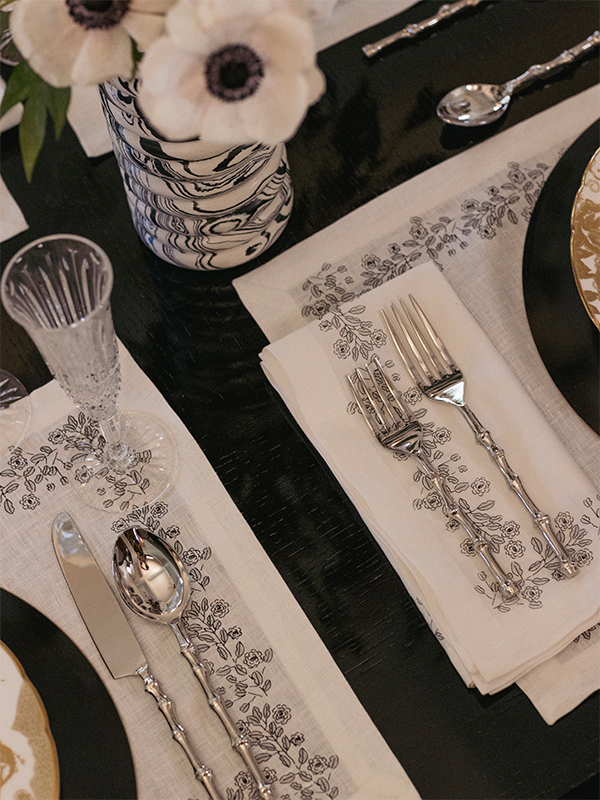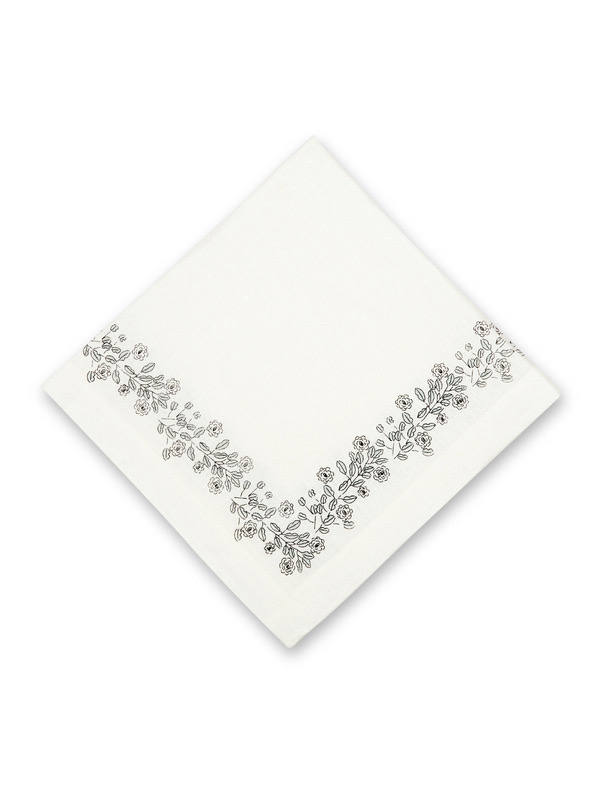 Kassatex: A favorite folk tale from growing up?
Art-chives: The Arabian Nights and the Jataka Tales. "Once upon a time…" and I am in heaven!
Kassatex: What is in store for Art-chives?
Art-chives: Lots more gorgeous confections. Table linen, cocktail napkins, candles, totes. Our process is a rather organic one. We produce what we love. What we want to see on ourselves and in our homes. The collection is designed between Bombay and Paris.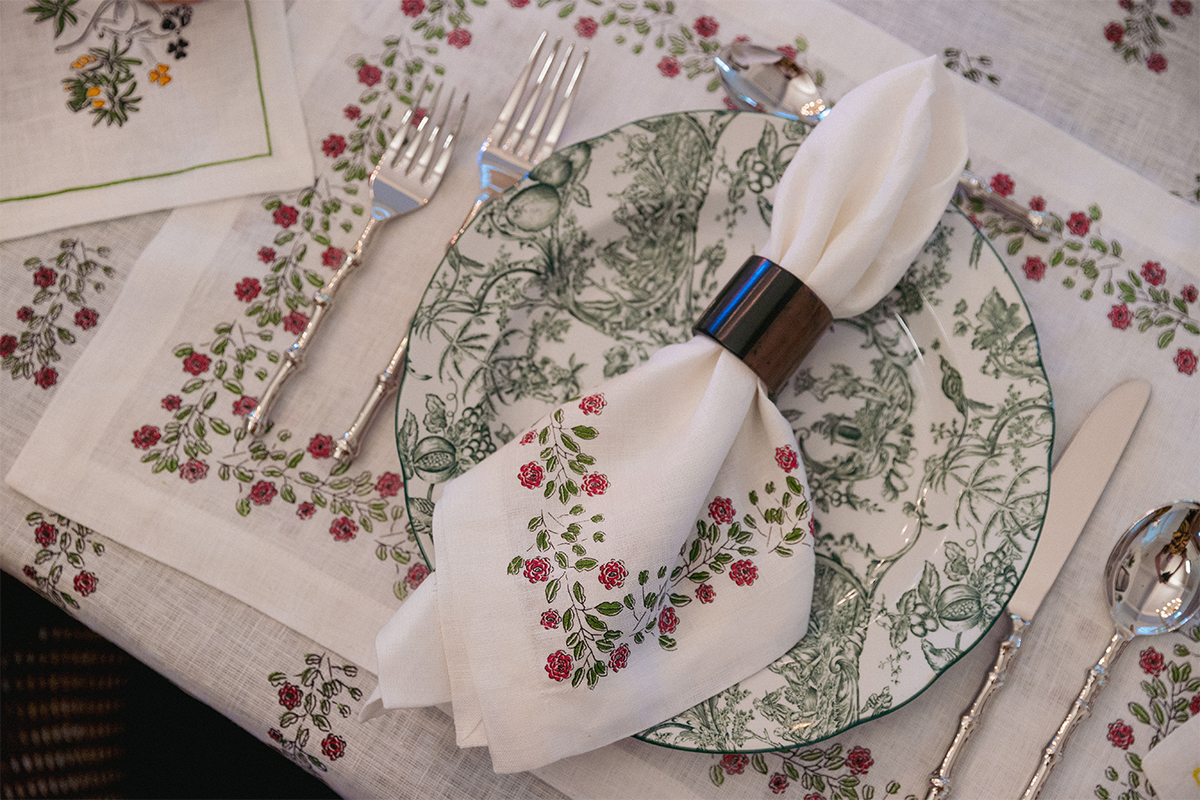 Shop the full collection here.