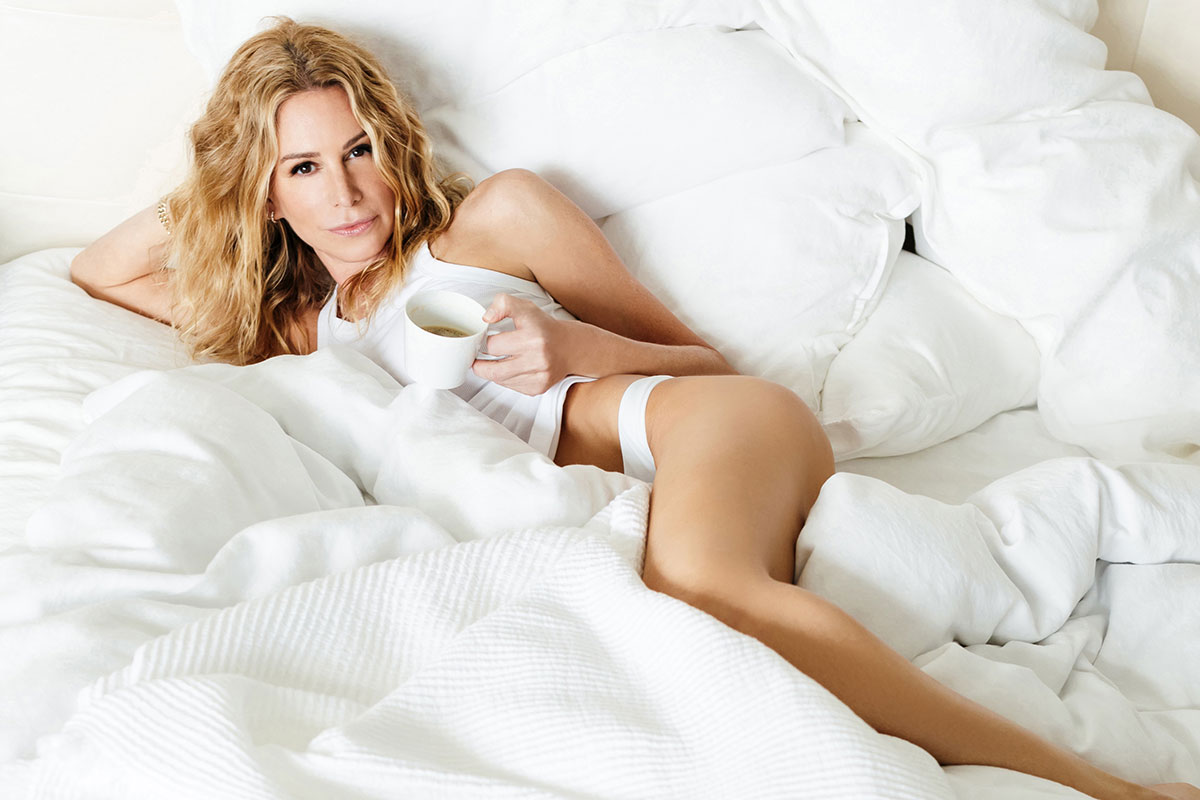 A vision of minimalism accentuated by bold accessories and made the hoop earring a timeless and essential jewelry piece, Jennifer Fisher is the most sought-after jewelry designer for celebs and A-listers. Inspired by her genuine work ethic, her incredible style, and more importantly, her insanely delicious homecooking, we were beyond thrilled to work with Jennifer on a summer essential at home edit. Jennifer selected some of her favorite pieces from Kassatex and put her own spin on each product. We sat down with Jennifer to chat all things family, style, inspiration, and more importantly how she manages to keep it all effortlessly together. What's in store for Jennifer and Kassatex? You'll have to wait and see.
Kassatex: What is the first thing you do in the morning?
JF: Drink a cup of coffee, which my husband Kevin delivers to me in bed.
Kassatex: Currently on your bedside table?
JF: My Lumity Life Night vitamins, my Chanel hand cream, fresh cut peonies, and always a giant glass of water at room temperature.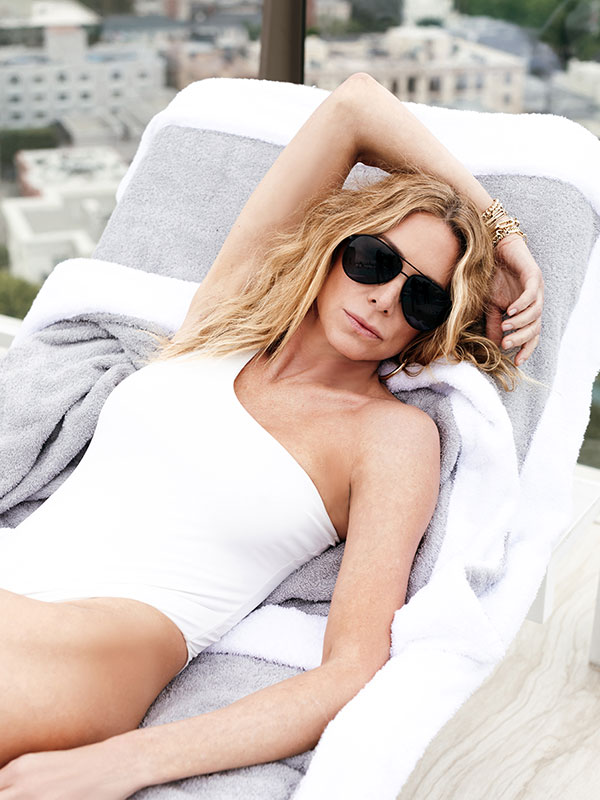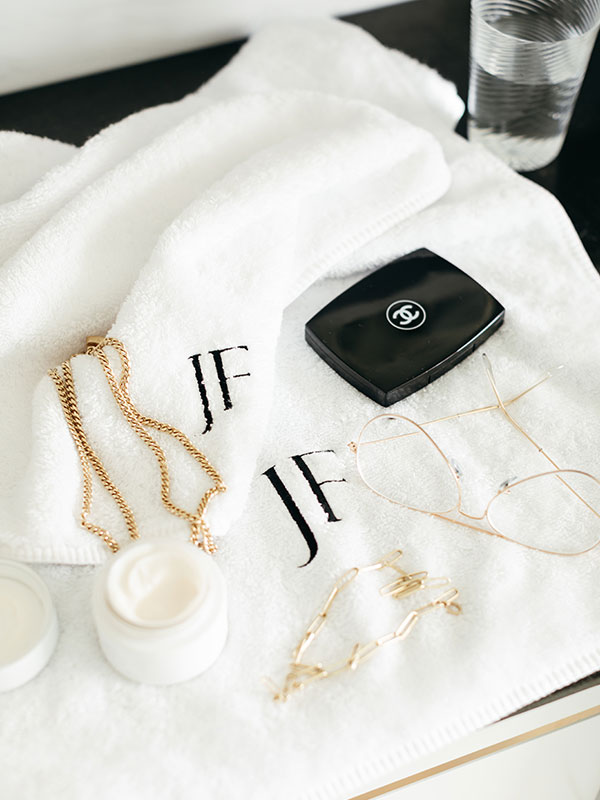 Kassatex: Favorite pajamas?
JF: Always soft cotton, oversized, men's pajamas.
Kassatex: Sheets, Crisp and Layered or Light and Airy?
JF: Light and airy.
Kassatex: Bed style. Pile on the pillows or keep it clean and minimal?
JF: A happy medium.
Kassatex: Describe your design aesthetic in three words:
JF: Clean, timeless, minimal.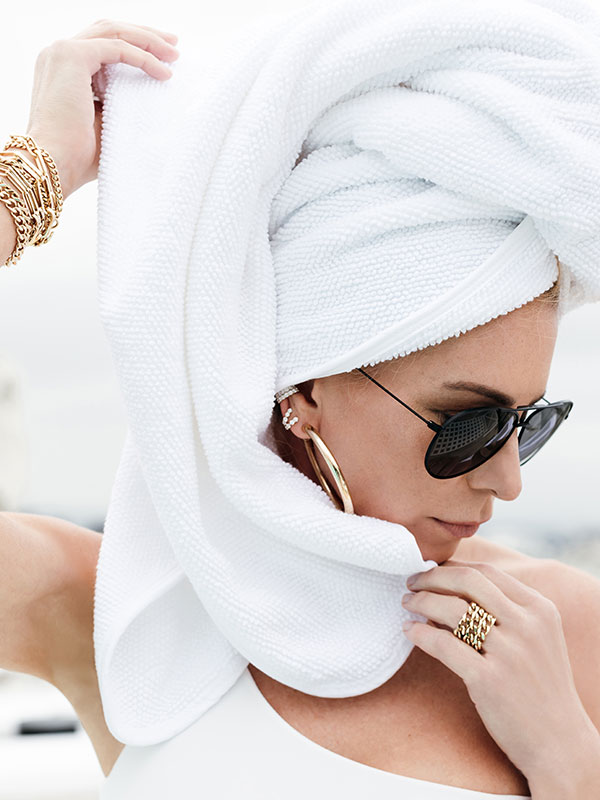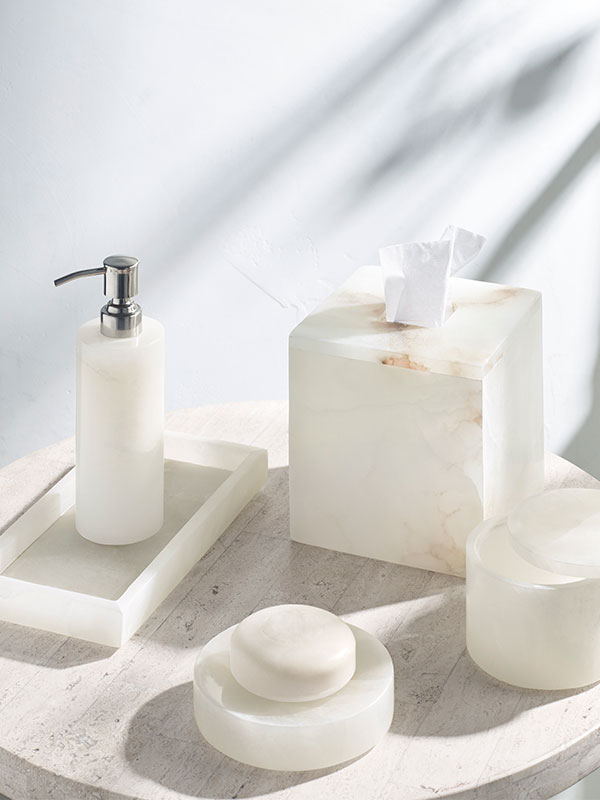 Kassatex: Finish this sentence: My bed is my ….
JF: Sofa.
Kassatex: Family is everything. Who did you learn your savvy entrepreneurship from and how does family play a role in your business?
JF: My dad taught me at a very young age to always have a hustle and drive to work. That money doesn't grow on trees, you must earn it. I have been working since I was a kid in various entrepreneurial endeavors. My parents work together and always inspired me to get up, get out, and get your work done every day. Family literally plays role in my business, as my husband, Kevin, is the president of Jennifer Fisher.
Kassatex: Top 3 beauty essentials?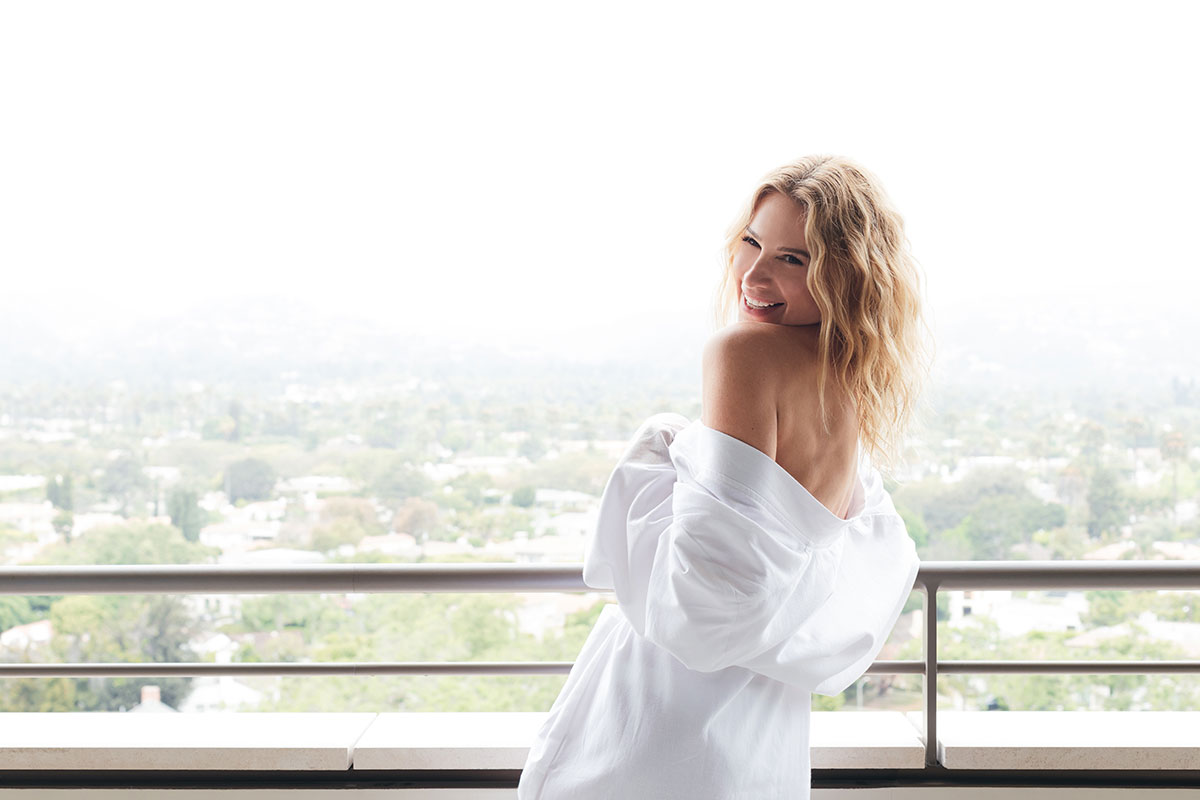 Kassatex: Eat in or dine out?
JF: That's tough! Coming out of a pandemic I am enjoying eating out, but it can be a challenge while following my new Ketotarian lifestyle.
Kassatex: Number one meal the family requests?
JF: Taco night or ribs.
Kassatex: Favorite neighborhood restaurant?
JF: Mr. Chow
Kassatex: 3 décor trends you wish would go away?
JF: The 80s vibe that is going on right now is not for me. I am also not a fan of Terrazzo, but most of all Pillows that look like basketballs.
Kassatex: An at-home spa should always include:
JF: Steam, bath salts, and a light chemical peel.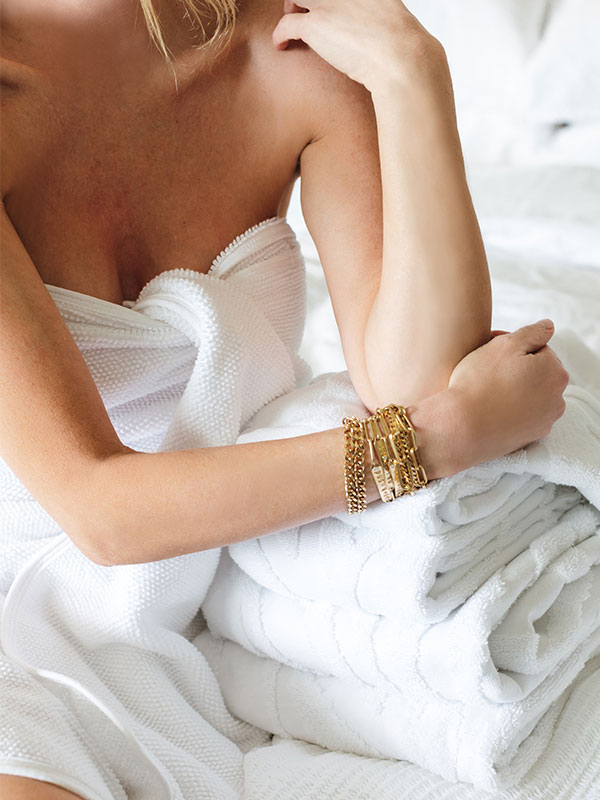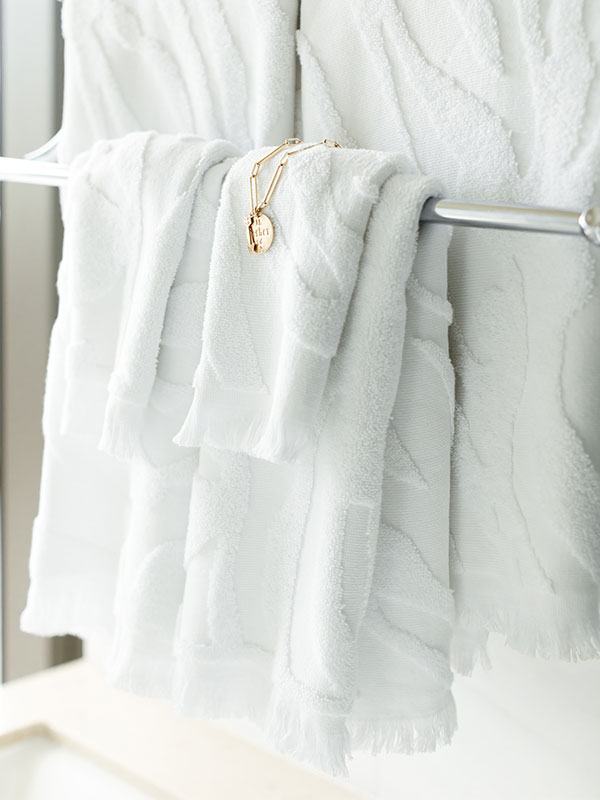 Kassatex: How do you find peace or quiet moments during the day?
JF: It is really hard. If I can find some time to be alone in my home for a few hours it is the best feeling in the world.
Kassatex: What is the most surprising thing you have learned when making jewelry?
JF: Sometimes things that I don't 'love' going into the collection customers end up loving, which surprises me and vice versa.
Kassatex: How have your collections evolved over the years?
JF: When I first began, I had a much heavier hand but that reflected my personal style at the time. In the beginning, I looked like the lady who left her house with every single piece of jewelry on and now I have a more minimal aesthetic.
Kassatex: How do you stay grounded and inspired to create collections that are classic and exude a tough yet feminine juxtaposition?
JF: I honestly just design things that I want to wear. I am not trying to be anyone else. I don't think about it that way and I hope others want to wear my pieces too.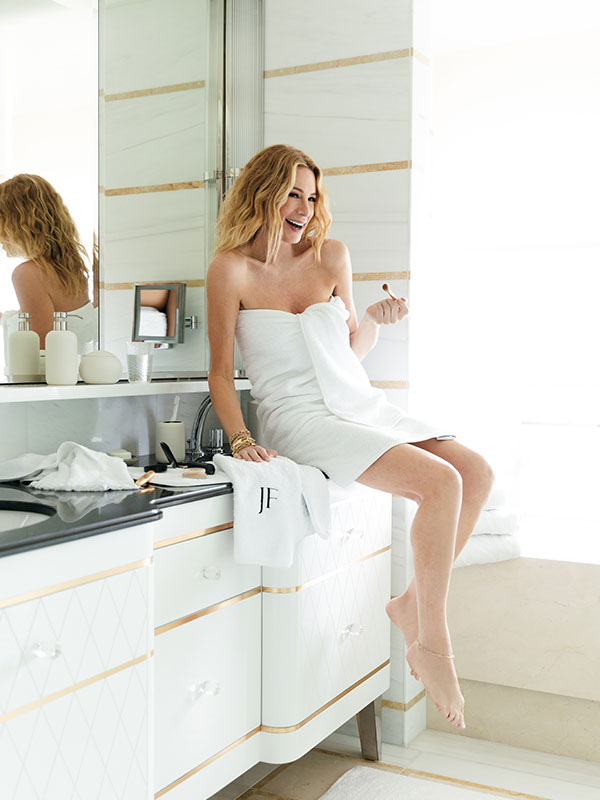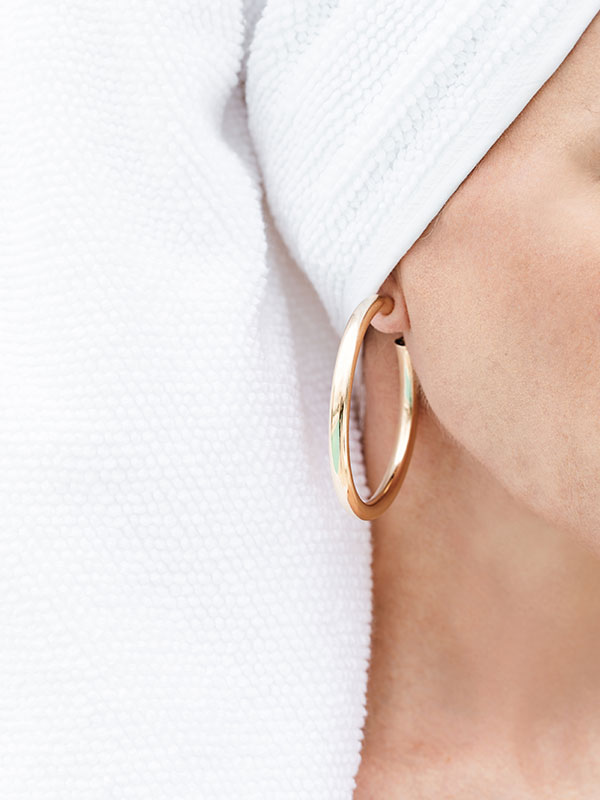 Kassatex: Favorite colors to design a home with?
JF: White and gray.
Kassatex: Last thing you do before bed?
JF: Kiss my kids and drink a glass of water.