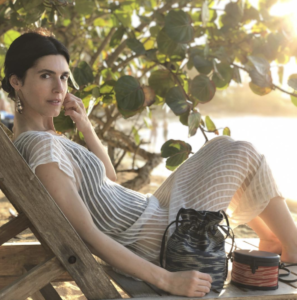 Danielle Corona, the designer to the collections you see on every A-List trendsetter and pretty young thing, Hunting Season, lives a life that an Instagram handle can only dream of really capturing. Creating modern heirlooms in Colombia with local artisans and designing classic and key wardrobe and home pieces, Dani is constantly inspired by traditional techniques and breathtaking vistas of her home in Cartagena.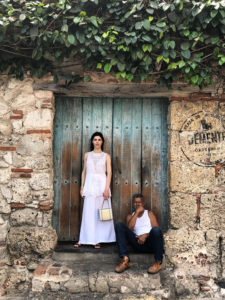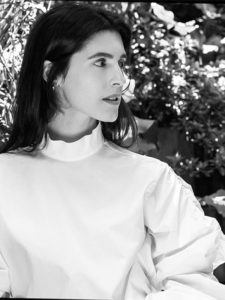 During the holidays, Dani is known to celebrate in style with grand parties with her family, or casual dinners with friends. On the heels of our recent Hunting Season x Kassatex travel set launch, we asked Dani what are her holiday travel and hostess must haves are that keep her sane and happy during her favorite season.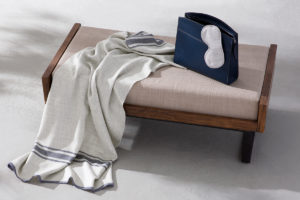 Kassatex: Host the party or forever the guest?
Dani: At my house. We host often.
Kassatex: En Flight – Movies or Snooze fest?
Dani: I travel often it is usually meditation and reading.
Kassatex: 3 can't live without Kassatex products:
Dani: At home I live in my Kassatex PJs and Robe; I also use the sheets and towels everyday. It's really my go to home brand! I love discovering the new collections.
Kassatex: Favorite holiday beverage?
Dani: Red wine or tequila depending on the occasion.
Kassatex: Most memorable holiday moment?
Dani: Live salsa band and dancing at my parents Christmas Eve party.

Kassatex: Best gift ever received?
Dani: Vintage Roman coin earrings from my husband.

Kassatex: Worst gift ever received?
Dani: Really can't think of a bad gift. I LOVE gifts.

Kassatex: Holiday soundtrack must include:
Dani: When I host dinner, I love to play the album Lagrimas Negras – a collection of old standards performed by Cuban jazz pianist Bebo Valdes and Spanish flamenco vocalist Diego el Cigala. I also play holiday music during the season (nerd alert)!

Kassatex: Your holiday uniform is?
Dani: I spend most holidays in Cartagena or Miami so my uniform is usually linen caftans and dresses and my Hunting Season straw bag.

Kassatex: Currently in your clutch?
Dani: Hunting Season credit card wallet, phone, lipstick, and some cash.

Kassatex: Three items always on your bedside?
Dani: Books, water pitcher, my glasses.

Kassatex: PJs to Party? Yay or Nay:
Dani: Nay, PJs for sleeping…Unless it's a nice lace cami then it can make it to a party on occasion.

Kassatex: Coffee table must have:
Dani: Hunting Season table lighter and flowers.

Kassatex: Formal Dinner or Cocktail Party – What's your favorite to attend?
Dani: Hmmmm dinner party because you can talk and connect, cocktail party feels like small talk. I am not good at small talk.

Written and Produced By: Kelly Florio Kasouf